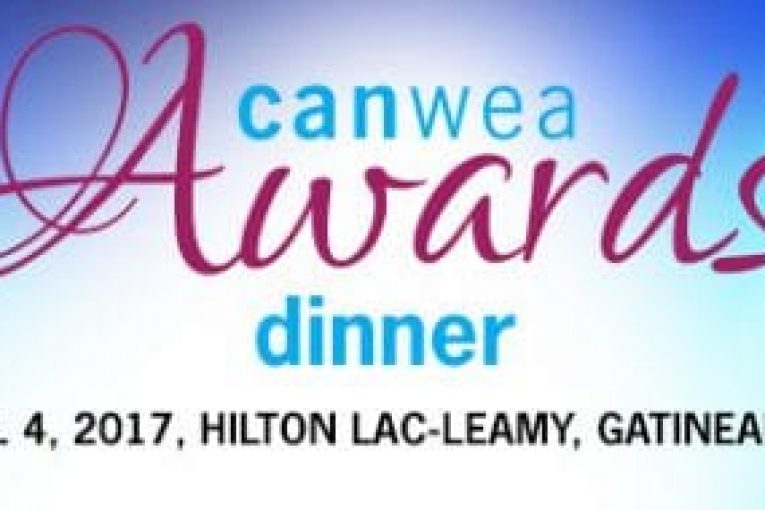 Earlier this month, the Canadian Wind Energy Association (CanWEA) unveiled the names of the finalists for its 32nd annual awards. With only weeks to go until the winners are announced at our 2017 Awards Dinner on April 4, excitement is starting to build.
These awards are a big deal for us. Our industry is filled with talented women and men committed to building a renewable future for Canada. We see the results of their passion and hard work every day, and once a year, as we've done every year since 1985, we set aside an evening to celebrate their most important and significant contributions.
The 15 individuals and organizations in the running for the six CanWEA Awards, selected by a jury of their peers from the nominations we received, represent the best of the best.
Take the R.J Templin Award finalists. This is CanWEA's oldest award, recognizing scientific and technical work that has significantly advanced the wind industry in Canada. GE Energy Consulting earned its spot as a finalist for the role it played leading the expert team that executed CanWEA's groundbreaking Pan-Canadian Wind Integration Study, which demonstrates how Canada can reliably and cost-effectively get more than a third of its electricity from wind energy. Philippe Coulombe-Pontbriand, the manager of the technical division at Renewable Energy Systems Canada, is constantly looking for novel approaches and innovative solutions to the technical challenges facing the industry. Tom Lambert, technical director of information services at AWS Truepower and our third finalist, created a wind data analysis software program that has become a global industry standard.
The Matt Holder Community Connection Award recognizes the efforts of companies and individuals who work hard to forge meaningful, mutually beneficial relationships with the communities where they operate. Adam Rosso, director of development with Boralex, is someone who works hard to understand and respond to the needs of local stakeholders. Kruger Energy was the first developer to build a wind farm in Ontario's Municipality of Chatham-Kent, and its early and ongoing engagement with the community is seen as a model for successful industry-municipal collaboration.
The finalists for CanWEA's Individual Leadership Award have diverse backgrounds, but what unites them is an ambition to think big and get things done. Dan Balaban, CEO of Alberta-based Greengate Power, didn't let a global financial crisis and market barriers stop him from advancing $1 billion worth of wind projects in his home province. William Sutherland, senior managing director of Manulife Financial, played a critical role in bringing the wind sector to financial maturity. In fact, Manulife was the first and still is the largest lender to wind power plants in Canada. Jimmy Royer retired last year from his post as senior technical advisor at Natural Resources Canada, where he played a key role in the development of policies and programs that have helped drive the rapid growth of wind in Canada and set the stage for continued expansion.
Finalists for CanWEA's Group Leadership Award include the Alliance éolienne de l'Est, a coalition of Quebec municipalities and First Nations whose investments in wind energy are expected to net $10 million a year for 25 years, money that can be reinvested in local initiatives to benefit their 300,000 citizen shareholders. Quebec's Wind Energy Cluster is a group of more than 70 companies, research and training institutions, and government representatives dedicated to making Quebec's wind sector one of the most innovative and competitive in North America. The third finalist is the Government of Alberta, whose plan to phase out coal-fired generation and add 5,000 MW of new renewable capacity to its grid by 2030 has made the province the leading market for new wind energy investment in Canada.
Three wind farms are in the running for the Wind Project of the Year Award. The 29.2 MW Bull Creek Wind Facility in Alberta, owned by BluEarth Renewables, is supplying long-term, affordable electricity to 25 rural school boards in the province. EDF EN Canada's 350 MW Rivière-du-Moulin Wind Farm is the largest wind facility in Canada and includes local municipalities and First Nations as part owners, while the 230 MW Niagara Region Wind Farm in Ontario brought together Boralex, ENERCON, and the Six Nations of the Grand River Development Corporation in a unique and successful partnership.
Last but not least, CanWEA's Friend of Wind Award gives us a chance to look outside the industry to show our appreciation to supporters who have helped spread the word about the many benefits of wind energy development. I'm not going to say any more about this year's winner right now, but trust me, the recognition is well-deserved.
I hope this brief glimpse into the tremendous work of CanWEA's award finalists helps give you a sense of the creativity and commitment that has transformed what was once an experimental technology into one of the most exciting chapters in Canada's energy story. I know that whoever the winners are, they can proudly take their place among the more than 50 visionary leaders who have already received one of these prestigious awards.
I hope, too, that as members of Canada's wind energy sector, you'll join us at our April 4 Awards Dinner, not just to recognize the contributions of our finalists, but to support the achievements of the industry as a whole. These awards are really about looking to our past with pride and our future with enthusiasm. And that, I think you'll agree, is worth celebrating.
You can read more of the news on source