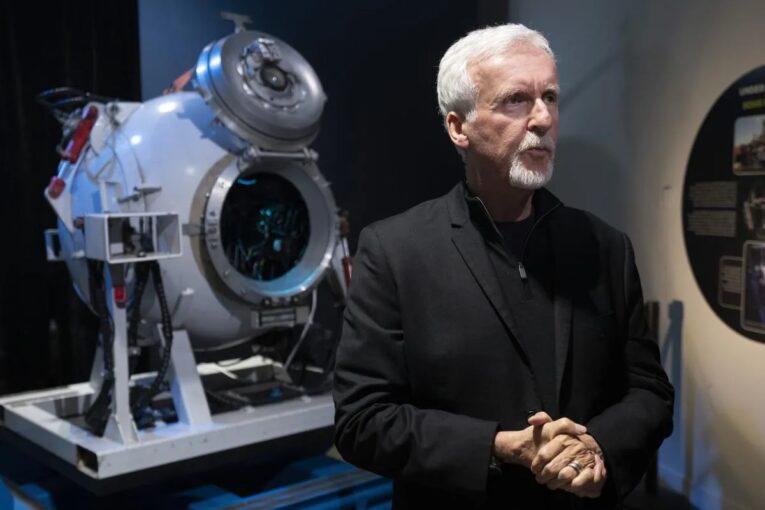 OTTAWA The implosion of the Titan submersible that killed five people last month was an "extreme outlier," according to the "Titanic" director and explorer James Cameron.
The Oscar-winning filmmaker spoke in Ottawa at the opening of a new exhibition of his own submersible the Deepsea Challenger, at the new Royal Canadian Geographic Society.
"This is an extreme outlier … we've been safe for half a century," he said, talking about the recent implosion of the Titan submersible.
Cameron believes the Titan's implosion was due to engineering issues and inadequate risk assessments and mitigation measures of the team.
"The thing about exploration is to know there's always that X factor that you can't control," said Cameron, "so you manage every risk you can possibly conceive through assiduous engineering."
The Canadian screenwriter said the researchers and the deep submergence community had over a half century of perfect safety with no incidents or deaths — even subs carrying tourists — until the Titan's implosion.
"You don't expect an implosion to happen because that's what you spend all your time (doing) analysis and your computer simulations and everything else to prevent it, but they obviously didn't do that. They didn't approach it with that same rigour and discipline, unfortunately."
Included in the dead aboard the Titan submersible was explorer Paul-Henri Nargeolet, whom Cameron described as a friend and a "legendary submersible pilot and Titanic explorer."
OceanGate, the owner of the submersible has since ceased exploration and commercial activities.
Cameron highlighted that risks are not limited to faults of the vehicles but that everything that can possibly go wrong, from a fire contaminating passengers atmosphere, to a power failure should be considered as safety contingencies.
"It's our responsibility as engineers to test, test, test," said Cameron, "Don't just guess that it's going to work. The ocean is a very, very unforgiving environment."
Official investigations on how the Titan submersible imploded are ongoing by researchers in Canada, the U.S., the United Kingdom and France.
Cameron also called for more regulations for undersea exploration. He said those regulations should be specific to vessels that are carrying passengers, and should be treated the same way as existing measures for boats or ships.
Cameron is known for films including "Titanic," "The Terminator" and the "Avatar" movies. His exhibit titled "Pressure – James Cameron into the Abyss," displayed at the Alex Trebek Theatre features the submersible he piloted solo into the deepest part of the Pacific Ocean.
In 2012, James Cameron became the first human to reach earth's deepest abyss, diving 11,000 metres into the Mariana Trench.
"I wasn't worried about the engineering, I certainly wasn't worried about imploding, because we had tested everything. That's how it should be," Cameron told reporters.
SHARE:
JOIN THE CONVERSATION
Conversations are opinions of our readers and are subject to the Code of Conduct. The Star
does not endorse these opinions.
You can read more of the news on source