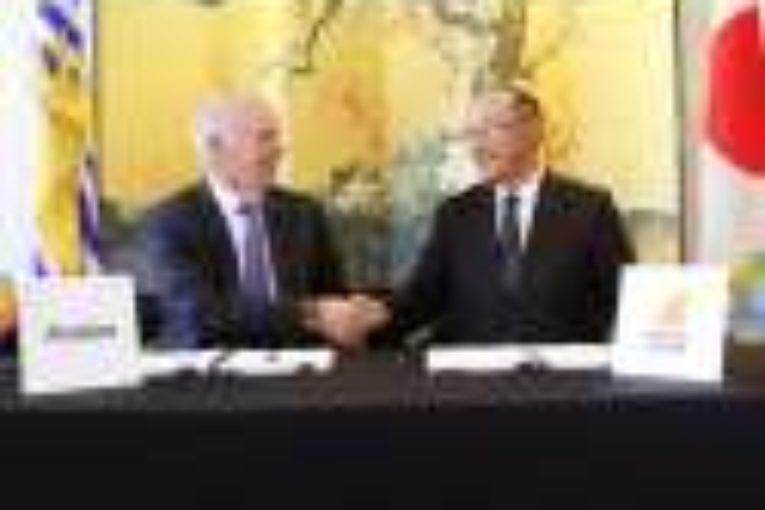 CALGARY – While liquefied natural gas export projects on Canada's West Coast are stalled, AltaGas Ltd. signed a firm off-take contract Tuesday for an under-construction liquefied propane export terminal in B.C.
Calgary-based AltaGas inked a deal with Tokyo's Astomos Energy Corp. to buy half of the 1.2 million tonnes of liquefied propane gas (LPG) per annum the company will produce at its $500-million Ridley Island Propane Export Terminal near Prince Rupert, B.C. beginning in 2019.
"We could see this growing to $500 million per year," AltaGas chairman David Cornhill said of the value of the deal at a signing ceremony attended by local, provincial and federal government officials. He added the terminal could boost Canadian exports to Japan by up to 7 per cent per year.
Astomos president Osamu Masuda said Japan does not have enough energy resources to meet its domestic needs and that  propane from Canada would help ensure a stable supply for his country. In Japan, 24 million homes use propane to heat their homes and for cooking. Astomos, a partnership between Japan's Idemitsu Kosan Co. Ltd. and Mitsubishi Corp., is the world's largest LPG player.
The deal comes one week after Malaysia's state-owned oil company Petronas cancelled plans for its $36-billion Pacific NorthWest LNG export terminal on Lelu Island, which is immediately south of Ridley Island where AltaGas' project is currently under construction.
"Last week, we got some bad news about PNW LNG not going forward, which was going to be exported from our traditional territory on the coast of B.C.," Lax Kw'alaams First Nation mayor John Helin said of the cancelled project.
Both the Ridley Island Propane Export Terminal and the Pacific NorthWest LNG project are located within Lax Kw'alaams traditional territory. The band has backed the LPG development but was originally opposed to Petronas' LNG proposal before finally agreeing to the project in February 2017.
"It's nice to be part of a ceremony where things are actually happening as we speak," Helin said.
The LPG export terminal will be the first of its kind on Canada's West Coast when complete, though competitor Pembina Pipeline Corp. has since also announced plans for an LPG terminal near Prince Rupert as well.
AltaGas also operates an LPG export facility in Washington state, which exports Canadian and U.S. propane.
Cornhill said that unlike LNG, the global market for LPG is not oversupplied and there is significant need for the commodity in countries such as India that want to reduce their carbon emissions by switching from kerosene and diesel to propane for heating and cooking.
Propane – like butane, ethane and pentane – is a byproduct of natural gas but Canadian producers have struggled with persistently low prices for the commodity and ship the majority of their propane to the U.S. at a large discount.
"Propane in Canada sells for the largest discount of anywhere in the world," Painted Pony Petroleum Ltd. president and CEO Pat Ward said, adding that when domestic producers earn $12 per barrel for propane here, global price stand at $42 per barrel.
"There's a huge arbitrage there," Ward said.
He also said that progress on the LPG industry was a positive development for the Canadian energy industry, which was hurt by the announcement that Petronas' LNG project would not proceed.
"It wasn't a good day for Canada," Ward said, adding, "We need these projects to go ahead and I think all levels of government need to co-operate in encouraging them rather than figuring out how to tax something before it exists."
Like Petronas and other LNG project proponents, AltaGas has postponed its own proposed LNG project. The company cited worsening global energy prices when it, alongside partner Idemitsu Kosan, shelved its $600 million Douglas Channel LNG project near Kitimat, B.C. in Feb. 2016.
"We look forward to seeing, someday, LNG off the West Coast as well with Idemitsu Kosan," Cornhill said.
gmorgan@nationalpost.com
Twitter.com/geoffreymorgan
Canadian Energy Regulator to replace National Energy Board with aim of restoring 'investor confidence'
Dow down more than 600 points
"We're having to look at Canada quite hard," said Suncor CEO Steve Williams
David Tkachuk says the federal government has emboldened opponents of Trans Mountain with inaction and inconsistent policies that have netted nothing but confusion
You can read more of the news on source