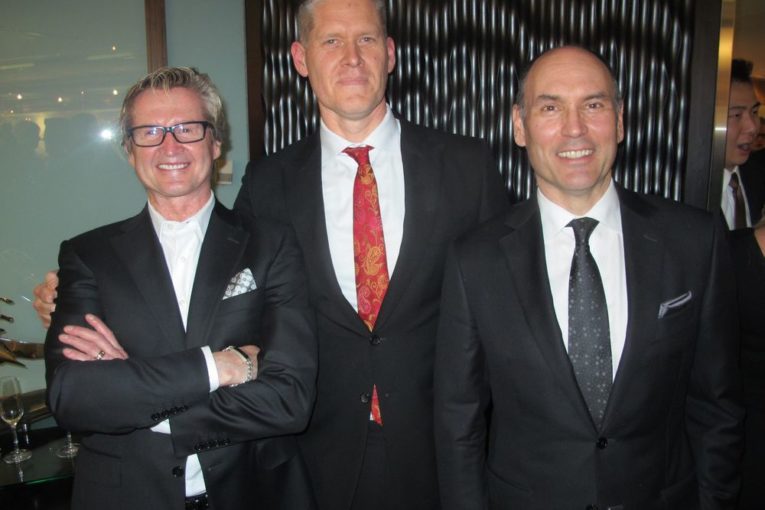 Federal and provincial government policies have only exacerbated the challenging business environment in the patch. We all know of at least one or two people who have lost their jobs as a result of the economic downturn in an industry that was —not all that long ago — the economic darling of the country.
It should come as no surprise then that the recent GMP FirstEnergy seasonal celebration held Nov. 22 in the leading independent global energy investment bank's offices was not the most raucous of parties. Fun, to be sure, but muted would be the best description.
None the less, those who work in the patch are a resilient lot and the resounding vibe this night was one of 'we will survive'. Who was not in attendance would make a much shorter list as seemingly the entire industry was represented. Consummate hosts with the most, Jim Davidson, chairman of GMP FirstEnergy, and John Chambers, vice-chairman and president, were kept busy this night welcoming guests: Obsidian Energy's Brad Monaco and Kyle Doucet; Tamarack Valley Energy vice-president finance and CFO Ron Hozjan; Westbrick Energy's Douglas Kay; Colliers International executive vice-president Jim Rea; Secure Energy Services' Allen Gransch; Pace Wellness executive vice-president Michael Palmer; Touchstone Exploration president and CEO Paul Baay; Trican Well Services' Robert Skilnick and Daniel Lopushinsky; Scott Land & Lease's Gregg Scott; Storm Resources' Stuart Clark; United Way of Calgary and Area CEO Karen Young with colleague Connie Hamilton and board chair Bruce McFarlane; Marina Caron; Michelle Broderick; Kristi Hiller; DJD's Kathi Sundstrom; GMP FirstEnergy's Nick Johnson, vice-chairman and co-head of Energy Investment Banking; and GMP FirstEnergy's Darren Engels, Robert Fitzmartyn, Oana Garis and Beverley McCartney.

You can read more of the news on source