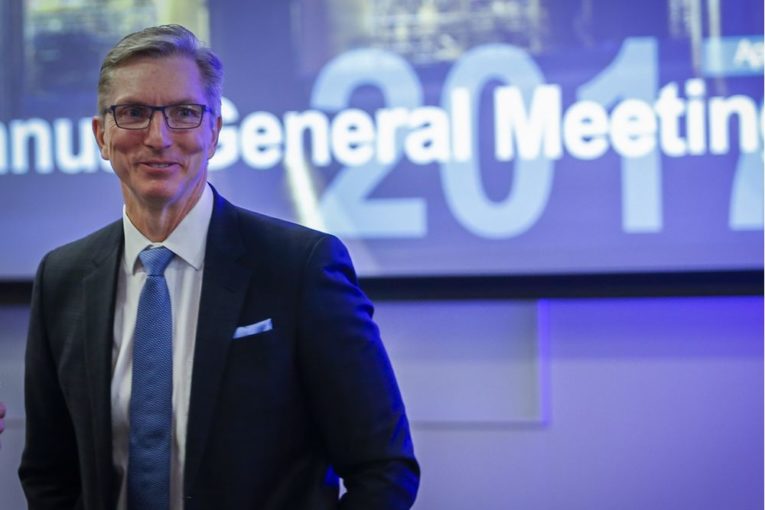 The head of Canada's largest oil refiner hopes "cooler heads prevail" and Alberta won't need to throttle back energy shipments to British Columbia in the ongoing political war over the Trans Mountain pipeline.
But Imperial Oil CEO Rich Kruger said Friday that market access constraints are already impacting the company and will force it to take a hard look at future oilsands investments.
At the company's annual meeting, Kruger told shareholders that several challenges face the industry, from "long, costly and uncertain regulatory processes" to a pipeline bottleneck that has triggered wider price discounts on Canadian heavy oil this year.
"Simply put, we are not competitive for major new energy investments in a global sense," he said.
As an integrated producer with large oilsands operations and one of the country's biggest refineries just outside Edmonton, Imperial is confronted by market access issues on several fronts.
The British Columbia government is trying to derail the Trans Mountain pipeline expansion from moving ahead due to fears surrounding increased tanker traffic tied to the development.
It sent a reference question Thursday to the B.C. Court of Appeal to see if it has the power to restrict additional bitumen shipments into the western province.
In Alberta, the Notley government is pushing to see the $7.4-billion project completed, which would triple the amount of oil that could move from the province to the B.C. coast.
Alberta has threatened to retaliate against B.C. for holding up the federally approved development. It recently introduced legislation that would let it issue licences for exporting oil, natural gas and refined products.
Using the permits to turn off the energy taps to B.C. would increase gasoline prices and crank up the political pressure on Premier John Horgan's government, but it would also hurt refiners in Alberta that move 25 per cent of their product into British Columbia.
Imperial ships its product along the existing Trans Mountain pipeline and has committed to additional capacity on the expanded system.
Asked what he makes of the Notley government's new legislation, Kruger reiterated his support for policies that expand transportation access for Canadian oil companies.
The current level of emotion behind the legal and regulatory actions "being taken on both sides of the border show how elevated this whole situation is," he told reporters after the meeting.
"We comply with all laws and regulations. But our hope is that cooler heads prevail and solutions are found."
The Calgary-based company, like most of the oilsands sector, is being impacted by the lack of take-away capacity from Alberta. Pipelines are full and rail shipments are slowly increasing.
Benchmark U.S. crude prices have risen sharply over the past year. Yet, Canadian heavy oil producers are missing out because of the wider price discount affecting their crude.
"That's probably the most vivid example I can offer talking about competitiveness. Oil prices went up $10 a barrel and we haven't received any of it," Kruger noted.
Some Canadian petroleum producers have been side-swiped by the lack of pipeline space.
Cenovus Energy shut in some of its oilsands output due to the large price discounts witnessed in March, which have since eased.
Husky Energy temporarily scaled back production by 5,000 barrels a day in the first quarter, buying discounted heavy oil from other companies for use in its refineries.
Imperial produced about 370,000 barrels of oil per day in the January-to-March period, but 12,000 barrels from its Kearl project were impacted by transportation limitations.
The company had the capacity to produce the oil, but no place to put it, the CEO explained.
These are short-term impacts that should be resolved once more rail capacity kicks in and proposed pipelines — Trans Mountain, Keystone XL and Enbridge's Line 3 — are built.
However, there are no ironclad assurances these ventures will move ahead on schedule, and an inability to resolve the pipeline problem threatens future investments.
Imperial has applied to the Alberta Energy Regulator for approval to expand its Cold Lake oilsands development and for its new Aspen project, which could produce 150,000 barrels a day.
Aspen, which would be built in two phases costing an estimated $2 billion each, would use a new solvent-injection thermal process that is expected to reduce greenhouse gas emissions by 25 per cent compared with existing oilsands developments.
Imperial made its initial project application for Aspen to the AER in December 2013. It still hasn't received a final answer, a delay Kruger described as "inordinately long."
The AER said Friday it has examined all the technical aspects of Aspen and is in the final stage of the review process.
Officials with the Alberta government said the Aspen project is "unusually complex," but it is working with the regulator to reduce the overall timelines for studying such developments.
That's all well and good.
But regulatory approval doesn't necessarily mean the company will make a positive final investment decision.
Mark Oberstoetter of energy consultancy Wood Mackenzie noted most oilsands producers are reluctant to sanction new projects today, in part because of the country's unresolved transportation issues.
"For investors behind these companies, this is a huge lightning rod issue for them," he said. "You'd have a bunch of investor backlash if you go forward."
If Imperial gets regulatory approval, it will examine the economics and the conditions imposed on its projects, along with the current outlook for pipelines.
"I would tell you, I don't think it's going to be an easy decision," Kruger said.
"We need to see some lights at the end of the tunnel that will give us confidence to grow with the Canadian-specific challenges we face."
Chris Varcoe is a Calgary Herald columnist.
You can read more of the news on source