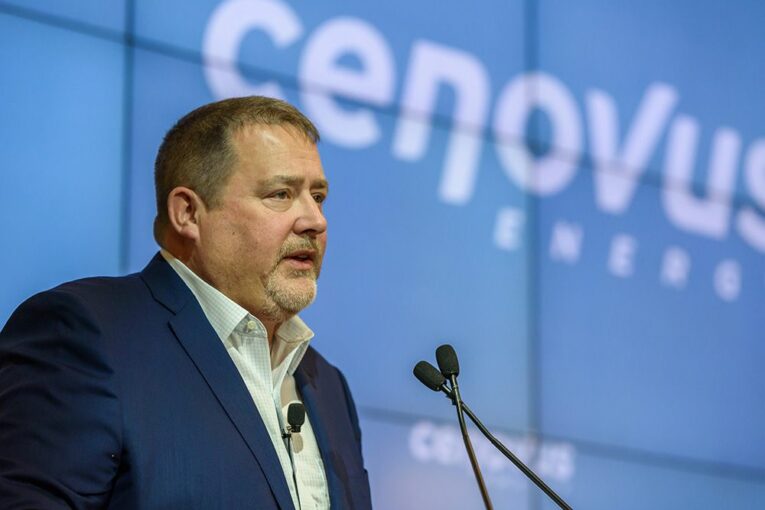 As the snow flies and winter approaches, another popular season has already arrived in North America — the days when politicians turn energy into a political football. 
We apologize, but this video has failed to load.
Try refreshing your browser, or
tap here to see other videos from our team.
Varcoe: Energy a convenient political football as oilpatch profits take off
Back to video
Oil and gas producers have trotted out stellar third-quarter results in the past week, prompting politicians in Ottawa and Washington to turn their sights back on growing industry profits.
U.S. President Joe Biden is calling on petroleum producers to invest more money to boost output and lower gasoline prices, suggesting a windfall tax be placed on the sector.
In Canada, federal Environment Minister Steven Guilbeault is again prodding Canadian companies to invest in decarbonization initiatives, not buying back shares.
On Wednesday, Cenovus Energy joined the oilpatch earnings parade, reporting a $1.6-billion profit during the third quarter, up 192 per cent from a year earlier, although down by about a third from the April-to-June period.
The Calgary-based integrated producer also bought back $659 million in shares in the third quarter.
The sector's upturn is also paying off for Canadian governments, said Cenovus CEO Alex Pourbaix.
"Any characterization that the Canadian industry is not contributing is just fundamentally inaccurate," Pourbaix said on a conference call.
"We support the federal government's effort for our country to make significant emissions reductions … but I think really getting there requires a practical and realistic approach to emissions reductions, in order to protect jobs, investment in Canada, and help provide global energy security."
Recommended from Editorial
Cenovus declares variable dividend, says earnings down slightly from previous quarter

Varcoe: Canadian oilpatch reaping big profits, but long-term outlook unsettled

BP joins rivals with bumper $8.2B profit as Joe Biden accuses oil majors of 'war profiteering'

Varcoe: Canada 'falling behind' in race to attract carbon capture investments
He pointed to a September report by Peters & Co. that indicates the sector will pay about $50 billion in royalties and cash taxes to various levels of government in Canada this year. That sum includes $20 billion in royalties paid by oilsands producers, the report notes.
Other Canadian producers have released strong results. Imperial Oil announced Friday it made $2 billion during the third quarter and bumped up its dividend by 29 per cent.
On Tuesday, supermajor BP reported it made US$8.2 billion in adjusted net income for the quarter, while ExxonMobil posted record earnings of US$19.7 billion last week.
The debate over industry spending has been reignited as global energy prices have taken off this year following Russia's invasion of Ukraine and, more broadly, concerns about soaring inflation.
With such sizeable profits, the political flak surrounding the oil and gas industry has predictably picked up.
Biden, facing tough mid-term elections, criticized the sector earlier this week, saying on social media that "it's time for oil companies to stop the war profiteering … and give the American people a break at the pump."
By that measure, Guilbeault was relatively tame, although he continued to prod Canadian petroleum producers to make major investments in areas such as carbon capture, utilization and storage developments.
"As Canadians see those profits, we need to see the reinvestment into cleaner energy, instead of share buybacks," he said on Twitter.
Analyst Phil Skolnick of Eight Capital said Cenovus and other oilsands operators had a strong third quarter. He noted political pressure in Canada and the U.S. on energy companies to spend more money comes after government policies in recent years have driven investment out of the industry and made it more difficult to grow production.
"I love when governments tell companies how to spend their money. There is a return aspect to it, too," Skolnick said from New York. "It is politics."
The sector, the country's largest emitting industry, is actively working on plans to reduce its GHG levels, with big ambitions to build carbon capture developments as Canada moves towards a net-zero target by 2050.
Earlier this year, Ottawa introduced a new investment tax credit for CCUS projects worth up to 50 per cent, although it fell short of a request by the Canadian Association of Petroleum Producers for a credit worth 75 per cent.
Pathways Alliance, a group of six large oilsands producers, including Cenovus and Imperial Oil, has proposed spending $24 billion on various decarbonization initiatives by 2030.
The federal environment minister termed it "a good start."
As part of its plan, the alliance is working on a $16.5-billion project to develop a carbon trunk line that connects oilsands facilities to a CO2 sequestration hub near Cold Lake.
However, the new U.S. Inflation Reduction Act has sharply improved incentives for CCUS developments south of the border, leaving Canada "falling behind," according to a recent report by BMO Capital Markets.
Business groups will be watching Thursday's federal fall fiscal update for signs Ottawa may enhance its program. Finance Minister Chrystia Freeland indicated recently the government is examining changes included within the U.S. Inflation Reduction Act.
"We are a leader in CCUS, both in terms of policy and in terms of actual activity on the ground. And we are absolutely determined not to give up that place leading the pack to anyone," she told reporters in Edmonton two weeks ago.
"I recognize that is going to take more government policies and more government investment."
Pourbaix said more work needs to be done on ensuring Canada's competitiveness, although he isn't expecting "anything earth-shattering" coming out of the fiscal statement.
"I don't think we're at a stalemate at all," he added. "If everybody is reasonable, I think there's a path to a resolution that works both for governments and for the industry — and for the province."
In an interview, Alberta Energy Minister Peter Guthrie didn't rule out the province offering incentives to carbon capture developments, but he also put the matter squarely back on Ottawa.
"The federal government — it's in their hands right now," Guthrie said Friday.
"If they want to be that driving force, then they need to step up to the plate and show us what they're willing to do, and we can react thereafter."
Chris Varcoe is a Calgary Herald columnist.
You can read more of the news on source