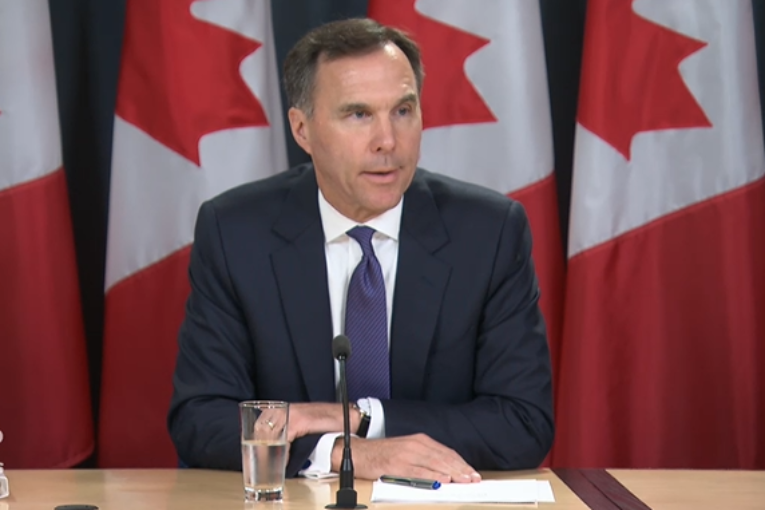 CALGARY – Hundreds of protesters chanting "Build that pipe now" jammed a downtown Calgary street for the second time in five days on Tuesday, this time to mark a speech by federal Finance Minister Bill Morneau.
Organizer James Robson with the Canada Action Coalition says his group — which picketed a speech by Prime Minister Justin Trudeau last Thursday — plans to show up every time a federal cabinet minister does because it's important Canadians see the "pain" caused by low oil prices blamed on insufficient pipeline access to markets.
Inside, during a speech to the Calgary Chamber of Commerce, Morneau said Ottawa has shown its support of western Canadian energy workers by buying the Trans Mountain pipeline for $4.5 billion and continuing to try to get its expansion project built after a court overturned its regulatory approval in August.
He conceded that the "industry is under threat" and said he is sympathetic to the "extreme anxiety" Albertans are feeling but added policies unveiled in his fiscal update last week will help encourage investment in the country.
He dodged questions about whether the federal government will contribute to an Alberta plan to buy railcars to transport oil to market, noting he is willing to listen to short-term solutions but repeating that the Trans Mountain expansion is the best long-term answer.
Robson said his organization wants the government to rethink its Bill C-69 to revamp the National Energy Board and Bill C-48 to ban oil tankers on the northern coast of British Columbia, noting both make building pipelines more difficult.
Both proposals have been passed in the House of Commons and are being considered in the Senate.
"There needs to be people associated with the pain that's going on," Robson said of the protests.
"It obviously isn't resonating from a high-level conversation so it needs to be grassroots. It needs to be real and they need to see it."
Morneau told reporters he doesn't think the protesters are mistaken.
"They're not wrong at all, they're feeling extreme anxiety which we completely understand," he said.
"The industry is under threat, we're not getting market prices for our resources and as a result people aren't making the kinds of investments we want them to make."
You can read more of the news on source