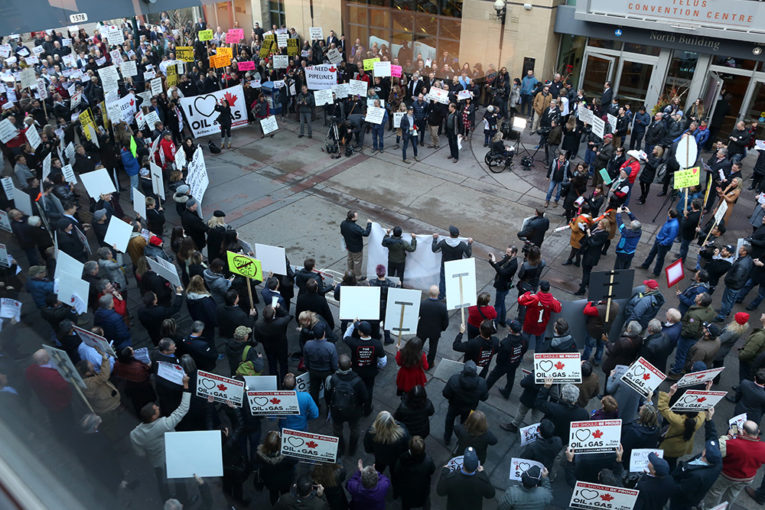 As post-Grey Cup revelries got underway at Calgary City Hall, a rally of a different kind was taking shape just blocks away as pro-pipeline supporters descended on the Telus Convention Centre.
Tuesday's rally was a planned show of force from Trans Mountain pipeline proponents to voice their frustrations with the stalled project to federal Finance Minister Bill Morneau.
Morneau was in town to meet with the Calgary Chamber of Commerce hot on the heels of Prime Minister Justin Trudeau's whirlwind trip to Calgary last week, which also sparked a pro-pipeline rally.
Thousands of people gathered outside the Hyatt Regency on Thursday during Trudeau's time in Calgary, forcing police to close roads in the downtown core during one of the largest public demonstrations ever seen on Calgary streets.
The rally on Tuesday was organized by pipeline support group Canada Action, which held another rally in May to show its support of the project before Ottawa stepped in to purchase the pipeline from Kinder Morgan for $4.5 billion.
James Robson with Canada Action said the group is building off the success of last week's rally and he has no intention of staying quiet.
"Every time a cabinet minister or the prime minister comes to town, we need to get out and make our voices heard," Robson said.
"We had pipelines approved, we had pipelines killed. Now we have a nationally owned pipeline and we're not seeing a lot of progress, so there's a lot of frustration in the energy sector."
Robson said he hopes the demonstration will show Morneau the "people behind the news articles and behind that Western Canadian Select price."
Many demonstrators held signs denouncing Bill C-48 and C-69, with Robson calling C-69 one of "the potentially most devastating" pieces of legislation to the oil and gas sector.
The federal government stepped in after months of political uncertainty, public clashes between the premiers of Alberta and B.C. and protests that resulted in the arrest of MP Elizabeth May, leader of the Green Party of Canada.
The project is now in limbo after a court ruling struck down federal approval of the Trans Mountain expansion.
Ken Buckley, who works for a small oil and gas exploration company, said he attended the protests to show resistance to how the federal government is "crushing our industry."
"(We're) trying to send a message that says, 'Hey, we're unhappy,'" he said. "We're not getting any love, we're not getting any support … we're frustrated."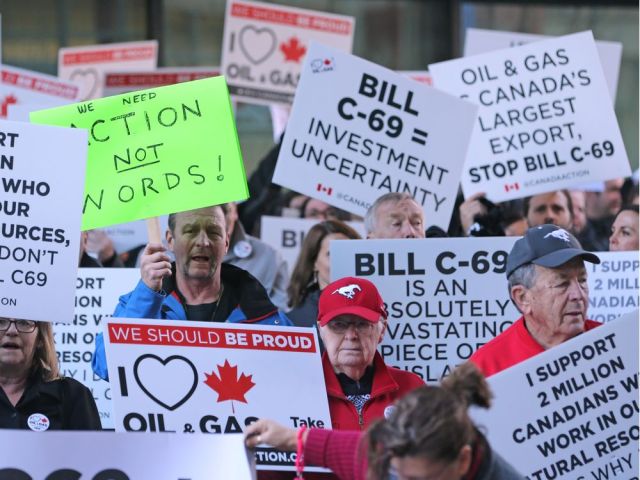 Under the Trans Mountain agreement, the Alberta government will put in $2 billion to help cover cost overruns in exchange for a stake in pipeline ownership.
On top of the $4.5-billion price tag to purchase the current line, the pipeline will also require a $7.4-billion expansion to move Alberta oil to the B.C. coast for shipment to international markets.
Brian Wimmer doesn't work in oil and gas but said he felt urged to attend the rally as a "sign of desperation" and show the federal government that "something's got to happen" to kickstart the Trans Mountain project.
"At least the government could give us some update on what's happening," he said.
Calgary Mayor Naheed Nenshi said on Tuesday the provincial and federal governments' "tireless advocacy for market access" in recent months "has been much appreciated," but added there needs to be a "more coherent overall strategy" for economic growth in the city.
On Twitter: @RCRumbolt
You can read more of the news on source