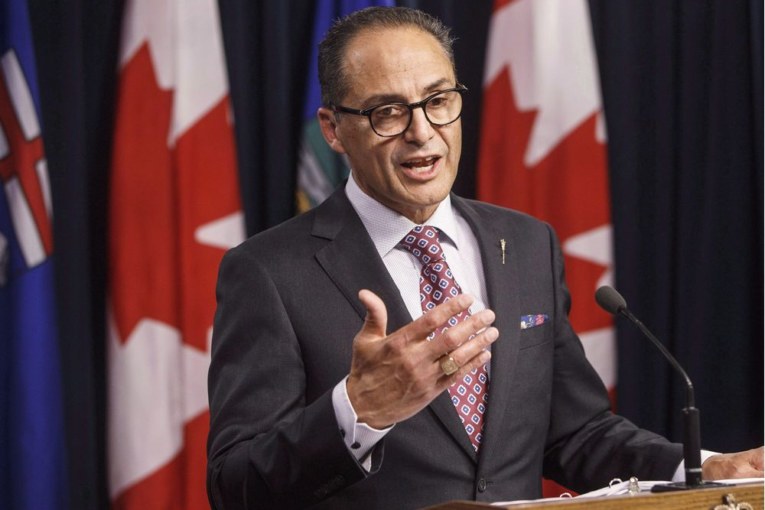 Albertans will see more jobs created this year as the economy revs up, but pipeline bottlenecks could jeopardize up to $9 billion in additional royalty payments over the next five years.
And as the Notley government pushes for new oil pipelines to be built, petroleum producers in the province are already losing an estimated $30 million to $40 million a day.
The province's third-quarter fiscal update released Wednesday is a study in contrasts, with some bright economic news painted alongside ominous signs for an energy producing jurisdiction.
At the legislature, Finance Minister Joe Ceci aptly called the situation "a mix of positive growth and persistent challenges."
The good news, if it can be called that, is the annual deficit is expected to come in at $1.4 billion below last spring's budget projections.
It's tough to declare $9.1 billion in red ink a victory. But it is better than the original $10.5-billion budget deficit initially forecast for the fiscal year that ends in March.
As oil prices have crested above US$60 a barrel and stock markets have chugged higher, resource revenues and investment income has boosted revenues. Spending, however, is also up.
Oil prices are now forecast to average US$54 a barrel for the fiscal year, a $5 lift from the second quarter.
Overall, the economy is recovering.
After expanding by 4.5 per cent last year, Alberta's economy is expected to grow by 2.8 per cent in 2018, generating more jobs.
In the past year, almost 90,000 full-time positions were created across the province, although 43,000 part-time jobs disappeared.
The biggest employment gains were seen in sectors hit hard during the recession, such as the oil and gas industry, manufacturing, transportation and warehousing.
The stubbornly high unemployment rate is expected to drop to 6.8 per cent this year, while paycheques will get fatter.
This optimistic outlook matches a new study by the Conference Board of Canada, which also expects to see the economy grow by 2.8 per cent this year.
A rosy forecast doesn't mean all the pain of the economic downturn has vanished, however.
Some high-paying jobs in the oilpatch have disappeared, some Albertans have stopped looking for work, and with the energy sector in transition, this may be a new state of affairs moving forward.
Thankfully, a jobless recovery has finally given way as companies and consumers grow more confident.
"We saw labour markets start to create jobs and that will firm up in 2018," said Marie-Christine Bernard, the board's director of provincial forecasting.
"Businesses were waiting to see signs the economy was on firmer grounds before hiring."
However, a couple of worrisome signs still hang on the horizon.
Business investment continues to lag, especially for commercial construction.
A Statistics Canada survey released Wednesday on capital spending intentions says Alberta is expected to see a five per cent reduction this year to $54 billion, led lower by falling oil and gas spending.
Several major oilsands projects sanctioned before crude price collapsed are now winding up. Spending in non-conventional oil development is projected to tumble by one-fifth.
Even with today's stronger commodity prices, spending in the conventional oil and gas area will decline by seven per cent, to $23 billion in the country.
While Canadian energy exploration and development is falling, U.S. oilpatch spending is taking off, thanks to lower corporate taxes and strong growth opportunities in shale oil areas.
"Our investment is significantly down … we're falling behind the United States," said Ben Brunnen, a vice-president with the Canadian Association of Petroleum Producers.
"The U.S. tax reform south of the border is driving investment south."
The biggest uncertainty that lies ahead is the hot-button issue that's commanded headlines for months: pipelines.
The province's financial report card includes a special section on pipeline bottlenecks, explaining the dilemma facing the oil industry.
Alberta produced 3.5 million barrels of oil per day in December and output is expected to grow by 350,000 bpd this year.
The existing pipeline system is full.
Even if three new oil pipelines — Keystone XL, the Trans Mountain expansion and Enbridge's Line 3 replacement project — are built, the province will still face constraints moving crude to market throughout 2018 and 2019, the report indicates.
The differential between benchmark U.S. oil prices and Western Canadian Select heavy crude has shot up since November, sitting at more than $28 a barrel on Tuesday — more than double the levels seen last fall.
The wider price spread has chopped an estimated $500 million from bitumen royalties this fiscal year. Heavy oil producers are losing out on up to $40 million of revenues each day, according to the province.
Ceci remains confident the pipelines will be built, although political and environmental opponents — including the B.C. government — continue to fight these developments.
"This discount is problematic and I believe there will be constructive, cooler heads that make this happen," he said. "This is crucial for Canada."
If the industry had sufficient pipeline capacity, Alberta producers could net up to an extra $7 per barrel for their oil.
New pipelines would also stimulate about $10 billion in additional oilpatch capital spending by 2022. Over this period, the ensuing higher prices and production would hike royalty payments by up to $9 billion, the report states.
To put that into perspective, that's enough money to build six new cancer centres or about 400 new schools in the province.
Albertans have shown remarkable resiliency climbing out of the recession. Jobs are finally starting to come back and consumers are showing more confidence.
But to get this province back on firm economic footing, the persistent pipeline problems must be fixed.
The latest outlook confirms how much is at stake for Albertans.
Chris Varcoe is a Calgary Herald columnist.
You can read more of the news on source