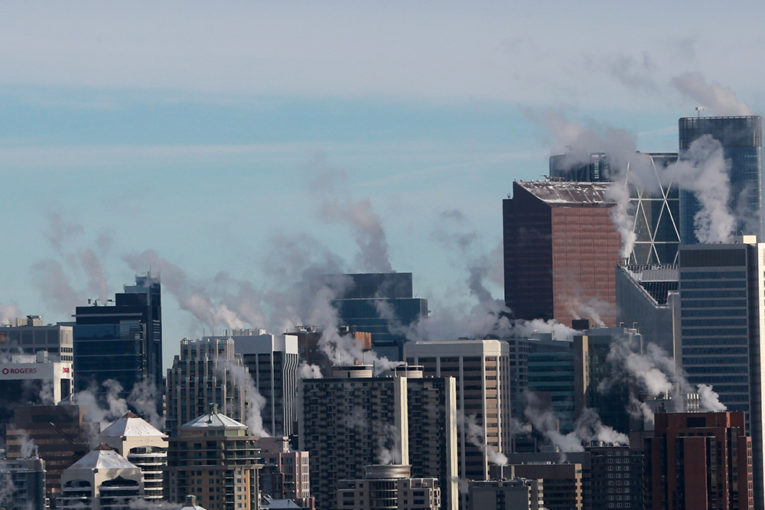 Plenty of news-grabbing events occurred before 2017 drew to a close — whether it was the massive tax overhaul south of the border, the revelations of men behaving badly or the stratospheric rise and fall of bitcoin — but something happened closer to home that didn't garner much attention.
It did involve women. But not because someone had been behaving badly.
Rather, you could argue it was a sector behaving badly; a sector that saw another two women leave the executive leadership teams of their oilpatch organizations.
Judy Fairburn stepped down as chief digital officer and executive vice-president of safety at Cenovus, and Karen Radford, who was executive vice-president and chief transformation officer at Enbridge — leading the integration efforts after Enbridge acquired Spectra — decided to take a break at year-end.
To the outsider, both decisions could be explained: A new president and chief executive arrived at Cenovus, and the integration of Spectra and Enbridge was completed. But both executive teams are down one woman — and perilously close to resembling a reincarnation of the Old Boys club.
What kind of message does this send to women charting oilpatch careers, especially those trying to balance family and career? Who will be their advocate?
This isn't about Enbridge per se, which has had very strong women in senior positions — Bonnie Dupont, Janet Holder and Radford. What this is about is the dearth of women in senior positions and on corporate boards.
Recently, the Young Women in Energy organization honoured a dozen women for their achievements and held a panel discussion at the Petroleum Club — where former federal energy minister Pat Carney once had to enter through the back door because women weren't allowed to use the front doors with the men.
The discussion was about women in the oilpatch and challenges faced in terms of advancement — a conversation that has been occurring longer than the two decades I've covered the sector.
It would be nice to think that in 20 years, these panels will be a thing of the past.
But that's what I thought two decades ago. The breakthroughs of women including Kathy Sendall, Sarah Raiss, Nancy Smith, Holder, Dupont, Una Power, Sherri Brillon, Jackie Sheppard, Dawn Farrell and Gianna Manes should have been catalysts for further progress.
But that is not what has happened, despite efforts by the Ontario Securities Commission through its comply or explain legislation, or studies by Catalyst, the Organization for Economic Co-operation and Development, the Brookings Institute and Osler, Hoskin & Harcourt – all highlighting the gaps and consequences of women not being proportionally represented in the workplace.
In our current, outcomes-based world, there's strong evidence that meaningfully including women leads to economic growth. When we look at economic growth rates since 1970, there's a clear correlation between the number of women working and the rate of growth.
It's important to note that this took place as the boomers entered the workforce.
Today, however, the workforce is aging and boomers are retiring. Being committed to increasing the labour force participation rate (LFPR) by women is critical to maintaining standards of living and ensuring future economic growth.
When companies don't attract, promote or retain women at senior levels, it sends a strong message to the younger generation in terms of how they do or don't value workforce diversity. But it also compromises the broader economy.
For two decades we have talked about pipelines, in the context of the number of women whose careers are progressing according to a certain trajectory. The more women in that pipeline, the better the odds more make into the C-suite — the offices of CEOs, CFOs, COOs and other senior execs.
But that's not happening. Women are still self-selecting out.
According to a study on diversity completed by Osler last September, if you are female and in the energy sector, you are unique. An endangered species.
Of 750 companies listed on the TSX, 46 per cent have the dubious distinction of lacking a single female director. In terms of the number of women in the executive ranks, 41 per cent lack a woman in the C-Suite.
And when you drill down into the oilpatch, it gets worse. In 2016, there were 0.51 women serving as directors on oilpatch boards – representing six per cent of available board seats. When it comes to C-suite positions – the numbers were 0.68 in terms of women in executive ranks, representing nine per cent of management teams.
The only place where a healthy representation exists in executive leadership teams is at companies led by women; in the case of energy companies, that means Enmax and TransAlta.
And let's take it one more, uncomfortable, step further. Of the women who have climbed to the top, the majority are in what would be termed pink ghetto functions such as corporate services and human resources. You are hard pressed to find women in senior positions with operating and front-line responsibilities; yes, there is something called occupational segregation.
And that's even when they have the iron ring of an engineer.
Rare exceptions include Lorraine Mitchelmore, who was the country chair for Shell Canada; Kathy Sendall, who was the VP of North American Natural Gas Operations for Petro-Canada; and Sue Riddell Rose, president and CEO of Paramount Resources.
Female executives also don't earn as much as male counterparts.
A 2016 study by PwC concluded that if more women entered the workforce, and were paid the same wage for the same work as male counterparts, there would be a $105-billion boost to Canada's gross domestic product.
How can companies — and governments — ignore a number like that?
Another challenge is the workplace itself, with many still using an outdated industrial model of employment that lacks flexibility. Among the reasons for women earning less is that they may take time off to have a family and some also look for part-time options that provide flexibility.
If women are penalized for taking time off for family reasons, it suggests society doesn't value women and families the way it wants to think it does.
That's why, when two senior women leave the oilpatch at the same time, it's two more women who have achieved a C-suite slot and done well, but have also paid a price — however they choose to define it. Their exit leaves a gap in terms of setting an example and mentoring.
One can't help but question whether this is affected by the oilpatch's ties to the U.S., where the numbers are even worse. On everything from female labour force participation, to hours worked and pay gaps, the U.S. is ranked near the bottom of the industrialized world. It is also the only industrialized country not to have a paid maternity leave.
Back in the late 1960s, the tag line for the cigarette brand Virginia Slims said, "You've come a long way, baby." It was aimed at women riding the early wave of feminism. Almost half a century later, women have come a long way, but it's still not far enough.
The oilpatch has to realize that it is fighting the demographic curve — just like every other sector. That's why attracting, retaining and promoting women is critical to its future — just as it is for the growth and prosperity of the broader economy.
You can read more of the news on source