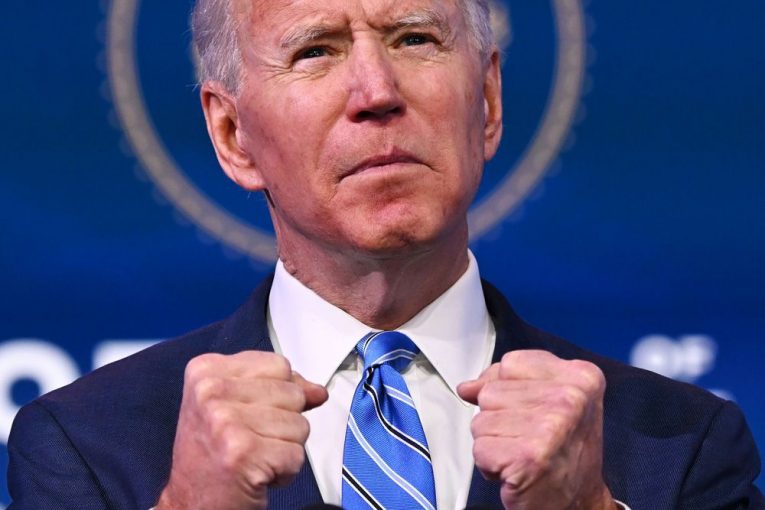 One of Joe Biden's first actions once he becomes U.S. president Wednesday will be to slam the door yet again on Canada's politically fraught Keystone XL pipeline expansion, transition documents suggest.
Alberta Premier Jason Kenney said in a statement Sunday evening that he is deeply concerned by the reports.
The documents, seen by The Canadian Press, feature a to-do list for inauguration day that includes signing an executive order to rescind the Keystone XL construction permit granted in 2019 by predecessor Donald Trump.
"Doing so would kill jobs on both sides of the border, weaken the critically important Canada-U.S. relationship, and undermine U.S. national security by making the United States more dependent on OPEC oil imports in the future," Kenney said.
"As president-elect Biden's green jobs plan acknowledges, Americans will consume millions of barrels of oil per day for years to come. It is in perfect keeping with his plan that the United States energy needs should be met by a country that takes the challenges of climate change seriously."
Kenney said he's renewing his call on the incoming administration to show respect for Canada as the United States' most important trading partner and allow the country to make its case for strengthening co-operation on energy, the environment and the economy through the Keystone XL project.
Kenney: "I do believe it's important in the next 48 hours that Prime Minister Trudeau reach out directly to the incoming administration to reiterate the message he sent on Nov. 9 that… this is central to the bilateral relationship." #ableg #cdnpoli

— Sammy Hudes (@SammyHudes) January 18, 2021
"All we ask is that President-elect Biden show Canada the respect to actually sit down and hear our case about how we can be partners in prosperity, partners in combating climate change, partners in energy security," says Kenney.#ableg #abpoli

— Sammy Hudes (@SammyHudes) January 18, 2021
The premier concluded that the province would work with TC Energy to use all legal avenues available to protect the project.
In 2020, the Alberta government
took an equity stake in the project and provided a loan guarantee
with a total financial commitment of just over $7 billion.
Biden's transition documents also suggest that despite its best efforts, Canada has failed to convince the incoming administration of the virtues of importing fossil-fuel energy from a friendly ally and trading partner with similar climate change goals.
Campaign officials promised in May that if elected, Biden would cancel the $8-billion cross-border project, but neither the timeline nor the extent of Biden's own commitment to the promise was clear until now.
Biden campaign officials did not immediately respond to media queries Sunday.
I am deeply concerned by reports that the incoming administration of President-elect Joe Biden may repeal the Presidential permit for the Keystone XL border crossing next week.

My full statement: pic.twitter.com/vZjun1IdMH

— Jason Kenney (@jkenney) January 18, 2021
The controversial, on-again, off-again pipeline expansion, owned by Calgary-based TC Energy, would ferry up to 830,000 additional barrels a day of diluted bitumen from Alberta's oilsands to refineries along the U.S. Gulf Coast.
Former TransCanada executive and commentator on the Keystone-XL project Dennis McConaghy said he wasn't surprised by reports that Biden intends to clip the project.
"It is very regrettable and very unfair to Canada to be doing this," said McConaghy. "If the project cannot be physically finished without long legal processes, it means Alberta is not going to be able to access what would have given us the most efficient — least cost — access to the market."
The province will have to join litigation to get recovery of costs since it's an investor, which McConaghy expects to unfold in the months ahead if Biden does rescind the presidential permit this week.
The situation now isn't the same as former president Barack Obama's rejection in 2015, McConaghy said, since the project now has a legal permit to cross the border.
Some 200 kilometres of pipe have already been installed for the expansion, including across the Canada-U. S. border, and construction has begun on pump stations in Alberta and several U.S. states.
"Obama had the prerogative to say no. In this case, Biden is taking away an existing permit. It's even more audacious than imposing aluminum tariffs on Canadian aluminum because it's arguable that Biden doesn't have the right to do this. It's a very sad night," said McConaghy.
Alberta's official Opposition Leader Rachel Notley said the risk surrounding the Keystone XL pipeline has been obvious for some time.
"Nevertheless, Jason Kenney jeopardized up to $7.5 billion of Alberta taxpayers' money on this project and now we're learning it may be stopped altogether," Notley said in a statement Sunday evening.
Notley acknowledged the completion of the project would be beneficial to Alberta's economy but called the province's investment a "massive gamble."
"This is a premier with no vision for the future and no willingness to listen to international investors practically begging for a real plan to acknowledge and combat climate change," she said.
"With KXL facing critical moments in the coming days, Albertans deserve to know exactly how much of their money is at stake. Jason Kenney and the UCP need to stop hiding this deal from Albertans and finally release it in its entirety."
From the moment that Albertans' dollars were put at risk, Jason Kenney has also continued to reject the importance of a strong environmental and climate policy that would help make the case for KXL. #ableg 3/5

— Rachel Notley (@RachelNotley) January 18, 2021
Government officials quietly refused to rule out the possibility there might still be time to change the Biden administration's mind.
Kirsten Hillman, Canada's ambassador to the U.S., has argued for months that the project is not the same one Obama rejected in 2015 — an argument she reiterated in a statement Sunday.
"Not only has the project itself changed significantly since it was first proposed, but Canada's oilsands production has also changed significantly," Hillman said.
"Per-barrel oilsands GHG emissions have dropped 31 per cent since 2000, and innovation will continue to drive progress."
The federal Liberal government has also beefed up its climate plan in an effort to exceed the current target for cutting greenhouse gases by 2030, and to reach net-zero emissions by 2050, she added.
"Underpinned by a crucial and long-standing trade and security partnership, there is no better partner for the U.S. on climate action than Canada as we work together for green transition," Hillman said.
—
With files from James McCarten, The Canadian Press
Twitter:
@BabychStephanie
You can read more of the news on source