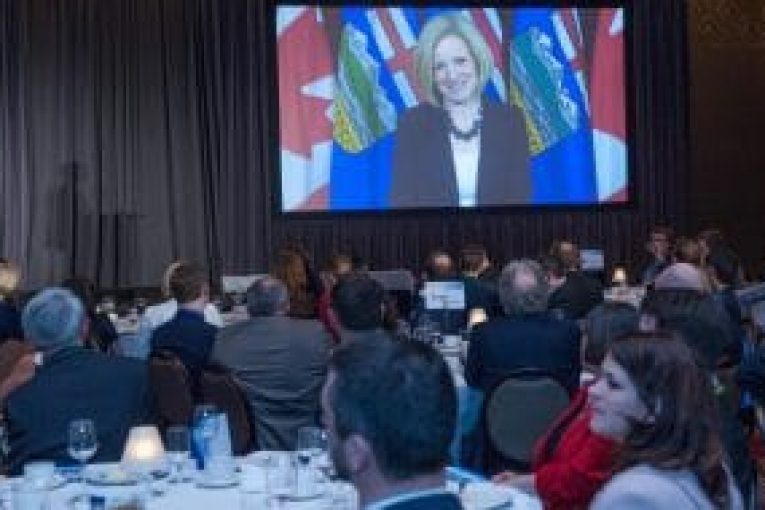 When more than 120 wind energy leaders recently gathered in the National Capital Region for the Canadian Wind Energy Association's (CanWEA) annual Spring Forum, it was a good moment to reflect on how far we have come.
After years of rapid growth, Canada is the eighth largest wind energy producer in the world. We've built more generating capacity over the past 11 years than any of our competitors, we're the lowest-cost source of non-emitting generation available today, and we're bringing jobs and investment to all parts of the country. As Canada's Natural Resources Minister Jim Carr noted in his keynote address during the closing day of the Forum, Canada has emerged as a world leader in one of the fastest-growing parts of the energy sector.
It's a remarkable success story, one that can't help but instil a sense of confidence in what comes next. It also, I think, requires us to take responsibility for shaping that future.
Because we are now a mainstream player, and because we are well-positioned to significantly increase our contribution as a source of energy in this country, we have to broaden our horizons. It's time to engage in discussions that look beyond wind to the power system as a whole.
Work underway to reform electricity markets in Alberta and Ontario is a good example. The future shape of electricity markets – and the future rules that will guide them – can either open doors for new renewable energy development or slam them shut. They can either recognize – or ignore – the benefits that wind or solar or advanced batteries or energy efficiency can bring to the system.
There's also a discussion going on in Canada right now about the possibility of building enhanced interties between provincial power systems, something CanWEA strongly supports. We believe new east-west interconnections and closer inter-regional co-operation can make electricity grids more robust, more flexible, and better able to integrate wind and other sources of renewable generation across a wider geographic footprint. But we also know there are also scenarios where interties could actually serve as a barrier to new wind energy development.
CanWEA is at the table in both these discussions, advocating for measures that reward the value wind energy brings to the grid, and putting forth criteria to guide new green infrastructure investment. We can't sit on the sidelines when the future of Canada's electricity system is at stake. We must be actively involved. In fact, I believe we must play a leading role.
Why? Because wind energy represents the future. No form of electricity generation is better positioned to provide the low-cost, low-carbon, and low-risk source of energy that Canada will need to meet its environmental and economic goals. It is up to us to create the conditions that will allow us to capture that opportunity.
Alberta Premier Rachel Notley spoke to Forum participants via video as she accepted CanWEA's 2017 Group Leadership Award on behalf of the Government of Alberta. The province was recognized for its plan to phase out coal-fired generation and add 5,000 MW of new renewable capacity to its grid by 2030. Other award winners include GE Energy Consulting; Adam Rosso of Boralex; Jimmy Royer, former senior technical director at Natural Resources Canada; Chatham-Kent Mayor Randy Hope, and the 29.2 MW Bull Creek Wind Facility in Alberta, owned by BluEarth Renewables. For more details about the CanWEA Awards and the 2017 winners, have a look at our recent news release, CanWEA announces annual award winners.
The federal government has made some important first steps in addressing climate change and now needs to follow through with concrete policies that will drive investment in new emission-free electricity and green infrastructure, said a panel of experts weighing on what the federal government needs do to reach its carbon reduction goals and position Canada to capitalize on clean growth opportunities. Panellists included, from left to right, moderator Céline Bak, President, Analytica Advisors; Dave Sawyer, Environmental Economist, Enviroeconomics; Erin Flanagan, Program Director, Federal Policy, Pembina Institute; Paul Cheliak, Vice President, Government and Regulatory Affairs, Canadian Gas Association; Robert Hornung, President, CanWEA; and Daryl Wilson, CEO, Hydrogenics.
CanWEA Spring Forum 2017's 1½-day program offered valuable insights on issues ranging from clean energy opportunities in the Trump era to the strategic value of Canada's clean energy resources in the transition to a low-carbon economy. More details can be found in the forum's closing news release, Wind energy poised to deliver climate, economic solutions and the CanWEA Spring Forum 2017 proceedings.
The Honourable Jim Carr, Canada's Minister of Natural Resources on his way to deliver a keynote address at the Canadian Wind Energy Association's 2017 Annual Spring Forum on April 5 in Gatineau, Quebec.
Wind energy has become a leading source of non-emitting energy in Canada and will play a critical role in the country's efforts to address climate change, Canada's Natural Resources Minister Jim Carr told industry leaders during his keynote address at CanWEA Spring Forum 2017.
Minister Carr's complete remarks can be found in the CanWEA Spring Forum 2017 proceedings.
Upcoming CanWEA events include our very first Alberta Summit in Edmonton in May and our annual conference in Montreal in October, along with CanWEA Connections networking receptions in Edmonton and Regina and golf tournaments in Ontario and Alberta to raise funds for CanWEA's Friends of Wind program. We look forward to seeing you there.
You can read more of the news on source