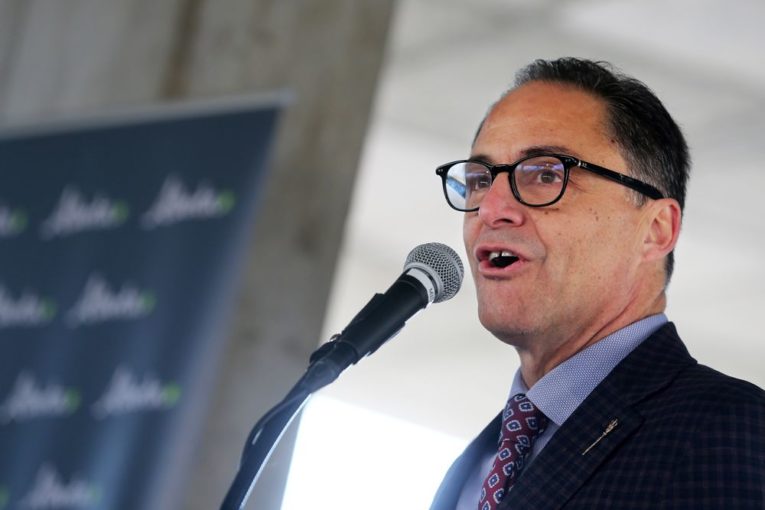 Reviewers can be harsh, as all theatre performers know.
The Alberta government's new budget is already drawing weak opening reviews from credit rating agencies and economists for its large deficit, expanding debt levels and go-slow approach to balancing the books.
"I just thought they lost an opportunity, again, to show Albertans they could be fiscally responsible and get their finances back on track," University of Calgary economist Ron Kneebone said Monday.
Criticism comes with the job, but Finance Minister Joe Ceci faces a particularly tough crowd this year when it comes to selling his budget.
After all, the $8.8-billion deficit is down only slightly from last year, despite higher oil prices, stronger income tax revenues and an economy that led the country in growth last year.
Undaunted, Premier Rachel Notley is touting her government's long-range plan to record a budget surplus within six years.
"When we carefully bring the budget to balance, Alberta will still have far and away the healthiest balance sheet in country," she said.
"The assumptions within our budget on a number of different fronts are cautious and conservative."
The words are soothing.
Reaction so far is tepid, at best, dubious at worst.
A report by credit rating agency DBRS Ltd. says Alberta's balanced budget plan is "still a pipeline dream" because it relies heavily on new oil pipelines being built to bolster energy royalties.
The agency, which trimmed Alberta's credit rating to AA with a negative trend last November, pointed out the decision to chop capital spending by 30 per cent will help contain the growing debt.
However, instead of outlining "concrete and meaningful measures to tackle the structural deficit," Alberta will keep relying on rising oil prices, additional pipeline capacity and a sustained economic recovery to improve its finances, the agency reported.
"The biggest concern for us is … the government is not making very significant progress, despite the fact we've seen a turnaround in the economy," DBRS vice-president Travis Shaw said in an interview.
Indeed, the budget document shows the deficit gradually falling, but it doesn't drop below $7 billion for another three years.
Likewise, Moody's Investor Service is casting a skeptical eye on the path to balance, and much of its concern hones in on the province's debt load.
The budget shows debt levels will rise by almost $11 billion this year, to $54 billion. By the time the first balanced budget is attained next decade, total debt will stand at a towering $96 billion — more than $20,000 for every person in the province.
"One thing we're watching for carefully is just the trend in debt," said Moody's Adam Hardi. "In a few provinces, the trend is reversing. In Alberta, it's increasing and certainly it's a concern."
In fairness, not all of the reviews are raspberries.
Economists and rating agencies give the government credit for finally locking in on a long-term target to balance the books, although many compliments are tinged with concerns.
A report Monday by the Conference Board of Canada pointed out that even with the increasing debt, Alberta is still likely to have the lowest net debt as a share of GDP in the country by 2023-24.
"Despite the budget outlining they want to diversify from oil revenues, the balanced forecast kind of relies on oil royalties coming back in the last few years, which is kind of risky," added board economist Daniel Fields.
On the bright side, the province has avoided the pitfall of previous governments that shamelessly overestimated oil prices to bolster the books.
The budget's oil price forecast over the next three budgets (rising from US$59 this year to $63) is conservative, well below today's market.
If the government can live up to its promise of restraining growth in health care spending to three per cent, and keep total operating spending increases below the rate of inflation plus population, that would represent real progress.
Previous promises to reach this goal have fallen short, and the surplus strategy also needs the economy to keep growing steadily.
"The government is essentially hoping the economy will do the heavy lifting to get back to balance," RBC senior economist Robert Hogue said Monday.
The province also received a mixed message from economist Robert Kavcic of BMO Capital Markets, who applauded the NDP government for moving away from the "deficits forever" program of recent budgets, but said the bank will reserve its enthusiasm for now.
"This budget is a small step in the right direction for Alberta from a credit perspective, or rather a tip-toe," he wrote in a report.
In its budget overview, CIBC said Alberta is "making slightly faster progress than previously expected in reducing its deficit" this year.
However, it noted debt servicing costs will rise from $1.4 billion to $1.94 billion in 2018-19, and then jump to $2.9 billion two years later.
That would be more than the annual operating budgets for all but four government departments, trailing only health care, education, advanced education and social services.
"In our opinion, today's budget will do little to sway DBRS and Moody's to revise their negative outlooks to stable," CIBC states. "The possibility remains of them implementing a downgrade."
Despite the criticism, Ceci and Notley remain confident their approach is correct.
They'll soon need to convince credit rating agencies their plan will work, or face more critical reviews and downgrades.
At some point, they'll need to persuade all Albertans the show must go on.
Chris Varcoe is a Calgary Herald columnist.
You can read more of the news on source