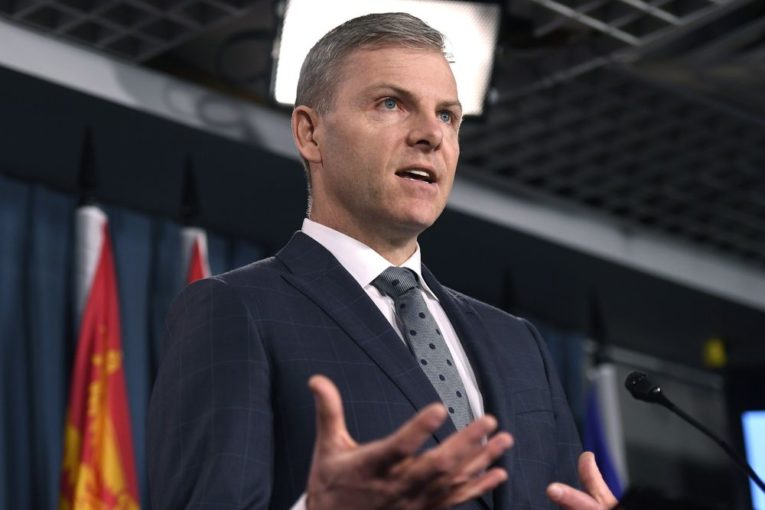 Canada is poised to see a solid jump in oil production within the next two decades, but still needs to score a hat trick — building three new pipelines — to make that happen.
It also needs U.S. President Donald Trump to not mess up the US$91 billion in energy trade that flows back and forth across the 49th parallel.
On the opening day of the 50th Global Petroleum Show, the country's largest oil and gas group unveiled a new energy outlook for Canada, forecasting total crude production to jump by a third and reach 5.6 million barrels a day by 2035.
Tim McMillan, CEO of the Canadian Association of Petroleum Producers, said the sector is expected to boost total output by 1.4 million barrels a day (b/d) during this period  — roughly equal to one year's growth in global demand — and ahead of last year's forecast by about 500,000 b/d.
While conventional oil production is expected to remain flat and East Coast offshore output will dip, northern Alberta's oilsands will continue to expand to 4.2 million barrels a day.
For the sector and the province, the promise of more growth means additional employment and revenues. However, it will require petroleum producers to gain confidence and sanction new projects, or expand existing ones, after a steep spending slowdown that followed the 2014 oil price crash.
McMillan and others in the industry say several obstacles could derail those growth expectations: the ability to build three proposed pipeline projects, attract more investment and improve the sector's competitiveness.
The oilpatch largely supports the Trudeau government's decision to buy the Trans Mountain pipeline from Kinder Morgan and expand the existing oil line to the West Coast.
But it's not enough.
"We need to see not just Trans Mountain move forward, we need to see the Line 3 expansion completed, we need to see Keystone XL built, and at the end of our forecast, we need all of those projects," McMillan told the crowd.
"Building the pipelines won't get us all of the way there."
Rising regulatory costs and delays, along with the drive by the Trump administration to lower tax rates, are also making it harder to attract capital to this country, according to industry players.
Imperial Oil recently noted it's been waiting more than four years to get approval on its new Aspen oilsands project, but hasn't received a final decision.
The CAPP study pointed out capital spending in the U.S. oilpatch soared by 38 per cent last year, while falling in Canada.
And as a U.S. panellist at the conference noted, 14 new pipelines are being built from Texas to Mexico — creating "pipeline envy" in Canada — as that state's energy sector takes off.
For Canada, a pipeline bottleneck is the most immediate impediment blocking the sector.
Last year, oil production began to exceed take-away capacity of major pipelines, now at four million barrels a day. As more crude moves by rail, the price discount on western Canadian heavy oil has widened, depriving producers of billions of dollars of revenue.
"We are well positioned to grow. That causes me a lot of optimism, but we do need that pipeline capacity," said Keith Chiasson, senior vice-president of Cenovus Energy, one of the country's largest oilsands producers.
"I don't think anybody is going to start sanctioning new projects not knowing (if) they have a market to get to."
Some positive indicators have emerged this year with rising oil prices — closing at US$66.36 a barrel Tuesday — and Ottawa's decision to move forward with the Trans Mountain expansion.
Lance Mortlock, EY Canada's strategy services leader for oil and gas, said optimism is returning as commodity prices stabilize. Some companies are starting to hire again, although most are remaining cautious.
Canada needs to respond to the U.S. reducing its regulatory burden and may need to examine the tax structure in the face of lower corporate rates south of the border.
"Capital is not flowing here; until we fix some of these fundamental issues . . . capital will continue to go elsewhere," he said in an interview.
So how will Alberta respond?
Premier Rachel Notley, who spoke at the show, stressed Alberta is pushing to get all three of the proposed pipeline projects built.
The province has sent ministers into the United States to lobby for Enbridge's Line 3 replacement project, while agreeing to ship 50,000 barrels a day on TransCanada's Keystone XL line.
Alberta is also talking to the federal government about its new energy legislation and regulations, "to make sure there is certainty for investors," she said.
Finally, there's the Trump wild card.
The premier and other energy officials addressed incendiary comments made by the president Tuesday about Prime Minister Justin Trudeau and the escalating battle between Canada and the U.S. over American steel and aluminum tariffs.
Trump declared the spat "is going to cost a lot of money for the people of Canada," while Notley said this dispute illustrates why Trans Mountain must be built, tripling the amount of oil that will move from Alberta to the B.C. coast for export.
"If the last days and weeks tell us anything, it's that we, as Canadians, need to take control of our economic destiny," she told the conference.
"We can't put all our eggs in one economic basket."
No, we've done that for far too long.
The country needs to get Canadian oil into different markets, and the only way for that to happen is to build new pipelines.
Chris Varcoe is Calgary Herald columnist.
You can read more of the news on source