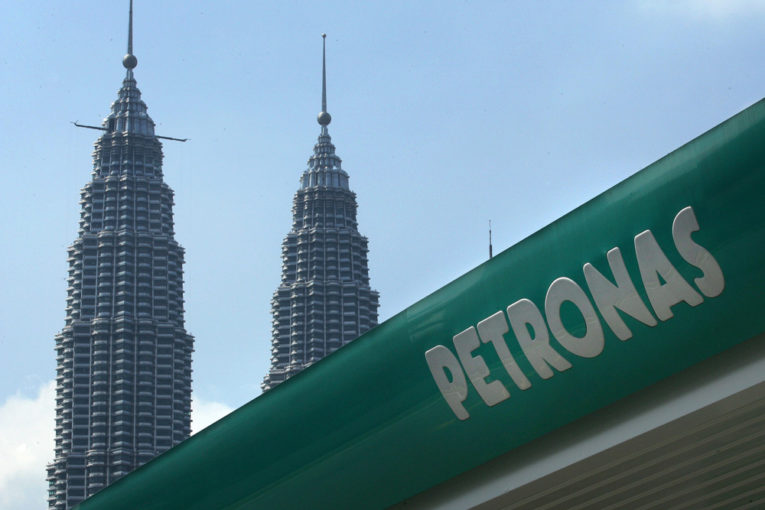 CALGARY – Pacific NorthWest LNG, a $36-billion export project once touted as the largest potential investment in British Columbia's history, will not be built amid an "extremely challenging environment," according to its key investor.
Malaysia's state-owned oil company Petronas announced Tuesday that it would not proceed with the Pacific NorthWest export facility and related pipeline near Prince Rupert, B.C., that was being proposed to connect Canadian gas to markets in Asia. The company faced entrenched opposition from environmental and aboriginal groups because of the project's proximity to juvenile salmon habitat at the mouth of the Skeena River in northern B.C., and was also hamstrung by stringent government regulations in the backdrop of a fast-changing environment for the global LNG market.
"Today is a very difficult day for Pacific NorthWest LNG and Petronas," Anuar Taib, executive vice-president and CEO for upstream at Petronas, said during a conference call announcing the project cancellation, which will affect 44 jobs.
There have been roughly 20 LNG projects proposed for the B.C. coastline but many analysts considered the Pacific NorthWest LNG project among the frontrunners and one of the most likely to be built. Only the smaller $1.6-billion Woodfibre LNG project near Squamish, B.C. is currently progressing.
"We are disappointed that the extremely challenging environment brought about by the prolonged depressed prices and shifts in the energy industry has led to this decision," Anuar said. He said the decision to cancel the project was not related to the change in government in B.C., where a coalition between the NDP and Green Party recently unseated Christy Clark's Liberals.
"We respect the company's decision and will now move on to support the prospects of British Columbia's natural gas sector to create good-paying jobs right here in British Columbia," recently appointed B.C. Minister of Energy, Mines and Petroleum Resources Michelle Mungall told reporters. She added that B.C. would continue to be "a player in the LNG market."
Pacific NorthWest had spent $400 million on advancing the project as it moved through provincial and federal regulatory processes. Petronas bought Progress Energy for $6 billion in 2012 and spent $2 billion a year at one point to prove up the subsidiary's natural gas reserves.
Petronas would continue to invest in drilling in northeastern B.C. through the subsidiary based in Calgary and said the company would move its unconventional resource unit from Kuala Lumpur, Malaysia to Calgary.
"For Petronas, we are positioning Progress Energy to be one of the top natural gas exporters in North America," Anuar said.
Progress president and CEO Michael Fitzgerald said the natural gas assets the company owns in the Montney formation are competitive against other gas plays in North America and the company is reviewing other options for marketing that gas. The company did not immediately respond to a request for comment on whether it would invest in or sign agreements with other LNG projects proposed in B.C.
TransCanada Corp. which was selected to build a pipeline between the Montney formation and Prince Rupert to supply gas to the $11.4-billion liquefaction facility, said it would be reimbursed for all the costs it incurred in advancing the Prince Rupert Gas Transmission project so far, which RBC Capital Market pegs at $500 million.
"There is still a strong need to get Canadian natural gas to market," TransCanada executive vice-president Karl Johannson said in a release, adding the company is reviewing its options related to the pipeline.
Other groups were unequivocally disappointed by the announcement.
"This is a significant lost opportunity that would have brought many benefits. Canada has to act faster to seize the opportunities that our responsible resource development can deliver," Independent Contractors and Businesses Association president Chris Gardner said in a release, noting that "thousands of construction jobs will not materialize."
gmorgan@nationalpost.com
Twitter.com/geoffreymorgan
Besides the expected ramp-up in electric vehicle manufacturing, economists are predicting that rising global economic growth will make 2018 the year when base metals shine
The visas which allow professionals in 63 occupations work permits with relatively little fuss could be a tough sell in Trump's anti-immigration environment
Tom Bradley: The fragile foundation isn't the result of any one indicator, but rather the wall of extremes
With more interest rate hikes expected from the Bank of Canada in 2018, mortgage payments will take up an even bigger chunk of the monthly bills
You can read more of the news on source