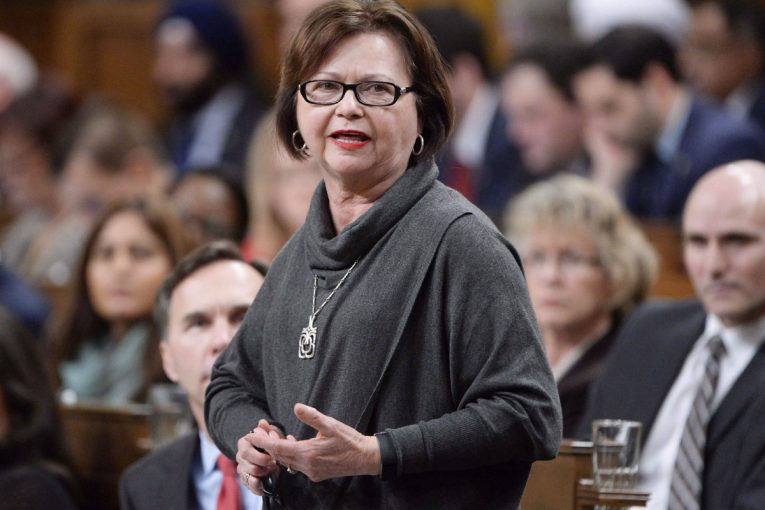 Newfoundland minister Judy Foote to quit Trudeau cabinet
OTTAWA—Judy Foote, a strong female voice in Justin Trudeau's cabinet, is set to resign her position Thursday as public works minister and will step down altogether as a Newfoundland and Labrador MP this fall, the Star has confirmed.
Foote, a breast cancer survivor, had stepped aside temporarily with Trudeau's blessing in April, citing family reasons. Although her ministerial duties had been covered off by cabinet colleague Jim Carr, who is natural resources minister, she had recently returned to work at a number of appearances at events in her constituency.
Trudeau may use the occasion to re-set a number of other cabinet portfolios. He shuffled the cabinet more extensively than expected in January. He has committed himself to gender parity in his government's executive ranks.
The MP for Bonavista-Burin-Trinity, Foote entered federal politics in 2008 after several years as a provincial cabinet minister and a past senior aide to former Newfoundland premier Clyde Wells. She was Trudeau's caucus whip and deputy House leader when the Liberals were the third party on the opposition benches. Foote moved to Trudeau's front bench and sat at his right hand in the Commons when the Liberals won the October 2015 election.
Foote could not be reached for comment and the Prime Minister's Office declined comment on a CBC News report late Wednesday that Foote will make her decision public in St. John's on Thursday, but a source with knowledge of the pending announcement confirmed Foote's exit Thursday.
Although not unexpected, the timing of Foote's announcement leaves Trudeau time to shuffle portfolios and bring in a new face or two, a refresh of his cabinet files nearly two years after taking power just before a cabinet retreat where the fall parliamentary agenda will be discussed. Another source suggested the shuffle will be a tweak, not a major changeup.
Two other Newfoundlanders have been the subject of much speculation as likely candidates for a promotion into cabinet: Gudie Hutchings, MP for Long Range Mountains, on Newfoundland's west coast, parliamentary secretary for small business and tourism, and a woman; or Seamus O'Reagan, a former broadcaster and friend of Trudeau's and his top aide, Gerry Butts. Shortly after winning his first election in the Liberal sweep, O'Reagan admitted he had an alcohol problem and went into a recovery program. He continued to have Trudeau's trust and went to the Aga Khan's island in the Bahamas with Trudeau and his family last Christmas.
You can read more of the news on source