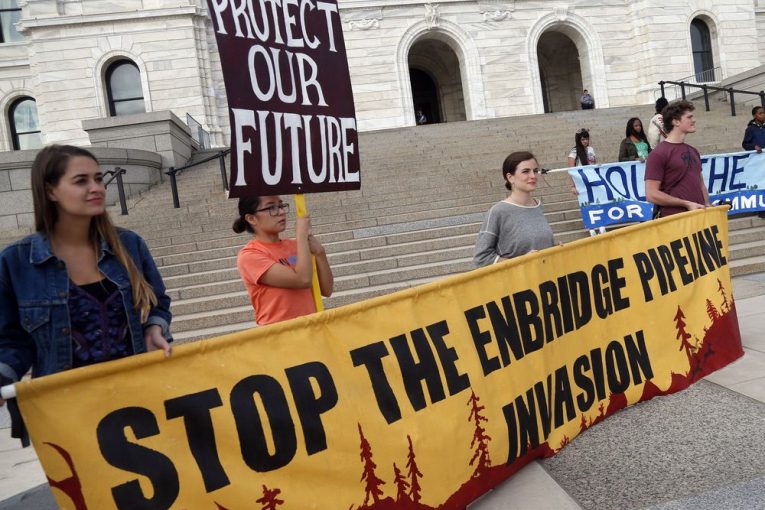 A Minnesota judge has taken the unusual step of allowing four protesters to use a "necessity defence," enabling them to present evidence that the threat of climate change from Canadian oilsands crude is so imminent they were justified in trying to shut down two Enbridge Inc. pipelines last year.
Emily Johnston and Annette Klapstein freely acknowledge they turned the emergency shut-off valves on two pipelines on Oct. 11, 2016, in northwestern Minnesota. It was part of a co-ordinated action by Climate Direct Action activists to shut down five pipelines that carry oil from Canada to the U.S. in Minnesota, North Dakota, Montana and Washington state. A total of 11 activists were charged.
Johnston and Klapstein, who are from the Seattle area, said Tuesday that as far as their legal team knows, this is the first time a judge has allowed a full necessity defence on a climate change issue. They cited recent hurricanes and Western wildfires as evidence that climate change is making natural disasters worse, and they say oilsands crude contributes disproportionately because it generates much more carbon dioxide than other oil.
"It's not just a question of a looming threat, it's a disaster happening right now all over the world," Johnston said.
Klapstein, a retired lawyer, said they know of one case in which a judge allowed evidence about climate change but then told the jury to disregard it.
"It looks like we're going to be able to bring in all our experts and present our evidence of how dire climate change is, so we're pretty excited about that," she said.
Michael Foster, of Seattle, was convicted Oct. 6 of targeting the Keystone pipeline in North Dakota. His judge barred him from using a necessity defence. He now faces up to 21 years in prison when he's sentenced Jan. 18. A defendant who filmed him was convicted of conspiracy and faces up to 11 years.
Johnston and Klapstein are due to go on trial Dec. 11 on felony charges of criminal damage to critical public service facilities and other counts. The charges carry maximum terms of over 20 years in prison, though prosecutors have said the most likely penalty is up to a year in jail.
The defence will have to persuade a jury in a sparsely populated county where Calgary-based Enbridge is a major employer and the largest property taxpayer.
Enbridge condemned the Minnesota protest as "dangerous and reckless." The company said it temporarily shut down the pipelines itself as a precaution.
You can read more of the news on source