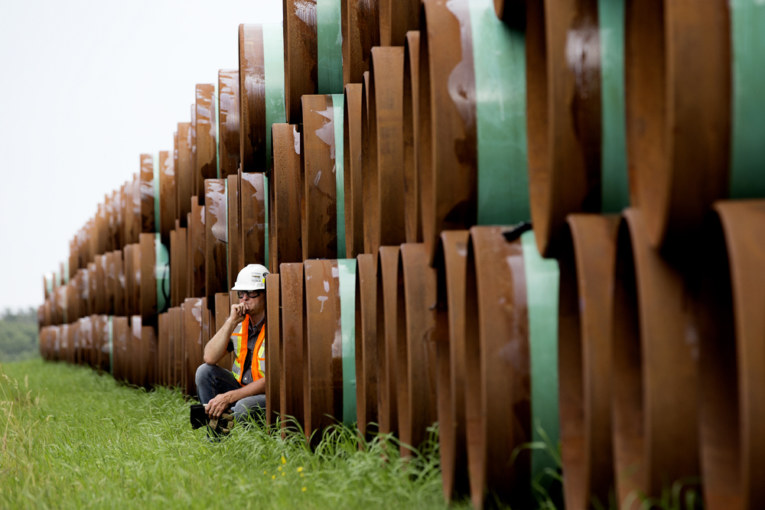 Less than a month after saying it wouldn't increase its offer to buy the equity it doesn't own in three North American subsidiaries, Calgary-based Enbridge Inc. is doing just that.
The pipeline, utility and power company announced Tuesday it would increase the offers it made last May for Enbridge Income Fund Holdings Inc. by 11.3 per cent and for two related subsidiaries, Enbridge Energy Partners, L.P. and Enbridge Energy Management, L.L.C., by 8.7 per cent and 16 per cent, respectively.
The changes, which now include a cash component in addition to Enbridge shares for Enbridge Income Fund shares, take the estimated total value of the deals announced Tuesday to about $9.3 billion.
When combined with the $4.3 billion offered in a sweetened deal for Spectra Energy Partners LP units in late August, the total cost of bringing its four sponsored subsidiaries in-house will be about $13.6 billion, up from the $11.4 billion announced in May.
"Upon closing of these buy-in transactions, the rollup of these sponsored vehicles will streamline Enbridge's corporate and capital structures and brings all of the core liquids and gas pipeline assets under the umbrella of a single publicly traded entity to the benefit of all shareholders and unitholders," Enbridge Inc. said in a news release.
The offers were adjusted after "arms-length negotiations" and the final premiums are "supported by fundamental valuations and in line with market precedents," said Enbridge spokesman Michael Barnes in an email.
The increased bids came as no surprise to Roy Behren, portfolio manager of the Merger Fund at New York's Westchester Capital Management, who said his firm bought shares in two of the subsidiaries after the May announcement in hopes of profiting if negotiations resulted in higher offers, as they often do in such cases.
"Maybe Enbridge shareholders think they overpaid but, in the end, they'll have a better credit profile; once they bring these companies in, they'll have higher retention of cash. There are a number of positives for Enbridge," he said.
Under the terms of the agreement, Enbridge Income Fund shareholders will receive 0.735 of an Enbridge share and 45 cents in cash for each share they hold. They will also be entitled to receive the Enbridge fourth-quarter dividend.
Enbridge Energy Partners unitholders and Enbridge Energy Management shareholders are to receive 0.335 shares of Enbridge for each unit or share.
Enbridge launched an initiative last May to buy back all of its pipeline subsidiaries in the United States, citing a U.S. Federal Energy Regulatory Commission (FERC) decision in March to end certain tax loopholes they enjoyed.
American pipeline rivals The Williams Cos. and Cheniere Energy Inc. launched similar multibillion-dollar offers for their subsidiaries at the same time for the same reason.
In 2016, a U.S. Appeals Court ruled that energy regulators were allowing master limited partnerships (MLPs) to benefit from a "double recovery" of taxes. MLPs are tax-exempt corporate structures in the United States that pay their profits to investors in dividend-style distributions.
Enbridge said the decision hurt its subsidiaries by cutting into their distributable cash flow.
It said it also weakened their credit worthiness and ability to raise money from investors, a process that fuels "drop-downs" of assets from Enbridge Inc. in return for cash to support the parent company's growth.
Only Enbridge Energy Partners and Spectra Energy Partners are MLPs, but Enbridge said the FERC ruling negatively affected all four.
In August, Enbridge said a July 18th FERC order clarifying its revised MLP income tax policy "could potentially improve SEP's position" given its historical deferred income tax balances "and is therefore uniquely positive for SEP among the Enbridge family of sponsored vehicles."
You can read more of the news on source