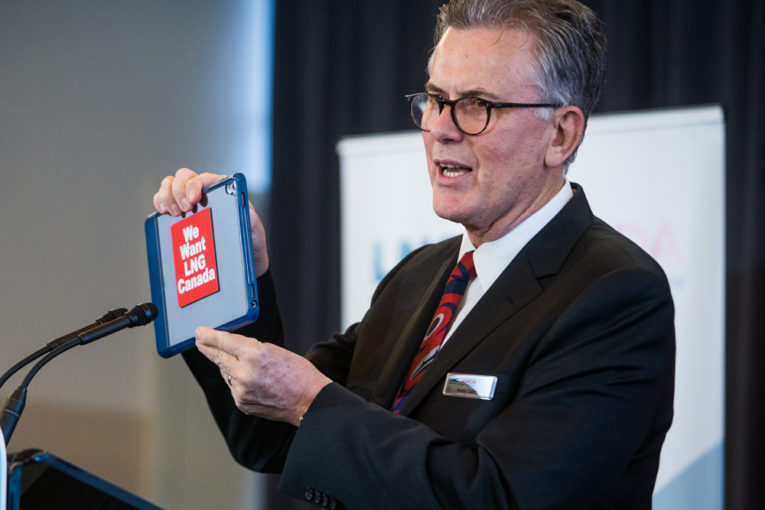 CALGARY – The $40-billion LNG Canada project is already facing opposition from environmentalists in British Columbia, but the business community and First Nations supporting the project cheered its positive final investment decision on Tuesday.
Royal Dutch Shell Plc. and joint-venture partners Petroliam Nasional Bhd., PetroChina Co. Ltd., Mitsubishi Corp. and Korea Gas Corp. announced they would fund the $40 billion LNG mega-project in Kitimat, B.C. on Tuesday with construction beginning immediately.
The first phase of the project includes a $6.2-billion natural gas pipeline through northern British Columbia and an $18-billion liquefaction facility in Kitimat, B.C., where the natural gas will be super-cooled until it reaches a liquid state for transport to Asian markets.
"We are within 10 days shipping of Tokyo or Shanghai," said Maarten Wetselaar, director of integrated gas and new energies at Royal Dutch Shell, of the reasoning for proceeding with the investment, less than half the Gulf Coast projects' shipping times of 24 days to Asia.
Wetselaar said global demand for LNG has grown 9 per cent in the last year alone and the LNG the project will produce is half as emission-intensive as coal, a power source which Asian countries are trying to replace with LNG.
"This would make LNG Canada the biggest project sanction globally since the Tengiz expansion was approved in 2016, and the biggest greenfield project to be sanctioned since Yamal LNG in 2013," said Dulles Wang, director, North America gas at Wood Mackenzie. "It seems that mega-projects are back."
A second phase of the project could follow in 2023 after the first part of the liquefaction facility is up and running.
"Today's announcement by LNG Canada represents the single largest private sector investment in the history of Canada," Prime Minister Justin Trudeau said Tuesday at the announcement in Vancouver.
The announcement was immediately cheered by the energy industry and decried by the B.C. Green Party, which is part of the coalition supporting the NDP government.
"Adding such a massive new source of GhGs means that the rest of our economy will have to make even more sacrifices to meet our climate targets," Weaver said in a release. "I believe we can create far more jobs in other industries that won't drastically increase our emissions."
Environmental groups such as the David Suzuki Foundation also believe the project does not match B.C.'s climate change goals.
"It's irresponsible to green-light a project that's overall carbon pollution is staggering – much larger than what industry and government report – especially when there is no clear climate strategy showing how B.C. will meet its legislated carbon pollution targets," David Suzuki Foundation science and policy director Ian Bruce said in a release.
But First Nations along the pipeline route and at the site of the liquefaction facility sharply rebuffed the criticism, and said the project would eliminate their dependence on the government.
"It's so easy to say 'no' when you're so focused on one piece of the puzzle. Elected leadership of 25 First Nations — and that's a huge amount of support — recognized the positive impact this will have at a societal level for our communities. That can't go unnoticed," Haisla First Nation chief councillor Crystal Smith said.
Haisla had been working with Shell and its partners for five years on agreements to mitigate LNG Canada's environmental impacts and also to establish "long-term careers instead of short term employment" for her people, Smith said.
"We've never had an opportunity like this, where our government and our programs and services aren't dependent on other government sources for funding," she said. "To be able to implement programs that are absolutely suited to the needs and desires of our nation will be a reality."
There is a broad base of support for LNG Canada among Indigenous communities in British Columbia as well as at the provincial government level – meaning the project will face less opposition than other energy infrastructure projects in the province, including the Trans Mountain pipeline expansion.
B.C. Premier John Horgan said, "I can't stop smiling," at the ceremony in Vancouver celebrating the LNG Canada investment decision. "This is a spectacular day for all British Columbians," he said.
LNG Canada CEO Andy Calitz also used the opportunity to make light of the pipeline impasse Prime Minister Justin Trudeau has hit in the province with the Trans Mountain oil pipeline expansion project.
"We've taken the first FID for a British Columbia LNG project to show the Prime Minister that it can be done in Premier Horgan's province," Calitz said.
The announcement comes after a number of LNG projects in northern British Columbia had been cancelled outright and the nascent industry has previously failed to launch despite more than 20 proposals. Petronas cancelled its own $36-billion Pacific NorthWest LNG project last year, in addition to projects cancelled by Nexen and AltaGas Ltd.
"Today is proof that a project can go through," said Karen Ogen-Toews, CEO of the First Nations LNG Alliance and former chief of the Wet'suwet'en First Nation in northern B.C.
Ogen-Toews said the string of LNG project cancellations in recent years disappointed her. "It seemed like a vision that seemed unreachable," she said.
The same sentiment was echoed by the Calgary energy sector, where natural gas producers have been desperate for more markets to sell their gas. The majority of Canadian gas production is currently sold into the U.S.
"We like this announcement which when complete will double the number of export partners Canada has for natural gas (from one to two) and provide an incremental 1.8 billion cubic feet per day of takeaway capacity," National Bank Financial analysts wrote in a research note.
"Beyond this, we believe this project has the potential to be the first of many on the West Coast of Canada," if Canadian LNG follows the global standard, being that LNG export areas tend to be 'hubs' of terminals, rather than standalone facilities," they wrote.
While the project is expected to provide a boost to the Canadian energy industry, some analysts asked whether the price tag could be tough on Shell.
"The capex requirements of the Canadian LNG project do not put pressure on (Royal Dutch Shell's) ability to provide returns to shareholders but we think it signals an effort to re-build a strained portfolio and question how compelling the economics are," Citigroup analyst Alastair Syme wrote in a research note.
• Email: [email protected] | Twitter: geoffreymorgan
You can read more of the news on source