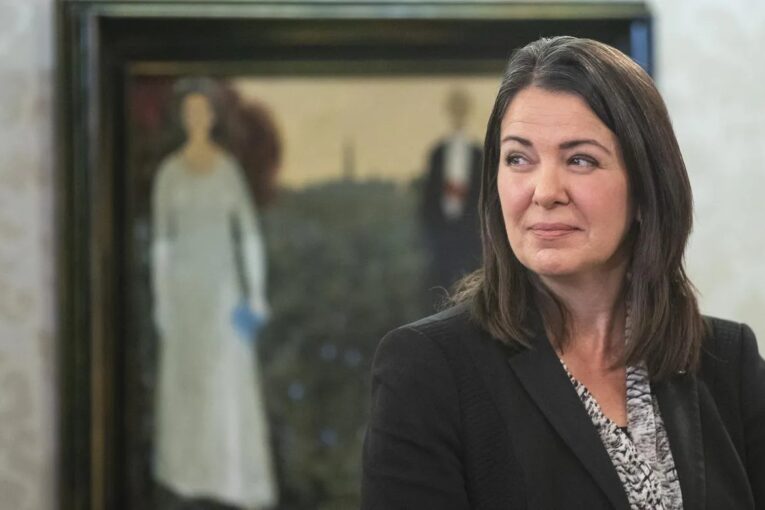 EDMONTON—Premier Danielle Smith has given herself a tight turnaround time for starting to reform the Alberta health-care system, as she moved on Thursday to boot the entire Alberta Health Services board.
A cornerstone pledge of Smith's has been to reform the health care system in the province, which she says is plagued with long emergency room wait times and staff shortages as well as lacking in emergency responses. With a provincial election slated to begin at the end of May, she has a short interval to deliver on an issue that is top of mind for many Albertans.
But some critics have previously said that firing the 11 members of the AHS board would only cause chaos in the system and hamstring any real reform from taking place.
"People will judge us based on the outcomes," Smith said at a news conference in Calgary on Thursday.
"They will be able to see, do we have long waits of ambulances stuck at emergency waiting areas, or not? Are you able to get efficiently in if you need to be admitted, or not? Are you able to get treated efficiently, or not?"
Dr. John Cowell will replace the AHS board and serve as the administrator for the provincial health authority, reporting directly to the minister of health. In 90 days, he is expected to deliver an update on progress he has made in four areas: improving emergency response times, cutting emergency room wait times, reducing wait times for surgeries and examining long-term reforms in consultation with front-line workers. He said the buck stops with him.
"What a patient, a citizen of Alberta, wants is good care when they need it on time," Cowell said at the news conference. "I adhere to the idea that we're in crisis and we need to have urgent action that starts the process of recovery now."
Cowell came out of retirement to take the new job. He served in the administrator position for one year in 2013 under the then-Progressive Conservative government after being a longtime AHS critic.
"Many of the issues that are being discussed today were discovered decades ago," said Cowell. "I'm hitting the ground running now."
Alberta's Health Minister, Jason Copping, didn't close the door on additional funding for the health-care system should it be needed.
"To the extent that we can, you know, build that capacity with current resources, great," he said at the press conference. "But quite frankly, if we are going to have to invest additional money in it then that's a conversation I'll have with Dr. Cowell."
Cowell said he's already aware of what some of the solutions are and that there will be "less discussion and more action.
"Next week, bright and early, I'm out of my jammies and back in my business suit," said Cowell. He's got meetings lined up for next week talking to AHS leadership teams.
"Right from the premier on down, we've got your back," he said.
Alberta Health Services has drawn the ire of Smith for months as she's laid much of the blame around health-care shortages at the feet of the provincial authority. She's said it failed to properly expand ICU capacity during the COVID-19 pandemic and didn't meet the government's expectations.
Smith has also suggested that AHS bringing in a vaccine mandate during the height of the pandemic contributed to staffing problems. About 1,650 people were put on leave in 2021 for being unvaccinated out of some 120,000 AHS employees. Around half were expected to return once the mandate was lifted this year.
Earlier this week the premier also dismissed Dr. Deena Hinshaw as chief medical officer of health and appointed Dr. Mark Joffe, the vice-president of AHS, to the role in her wake.
SHARE:
JOIN THE CONVERSATION
Conversations are opinions of our readers and are subject to the Code of Conduct. The Star does not endorse these opinions.
You can read more of the news on source