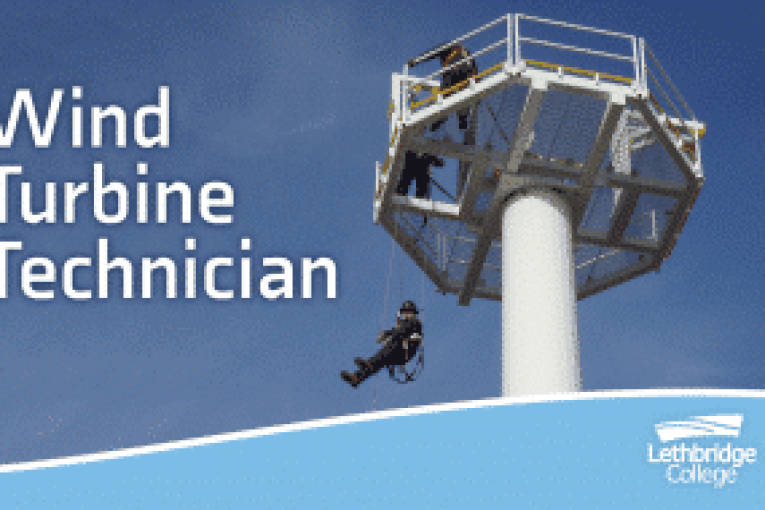 Lethbridge College and CanWEA collaborate to connect students and industry  
In honour of Earth Day, April 22, I wanted to shine the spotlight on a career training program in Alberta that is graduating skilled technicians able to take on the tasks of operating and maintaining the green infrastructure that will help transition Alberta to cleaner energy.
It's the Wind Turbine Technician program at Lethbridge College – a program unique in the province and the first of its kind in Canada.
Established as a non-credit program in 2005 and upgraded to a one-year certificate program six years ago, the program leads the way in turning out qualified, knowledgeable and safety-minded graduates ready to take on the challenges and rewards of Canada's expanding wind energy industry.
When we spoke to Chris DeLisle, one of the program's instructors at the southern Alberta college, he told us, "We're looking at safety as a priority and our graduates are well prepared for their first wind job." He also said the program is designed for anybody, saying it is a good option for workers transitioning from other energy operations that are closing doors.
The 42-credit program is packed into two intense semesters. The first half is largely theory, with students learning everything from basic electrical, mechanical and hydraulics to the physics and science of the wind itself. The second semester is largely spent applying that theory, either indoors or outside on the college's 65-foot training tower – so needless to say anyone with a fear of heights best not apply!
Lethbridge College is in the midst of upgrading the program's facilities to provide students with a state-of-the-art lab and shop floor to hone their skills. Instructor DeLisle explained that the new lab will feature a fully equipped fibreglass shop, and will allow visitors to observe the training through a glass observation area – eye-level to the shop's existing enclosed 30-foot training platform, which will be used extensively for high angle rescue scenarios.
Despite current economic conditions, jobs in wind energy are in demand across Alberta. Chris DeLisle reported that graduates of the program find employment at all stages of wind farm development, from construction through to commissioning and ongoing facility operations and maintenance, and added "Students have told us they are happy with how the program prepared them for life in the renewable energy industry and that the college is teaching things that are relevant."
As well, he said the program has become increasingly popular with women, which is a trend I am happy to hear about!
On Monday, May 8, the day before CanWEA's Alberta Summit in Edmonton, Lethbridge College is hosting an open house for CanWEA member companies to tour its facilities**. The event provides an opportunity for the industry, faculty and the students to meet each other, learn more about the college's program, tour both the old and new wind turbine labs, and enjoy lunch together.
For more information on the Wind Turbine Technician program at Lethbridge College or to inquire about a tour of your own, visit the program website.
Lethbridge College is a partner in the Canadian Wind Energy Association's (CanWEA's) Friends of Wind program. The Friends of Wind program is designed to help organization collaborate on powering clean growth.
** This event has been cancelled.  
You can read more of the news on source