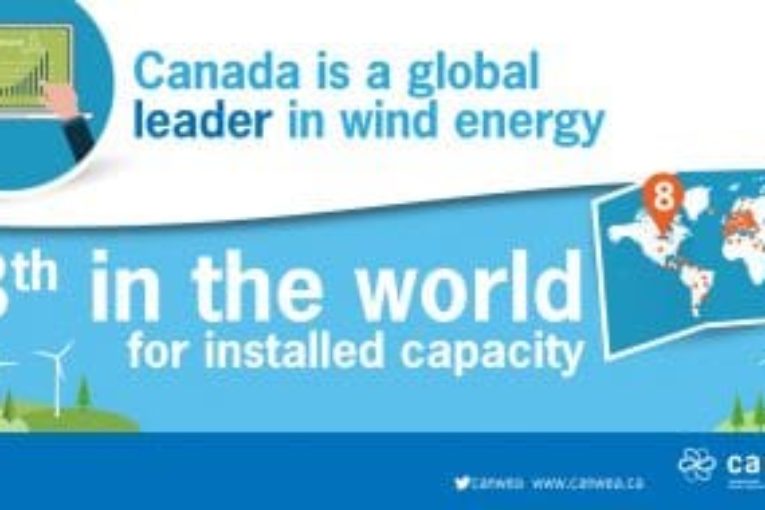 This is always an exciting time at the Canadian Wind Energy Association (CanWEA), because the start of a new year gives us a chance to reflect on the progress of Canada's wind energy industry over the previous calendar year.
What's the verdict? 2016 was a good year!
Our industry installed 702 MW of new wind generating capacity last year. Only nine other countries in the world installed more wind energy in 2016. Things get even more interesting when you dig down to see what that 702 MW represents.
In total there were 21 projects commissioned –  in Ontario, Quebec and Nova Scotia. That means another 21 Canadian communities are reaping the economic benefits that come with wind energy development in the form of new jobs, lease payments to landowners, property tax payments and other financial contributions to the community.
Even better, 16 of those projects have some form of Aboriginal, community or municipal ownership and will generate substantial financial returns for these local groups. The 24.6 MW Pierre-De Saurel project in Quebec is a great example of this. It's the first 100 per cent community-owned wind farm in the province, and is set to bring in more than $200 million in local revenue over its life.
Multiply all these benefits across the 285 wind energy projects operating in more than 100 communities across Canada, and you begin to see what an important driver of investment and economic development wind energy has become.
On top of the economic benefits, the 702 MW built in 2016 is also generating some of the most cost-competitive electricity available today. According to the U.S. financial advisory firm Lazard, the levelized cost of wind energy has plummeted 66 per cent since 2009. It's little wonder then, that more wind energy has been built in Canada in the last 11 years than any other form of electricity generation. A lot of that growth has taken place in the last five years. Between 2012 and 2016, Canada's installed wind energy capacity has grown annually by an average of 18 per cent, or 1,327 MW.
This rapid expansion means Canada now has the eighth largest wind generating fleet in the world, with 6,288 grid-connected turbines totaling 11,898 MW of installed capacity. That's enough to meet the annual electricity needs of more than three million homes. In fact, our industry is supplying about six per cent of Canada's electricity demand with clean, reliable, affordable and emissions-free energy.
If a picture speaks a thousand words, then the graphic below this blog tells an exciting story about wind energy in Canada. I encourage you to share it on your social media networks so that more Canadians can see the difference wind energy is making in their community, their province and their country.
And don't forget there are still many chapters to be written in the wind energy story. We expect another 700 MW of wind energy to be built this year. New procurement in Alberta and Saskatchewan in 2017, coupled with a growing understanding about the need to transition to a low-carbon economy, mean our industry's growth prospects remain strong in Canada for many years to come.
That's good news for all of us.
Director of Media and Communications at the Canadian Wind Energy Association.
You can read more of the news on source