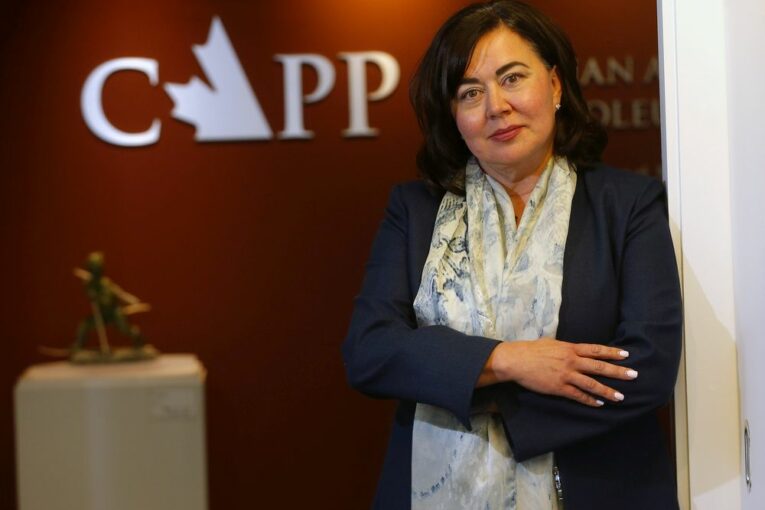 Oil and natural gas prices are soaring this year, concerns about global energy security are climbing and a new federal emissions cap for the oilpatch is now under development by Ottawa.
We apologize, but this video has failed to load.
Try refreshing your browser, or
tap here to see other videos from our team.
Varcoe: New CAPP president takes over helm during a complicated energy conversation
Back to video
At the same time, oil output in the province has hit record levels, corporate profits are surging, while taxes and royalties headed to various levels of government are set to hit eye-popping levels.
These are complicated times for the country's oil and gas industry, and for the new head of the Canadian Association of Petroleum Producers.
Lisa Baiton, who took over the helm of the organization that represents the country's largest petroleum producers in May, previously spent more than a decade working at the Canada Pension Plan Investment Board, as head of global public affairs. 
She grew up in Swift Current, where her parents ran an oilfield services company, and before joining CPPIB, worked as a vice-president at Environics Communications.
"She grew up in a household that understood the importance of the industry … right down at the local level," says former Saskatchewan premier Brad Wall, who went to school with Baiton in Swift Current and whose families have known each other for decades.
"If you think about her private-sector experience, which is considerable, and her understanding of politics … it's a great combination."
The new chief executive of CAPP sat down this week with Herald business columnist Chris Varcoe to discuss some of the key issues facing the industry, from the oilpatch emissions cap to environmental, social and governance pressures.
Here is an abbreviated transcript of their conversation, edited for space and clarity.
Q: You've now been on the job for three months. What are the priorities for CAPP, now that you understand what's in front of the organization?
Baiton: Well, I think it really all ties back to the fact that we're in a new era. If you look at the geopolitics over the last few months, or even years if you factor the pandemic into it, and rising commodity prices … the industry is really well positioned to be a critical solution provider on critical issues that are facing governments globally, whether it's energy security or supply, or how to tackle climate change.
Q: In the next 12 to 24 months, what are the three things that CAPP needs to accomplish?
A: The first one is (being) that kind of constructive and solution-oriented partner on critical issues like energy security and supply, affordability and climate change.
The second leg on the stool is to continue to engage with our energy citizens … and do a better job of showcasing all of the really terrific innovation and technology that's being employed and invested in, to reduce GHG emissions…
Q: So that's two.
A: (The third) is we have to spend a little bit more time outside of our echo chamber and engage with a broader set of stakeholders.
We are in this unique moment when, because of all the issues I mentioned, people are open to taking another look at our industry. They're seeing how important the Canadian energy industry is and I also think they've really started to connect the dots on where you (get) your energy from and how it is produced are equally important.
Q: You've talked about being constructive and solution-oriented. Has a problem with CAPP been that it's been too adversarial with government, particularly with the federal government?
A: Well, listen, I'll preface my comments by saying I have a lot of empathy for my predecessor, who presided over the association during probably the seven worst years that the industry has ever faced.
That said, and I would just say the approach that one might take when you're facing an existential threat is really different than when commodity prices are high.
So I would just say, look, we're in a new era and a lot has happened … global market fundamentals have changed dramatically and we're seeing the manifestation of those things in real time — for example, with our allies in the U.K. and Europe.
Q: You've expressed concern about the federal emissions cap on the industry and its impact on production. What is your underlying concern?
A: We're still digging into the details … but our initial assessment is that maybe this isn't the right time. On the one hand, we're being asked to increase production, to support our allies, in the construct of energy security.
And at the same time, we're seeing potential proposals that could work against the progress Canada has been making to achieve GHG emissions reductions and to achieve climate goals …
We have concerns about the fact that it isn't a whole-of-the-economy approach and it singles out our industry.
Q: So is this the right time?
A: I would say no, it's not the right time. Now more than ever, Canada really needs to strive to make sure that we have the right environment to attract investment, so that we can be that preferred supplier of the most responsibly produced oil and gas in the world, when our allies are looking to us for help.
Q: The federal government is going to look and say, well, the industry just recorded $12.5 billion in profits from the five major oilsands producers in the last quarter. If not now, when?
A: People forget how hard the last seven years were and our industry is just emerging now and rebuilding their balance sheets now. And then the other thing I would say on high commodity prices is that … it's a benefit to all Canadians in terms of our royalty and tax frameworks.
Q: S&P Global Commodity Insights recently put out a report showing industry growth from the oilsands will be about 500,000 barrels a day (of additional production) by the end of 2030. Where do you see production growth — will the sector grow in the future?
A: Well, I hope production grows and I think it really comes down to a lot of the things that we're talking about here, which is Canada has a real opportunity to compete …
Canada, east and west, needs to really pay attention to investment and competitiveness, generally. If we look at U.S. LNG, for example, a handful of years ago, the U.S. was basically doing zero and now they are the world leader in seven years. Canada could seize that
Q: We saw the Canadian Energy Pipeline Association fold about six months ago. Many larger petroleum producers are also members of the Explorers and Producers Association of Canada … and now, we have the new Pathways Alliance organization (of six major oilsands producers working together to reach net-zero emissions by 2050) … What would you say to people about the future of CAPP?
A: I'm very optimistic about the future of CAPP. I think there's huge value in what we provide our members, in terms of the voice that we provide to the industry, to the full upstream industry. And I think there's room for all of our voices at the table.
Q: Do you expect the oilsands members to stay in CAPP?
A: I do.
Q: What is the message you're hoping to deliver as it relates to investment in the oil and gas sector and ESG?
A: Well, you know, with my old hat on, if I was sitting at CPPIB, it always comes down to investor certainty, right? And there's a lot that goes into that. It could be geopolitical risk, regulatory certainty is a huge one …
We have to talk to a broader set of stakeholders and that includes making sure the financial industry knows all of the really great stuff the industry is doing … to reduce GHG emissions and to be part of the solution.
You can read more of the news on source