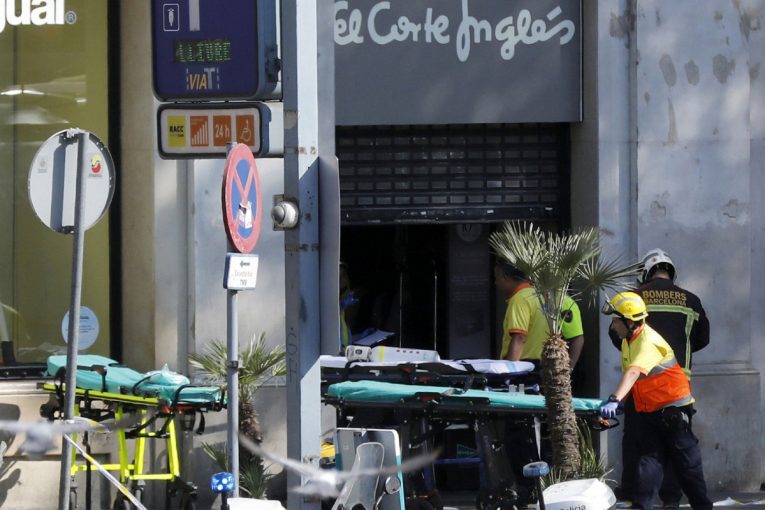 Allan Gray and his family were in a Las Ramblas restaurant in Barcelona on Thursday when they heard a loud crash and saw crowds of panicked people rushing to the back of the building.
Amid the commotion, the Mississauga man ran with his wife and two daughters into an adjoining hotel where they huddled on an upper floor for the next five hours, flinching at the sound of gunshots and wondering whether movements in the stairwells were people trying to find safety or a potential terrorist about to launch another attack.
Gray, 50, said that the scariest part of the entire ordeal was not knowing what was going on.
"Everybody was panicking . . . we just didn't know what was going to happen," Gray told The Canadian Press in an interview Friday. "Every little movement, every little bang was just horrific"
People weren't sure whether gunshots heard were coming inside the building, and were terrified that there might be a shooter in the hotel, Gray said.
His daughter, Daniela Gray, said that she was preparing for the worst
"For many hours we were terrified that there was someone inside or that there was going to be an explosion of some sort," the 24-year-old said.
Among the 13 people killed in the Barcelona attack was Canadian Ian Moore Wilson, according to a family statement. As many as 100 were injured, including four Canadians. No details about those who were injured or their conditions were released.
As the hours passed, the Gray family learned more about what was actually happening through social media.
At one point, Allan Gray said he looked outside the hotel's window to see what was going on and got a view of the aftermath of the attack.
"There was a woman on the ground that was hurt, another person's legs not moving, and a little boy who was lifeless on the ground," he said. "It was horrific."
The family of four took shelter in the hotel until a police officer escorted them out of the area to safety.
Gray said they're still reeling from the events a day after the attack, and described an empty feeling to Barcelona's previously jubilant streets.
"The party's basically been shut down," he said. "It just seemed quiet out there and in a sombre mood."
Public Safety Minister Ralph Goodale said Friday Canadian authorities always step up vigilance at home when an attack like this happens elsewhere.
"When an event like this occurs extra special attention is focused on it so Canadians can be assured that their police and their security services are taking every necessary step to keep Canadians safe," he said, during an event in Regina.
Spanish authorities said the back-to-back vehicle attacks — as well as an explosion earlier this week in a house elsewhere in Catalonia — were related and the work of a large terrorist group.
Anca Gurzu, a Canadian from Ottawa, was in a nearby neighbourhood when the Barcelona attack took place, but only realized what was going on after receiving a frantic call from a friend.
"(The police) were just everywhere, they were walking with their guns, and it was a bit surreal," said Gurzu, who went to the scene of the attack about two hours after it took place to see what was going on.
She said the residents of Barcelona remained "defiant" in the face of the violence, and that thousands of mourners gathered in the city's main square on Friday to observe a minute of silence and march through the city's streets.
People laid candles on the street beside bloodstains on the pavement where victims had been hit, she said.
The crowds chanted "I am not afraid! I am not afraid!" as they marched through the streets.
Outside the main strip where the attacks occurred, Gurzu said the city's residents are making an effort to try and go about their lives normally.
"People are trying to just move on."
You can read more of the news on source