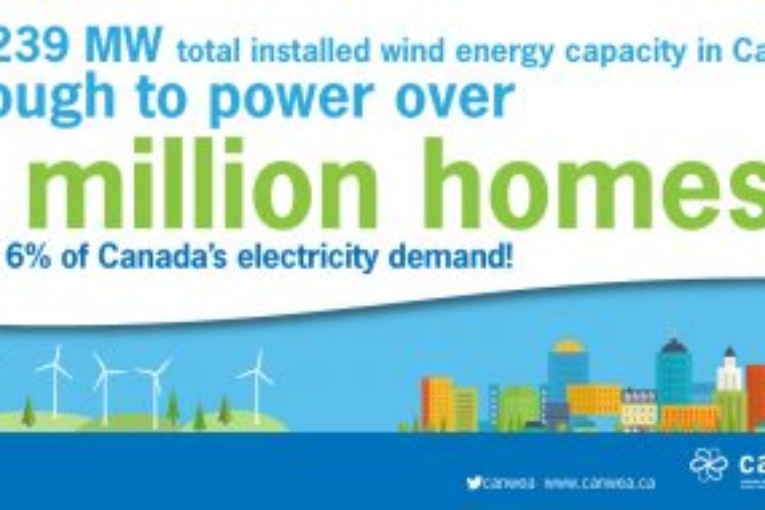 Last year, governments, utilities, and some of the largest companies and brands in the world—think Google, Apple, Nike, and Facebook—turned to wind power to meet their growing energy needs without contributing greenhouse-gas pollution to the atmosphere. This was exciting news to read about!
Just as exciting to see is that according to the Global Wind Energy Council, total installed worldwide capacity reached an impressive 539,581 MW by the end of 2017—more than half a terawatt. That's a huge amount of clean electricity capacity, produced by hundreds of thousands of turbines turning at this very moment across China, India, Europe, and of course, Canada.
As the world rises to meet the challenge of the Paris Agreement on climate change, wind is truly driving the gears of the energy transition—and Canada is right in there.
In 2017, utilities and developers energized 10 new wind energy projects in Nova Scotia, Ontario, and British Columbia, collectively bringing enough new clean electricity online to meet the needs of more than 90,000 homes.
Canada's federal government remains committed to its climate targets, and Alberta, Saskatchewan, New Brunswick, and Nova Scotia, which need to transition off coal, are turning to wind energy to help deliver the goods at the needed scale and speed.
They're also choosing wind because the price is right. Wind energy is now the lowest-cost option for new electricity generation in Canada. In December, a competitive electricity-supply auction in Alberta yielded the lowest-ever rate paid for wind energy in the country, a weighted average of $37/ MWh.
In the coming year, the Canadian Wind Energy Association (CanWEA) anticipates more than 600 MW of new wind energy capacity will come online, and the numbers will continue to grow in future years.
Here are some milestones to keep an eye out for in the coming year:
Wind energy is ideally positioned to help Canada meet its future electricity needs while tackling the global climate change challenge. The technology remains a lead player and a crowd favorite, driving the great energy transition around the world and within Canada's borders.
To spread the word through your networks, feel free to share the graphics we've produced below.
Senior Communications Advisor at the Canadian Wind Energy Association
You can read more of the news on source