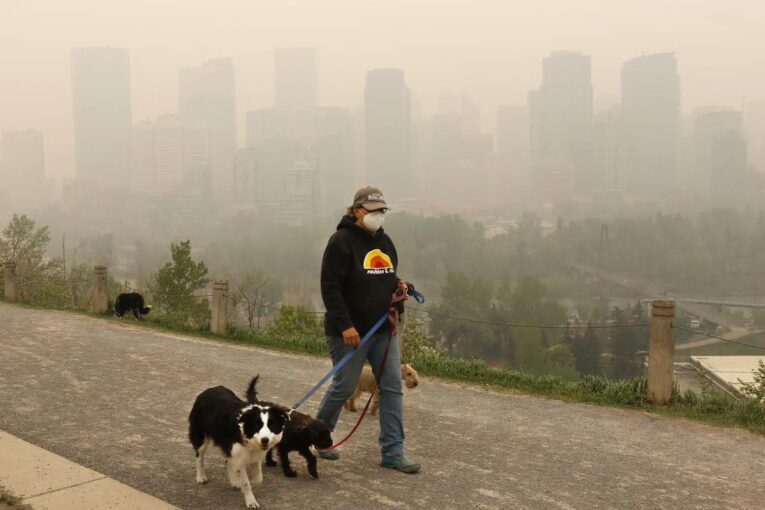 On Tuesday, Calgary became the most polluted city in the world for a few hours.
Tonnes of smoke and toxic particles streaming from Alberta's raging wildfires caused the city to max out Canada's Air Quality Health Index, sitting at "Very High Risk" for several hours.
At its peak, levels of fine, toxic particles were recorded at over 500 micrograms per cubic metre in parts of Calgary Tuesday — more than five times the average in Lahore, Pakistan, considered 2022's most polluted city in the world.
As wood burns, countless tiny particulates a fraction of the width of a hair are released into the air. These bits — also found in traffic exhaust, factory fumes and more — are listed among the leading contributors to illness and death today.
Air pollution is linked to the development of neurological disorders like dementia, heart disease, lung disease, assorted cancers and more, experts tell the Star. And although Canada has made strides in improving its air quality, the rising prevalence of forest fires is throwing that progress into jeopardy.
Here's what you need to know.
What is air pollution?
According to the WHO, air pollution occurs when any chemical, physical or biological agent contaminates the air. These are often released through the burning of woods, fossil fuels and more. Perhaps most dangerous among them are the myriad of particles tiny enough to infiltrate deep into our lungs and eventually our bloodstream — broadly termed PM 2.5.
These particles are emitted by all sources of air pollution and are "estimated to be responsible for seven to ten million deaths a year worldwide," said Jeffrey Brook, an air quality expert and assistant professor at U of T's Dalla Lana School of Public Health.
In Canada, vehicle traffic is usually the main source of air pollutants, Brook told the Star, but industry is also a major contributor — think refining and chemical manufacturing, steel production and the oil and gas sector. Then there are the wildfires.
Wildfires and air quality in Canada
Wildfire smoke is especially dense with particulates, and is responsible for roughly 20 per cent of Canada's annual PM 2.5 emissions, said Michael Brauer, a professor in UBC's school of population and public health.
"Right now, probably our major source of air pollution is wildfire smoke," he said.
In provinces where especially bad fires took place, smoke accounted for nearly half their total emissions that season — like in the fire seasons of 2013 and 2016, Brook added. "In extreme areas near (and immediately downwind of) the fires, it was 80 per cent of the total emissions," he said.
The dangers of wildfire smoke
According to Environment Canada, common symptoms of smoke inhalation include: sore and watery eyes, runny nose and sinus irritation, scratchy throat and mild coughing and headache.
Rarer but more serious symptoms may include: shortness of breath, wheezing, severe cough, dizziness, chest pains and heart palpitations. Should you experience any of these, Environment Canada recommends you "seek urgent medical attention."
"The levels of pollution that we get in a wildfire event can be 20 to 40 times or even 50 times higher than a typical day," said Brauer. "It really just swamps all other sources when we have a fire event."
While wildfires are a major source of pollutants now, we're constantly breathing in fine particulates from traffic pollution and other sources — with serious consequences.
The health impact of air pollution
When it comes to the health toll of air pollution, "almost every organ systemgetting enough sleep, not smoking or (drinking alcohol), etc. All that will protect you against the impact of air pollution."
Air pollution lowers lifespans of entire populations
According to the 2020 State of Global Air report, breathing polluted air was the fourth leading risk factor of premature deaths worldwide in 2019. In 2022, the Air Quality Life Index stated air pollution has shaved 2.2 years off the global life expectancy, for a combined 17 billion lost years compared to a world that meets the WHO pollution guideline.
"Air pollution is seen to be one of those contributors that shortens your life," said Brook — but that doesn't mean it's all bad. Air quality has actually been steadily improving in the GTA since the mid 1980s.
"The improvements in the PM 2.5 that occurred from the mid 80 until the 2010s, which decrease the PM 2.5 by more than half, is estimated to have improved the average life expectancy of a Torontonian by seven months," Brook said.
However, as temperatures warm and fire seasons stretch on longer, forests are expected to contribute more to air pollution around the globe.
"It's not just Canada — it's a global problem of increasing air pollution as more and more forests burn."
SHARE:
JOIN THE CONVERSATION
Conversations are opinions of our readers and are subject to the Code of Conduct. The Star
does not endorse these opinions.
You can read more of the news on source