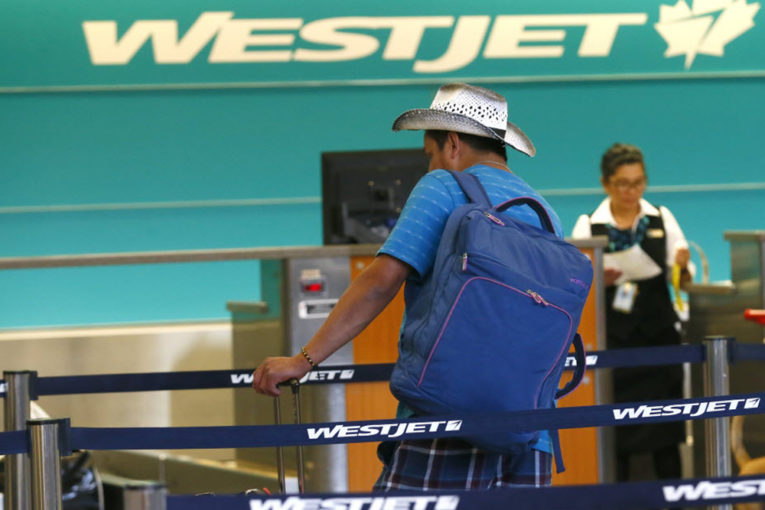 The last time WestJet lost money back in early 2005, The Incredibles was just leaving movie theatres, the airline was rocked by rising fuel costs and a tough price war was going on with rival carriers.
On Tuesday, the Calgary-based airline saw its streak of 52 consecutive quarters of profitability halted by some of the same factors, although it'd be a stretch to blame the new superhero movie, Incredibles 2, for its latest woes.
But the company was hit with some kryptonite on Tuesday, reporting a $20.8-million loss for the second quarter. Its stock dropped eight per cent to close at $18.32 on the Toronto Stock Exchange.
While revenues in the April-to-June period were up 2.8 per cent and traffic increased by 6.2 per cent from a year ago, WestJet was slammed by several forces that drove up costs and squeezed margins.
The fallout from the threat of a potential strike this spring by its pilots cost the company "tens of millions of dollars" as bookings fell and customers grew nervous about the uncertainty, said CEO Ed Sims.
With global oil prices rising, WestJet reported a 31 per cent jump in fuel costs. The airline also faced increased competition amid growing capacity within the Canadian market.
Combined, these factors halted the company's string of positive quarterly earnings, although Sims said WestJet is committed to "starting a winning streak from today" — and he expects the third quarter to be profitable.
"It's a shock to the system after 13 years of profitability in every quarter, which is quite anomalous in the airline industry," Sims said in an interview.
"We have been so consistent, we've been a financial metronome in terms of our delivery….We clearly got hit by three significant forces in this quarter."
These are complicated times for the company and its employees, particularly as the airline proceeds with several growth initiatives that will have a large impact on its future.
In late June it launched Swoop, the company's new ultra-low-cost carrier. The timing meant WestJet incurred startup costs but enjoyed little of the additional revenue that will come from the new service moving forward.
It's also proceeding with plans for international expansion — a major strategic step in its own right, with more details to come this October — while grappling with ongoing labour issues.
Earlier this month, the Canadian Union of Public Employees applied to represent WestJet's flight attendants.
During the second quarter, WestJet faced the possibility of a labour disruption involving its unionized pilots, represented by the Air Line Pilots Association, who are seeking a first contract.
The two sides agreed to a settlement process in late May, with outstanding disputes to be resolved by binding arbitration, if necessary.
Sims said the company faced a number of anomalous issues in the last quarter, including the "lingering tail" of the labour action that impacted bookings right into July and August, driving deeper fare discounts as the airline headed into peak travel season.
As for Swoop, the new carrier just took delivery of its third plane. By the end of the week, it will announce an expansion into transborder operations.
The ultra-low-cost carriers offer deeply discounted fares to customers while charging for unbundled ancillary services, such as extra legroom or checked baggage.
But this expansion comes as rival Flair Airlines has more than doubled its schedule in recent months, heating up the competition for cost-conscious customers.
Marvin Ryder, a professor of marketing at McMaster University, said it's clear that Sims, who took over the top job this spring, inherited several difficult issues that had to be addressed, from the potential labour battle and Swoop's startup to the rising fuel bills.
Fuel expenses represent 27 per cent of the company's operating costs.
"You've got a lot of balls to juggle here and that's a very difficult time for someone to work their way through," Ryder said.
The loss was widely expected by industry analysts, but the prospect of the difficulties extending into the third quarter — such as the lingering impact of the labour disruption on summer bookings — was a surprise.
"The company is strong enough they can take a bad quarter. This happens from time to time with a company," said analyst Chris Murray of AltaCorp Capital.
"What you don't want to see is starting a trend of year-over-year earnings decline. Unfortunately, I think that's what we are going to be looking at, for at least the next couple of quarters."
Sims believes the long-term growth strategy is the right one. WestJet is acquiring 10 Boeing 787-9 Dreamliners, with delivery of the first long-haul aircraft expected in January.
It will start flying the wide-body planes internationally next spring.
As for the current July-to-September period, Sims said the impact of higher fuel expenses and increased capacity from competitors will "have a drag on our revenue performance in the third quarter, but we still expect the third quarter to be profitable."
If the new CEO is looking for inspiration, it's worth noting the last time WestJet lost money in late 2004 and early 2005, it had just snapped a string of 31 consecutive quarters of profitability for the airline — and the changes it made soon led to its 13-year run in the black.
After a bumpy quarter, WestJet will need to make another course correction if it wants to start the streak again.
Chris Varcoe is a Calgary Herald columnist.
You can read more of the news on source