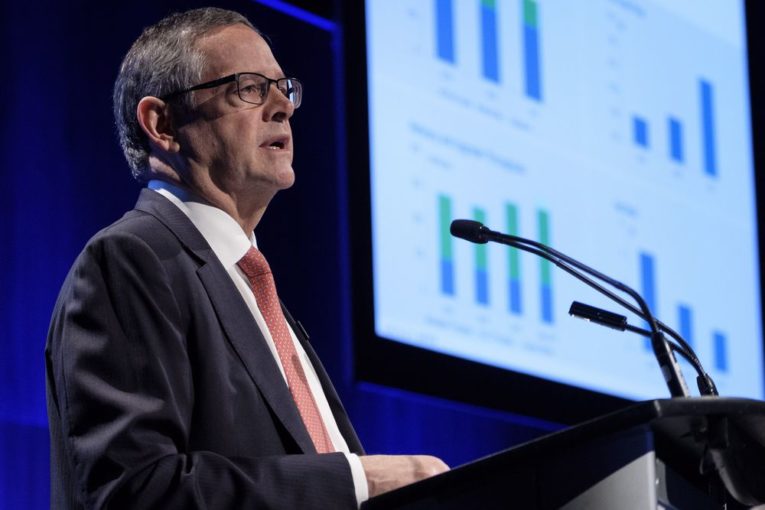 As Premier John Horgan unveiled a new court manoeuvre Thursday to regulate the flow of additional bitumen into British Columbia, the head of one of Canada's largest heavy oil producers took to the stage in Calgary.
At Husky Energy Inc.'s annual meeting, CEO Rob Peabody pointed out the steps the company has taken to limit its exposure to the discount affecting Canadian heavy crude prices this year — including not producing some of its own oil.
At every corner, at every turn in the road for the oilpatch, the spectre of Canada's inability to get its product to market efficiently rears its head, both with investors and operators.
And the political fracas between Alberta and B.C. over the Trans Mountain pipeline expansion has become a "top of mind issue for everyone" in the sector, Peabody told reporters after the meeting.
"I do see this as almost close to a Constitutional crisis," he said.
"The question is, how does this country work? Are provinces free to effectively stop free economic movement of goods and services across the country?"
That's a mighty good question.
On Thursday, Horgan's government filed a reference question to the B.C. Court of Appeal over its proposal to restrict additional bitumen shipments into the coastal province.
The court will decide if the legislation is within the province's power to enact, or if it conflicts with federal legislation.
Ottawa has jurisdiction to regulate interprovincial pipelines such as the $7.4-billion Trans Mountain expansion.
Both Ottawa and Premier Rachel Notley have argued B.C.'s attempts are outside its powers, and they are busy negotiating with proponent Kinder Morgan to derisk the project from further delays.
If Horgan gains the authority to restrict additional bitumen shipments, similar powers would soon extend to other provinces. Imagine the tit-for-tat fun that would create among 10 provincial fiefdoms, each trying to poke the other in the eye?
Alberta, for example, could regulate and restrict B.C. exports moving east, such as natural gas, chemicals, pulp and paper and coal.
"The power they are seeking through this court reference are a recipe for economic gridlock," Notley said.
This may all sound theoretical, but it's already having an impact.
There are signs energy sector investment is sitting on the sidelines or shifting to other countries.
The Petroleum Services Association of Canada has lowered the number of oil and gas wells it expects to be drilled this year by six per cent to 7,400.
The Canadian Association of Petroleum Producers pointed out the country has lost more than $60 billion in capital investment in the past two years. B.C.'s latest step is "just another stall tactic" to tie up the federally approved Trans Mountain development, CAPP said in a statement.
The first-quarter results of two major petroleum producers — Husky and Cenovus Energy Inc. — underscore the impact that the pipeline predicament is having on the sector.
Husky saw the price differential between benchmark West Texas Intermediate crude and Western Canadian Select heavy oil average $30.69 a barrel, up from $19.28 a year earlier.
The integrated oil producer decided to temporarily throttle back its own heavy oil output by about 5,000 barrels per day during the first quarter because of the price discount.
Instead, it opted to buy discounted barrels from other companies to use as feedstock in its U.S. refineries.
This action, and the fact companies are shipping more oil by rail, indicate transportation issues are "starting to bite," Peabody said.
It also means the pipeline impasse is pushing investment and activity to other places.
As Notley has argued, failing to get Trans Mountain expansion built to the west coast is costing the Canadian economy up to $40 million a day.
And who is benefiting? Largely U.S. firms buying cheap oil from north of the border.
"I have a lot of American friends, but there's a time in which you're just being too generous with them," Peabody said.
"I'll buy them dinner, but giving them billions of dollars on a regular basis just doesn't seem like something we need to be doing for our friends south of the border."
Husky has sufficient ability to move its product today, but has committed to send additional oil volumes on the Keystone XL pipeline and Trans Mountain expansion, if the projects are built.
Beyond 2021, it needs to see more pipeline capacity in place.
Further delays will influence whether it invests in Western Canada, or puts additional capital into properties in Asia or the East Coast.
"Clearly we'd like to invest in Alberta, we'd like to invest in Saskatchewan," Peabody added.
"We are continuing to invest because we have the pipeline capacity for now, but at some point it becomes an issue."
Likewise, Cenovus shut in some of its oilsands production last month, although it has ramped output back to normal levels as heavy crude prices have improved.
The company has some growth opportunities on the drawing board — such as its Narrows Lake thermal project — but CEO Alex Pourbaix said Wednesday he would need more "pipeline certainty" to consider moving new projects ahead.
"We will not be considering any material new additions until we see clear line of sight to increased pipeline takeaway capacity out of the province," he told an analysts' call.
The bottom line: Until pipeline issues are resolved, it will be tough for companies to move ahead with big-ticket oilsands investments.
Of course, that is exactly what opponents of the industry — including the B.C. government — want to see happen.
It's also why the federal and Alberta governments can't give in.
There's no escaping the investment issue as Canada's pipeline quagmire deepens.
Chris Varcoe is a Calgary Herald columnist.
You can read more of the news on source