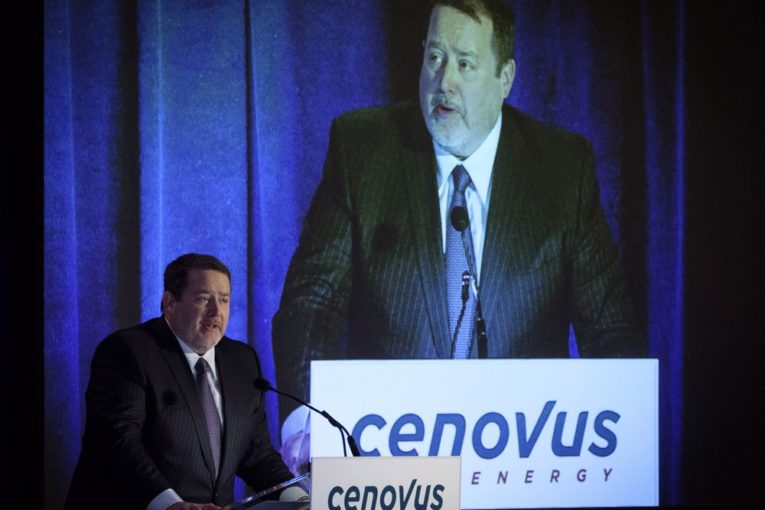 Much was different about Cenovus's annual meeting Wednesday.
For one, a new chief executive, Alex Pourbaix, led the presentation — and was on the hot seat afterward — to shareholders and interested parties.
The mood in the nearly full room at the Metropolitan Centre was not nearly as hostile as a year earlier, when then CEO Brian Ferguson made an impassioned defence of the company's $17.7-billion purchase of ConocoPhillips assets, which included getting into the Deep Basin in northeast British Columbia.
Ferguson — as later transpired — was fighting for his job. The company was in 'show-me' mode in terms of delivering on promises made when the deal was announced, including selling assets to pay off $3.6 billion in bridge financing.
One year later, Cenovus has paid off the bridge financing and reduced the size of its workforce by 800 employees.
But judging from the financial results — its 'show-me' mode is still in evidence.
The company posted disappointing first-quarter results, even as oil prices were higher, losing $914 million and recording negative free cash flow of $565 million.
"While these are not financial results I would like to be reporting to you today, I am confident that Cenovus is well positioned in the months ahead to increase cash flows through disciplined production growth through oilsands and deep basin assets," said Pourbaix.
The biggest culprits were a hedging loss of $469 million, put in place after the ConocoPhillips acquisition was announced, and the pricing differential between West Texas Intermediate and Western Canada Select, which averaged $24.82 per barrel in the quarter.
"Over the last few months, transportation capacity constraints have contributed to the widest, light-heavy oil differentials we have seen in a number of years … we are not getting full value for our products," said Pourbaix.
The irony in all of this is that part of the ConocoPhillips deal requires Cenovus to pay the company $6 million for every $1 that WCS trades above $52 per barrel (Cdn). The fact the differential has been so wide and clearly had an impact on the company's financial results, also meant Cenovus did not have to write a cheque to ConocoPhillips in the first quarter. Pourbaix said Cenovus paid $12 million to $13 million in the fourth quarter of 2017.
In response to the wider differential brought on by the lack of pipeline capacity, Cenovus used its reservoirs at Christina Lake and Foster Creek as storage facilities. These acted as a physical hedge until the transportation constraints began to ease later in the quarter.
"It is a great example of how this company can adapt to changing market conditions," said Pourbaix.
Cenovus also took a $100-million non-cash impairment charge related to the Clearwater Deep Basin assets and a $59-million hit for real estate in excess of what the company currently needs. In other words — it has sublet space at rates below market, and had to recognize that difference.
The market must be in a forgiving mood since Cenovus shares have not gone south.
The stock instead rose modestly Wednesday, gaining 61 cents to $12.80, followed by another 17-cent boost Thursday.
It's not far off from where they were at this time last year — $13.55 — and well off the 52-week low of $8.89 per share.
Asked Thursday about shareholder reaction to the first-quarter numbers, Pourbaix said his discussions with major shareholders have been forward-looking and positive.
"What I have said to employees is that there is not going to be one big announcement that turns shareholder sentiment massively in favour of the company … but it will change through a constant drum beat of delivering on small decisions correctly and on the commitments we make as a company," he said. "Our shareholders are starting to appreciate the long-term value creation capability of the company."
That said, Pourbaix is not shying away from the challenges facing Cenovus, including the vexing issue of pipeline capacity and access to tidewater.
Like other energy CEOs around town he devoted a good portion of his Wednesday remarks to the issue of market access and the need to get pipelines built.
"The ultimate solution to this industry's transportation challenges is very clear: we need more pipelines," he said. "All Canadians should be concerned about Kinder Morgan's decision … to walk away if the (Trans Mountain) project continues to face roadblocks in British Columbia."
And in what could only be seen as a bit of a stab at the previous Conservative government, he praised the Trudeau government for its support of the energy sector.
"In the past, when we had pipeline issues, the great balance of Canadians yawned and ignored the issue. This is the first time we are getting support from Canadians, broadly" Pourbaix said.
"I would tell you that the support that we have received from the federal government — that support would not have been evident a few years ago."
"We are in a challenged time with the take-away situation but I truly believe there are solutions for all of these projects … I have been very clear with the prime minister, with cabinet ministers and with the Alberta government that everyone needs to understand the importance of (Trans Mountain) for the industry and that we are not going to have a lot of opportunities for a 'do-over' if we don't get this right."
While Pourbaix is doing what he can to break the pipeline impasse, there is an adage that energy should be spent on factors that can be controlled.
For Cenovus, it's production, costs, leverage — and continuing to rebuild a corporate culture that positions the company to reap the benefits of a stronger oil price and narrower differentials that will come when the transportation challenges are finally solved.
Deborah Yedlin is a Calgary Herald columnist
You can read more of the news on source