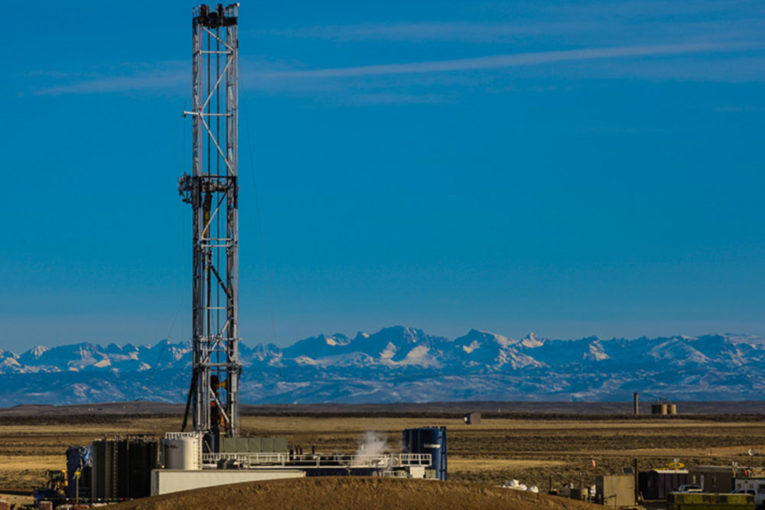 The president of Ensign Energy Services says the North American market is bifurcated.
Others consider it a geographic divide.
Regardless of the terminology, there's a big difference in sentiment facing oilpatch drillers active in the United States and Canada these days.
One market is on fire — higher drilling levels and increased capital spending south of the border — while the Canadian market has been painfully slow to find its footing.
Even as benchmark oil prices hover around US$69 a barrel, the outlook in Western Canada remains relatively muted, as drillers wait for petroleum producers to open up their purse strings.
"There is a big bifurcation between Canada and the United States," Bob Geddes, Ensign's president and chief operating officer, said in an interview Tuesday.
"When I travel and I'm in Houston a week, a month, it's like a different world."
One of the largest drillers in the country, Calgary-based Ensign released second-quarter results Tuesday that reported a net loss of $36.7 million, while revenues rose 13 per cent from year-ago levels to $263 million.
The number of operating days for its U.S. drilling fleet jumped 25 per cent in the second quarter from the same period in 2017.
In Canada, however, Ensign reported the number of operating days that its drilling fleet was busy fell by 27 per cent. The decline in Canadian activity, along with international drilling, was "mainly due to geopolitical factors and the lack of access for oil and natural gas to markets," the company said.
In other words, inadequate pipeline capacity and the bottlenecks facing Western Canadian oil and gas continue to hang around like a bad summer cold.
Here's another telling number.
During the first half of the year, Ensign's American revenues increased 31 per cent compared with the same period a year ago. In Canada, revenues dipped 12 per cent.
Geddes said one key differences is money is flowing into the U.S. energy sector, while Canadian petroleum producers are unable to raise equity, relying on cash flow to fund their capital programs.
Yet, that's only one issue.
Pipeline constraints, the steep price discount squeezing Canadian heavy oil, weak natural gas markets and the overall competitiveness of the U.S. sector are other forces at play.
"Everyone is making more money in the U.S., it's a matter of fact. And they're able to get approval in five to six times the speed that they can get approval for a project in Canada. It's just the frustration is higher in Canada," Geddes said.
"We will eventually get there . . . it's just going to take a little bit of time in Canada."
Geddes said he's confident that domestic oilpatch activity will improve, with more exploration and drilling in 2019.  
Ensign isn't the only company facing the cross-border chasm.
According to Houston-based oilfield services firm Baker Hughes, 1,044 rigs were drilling in the United States last week, up 90 from a year ago. In Canada, 223 rigs were active, an increase of just six working rigs.
Oilpatch capital spending in Canada is projected to fall almost 10 per cent this year, but increase in the U.S. by 15 per cent, according to Wood Mackenzie.
Meanwhile, drillers have moved 14 rigs out of Canada and into the United States during the past 18 months — including Ensign relocating one down south in the second quarter — to capture opportunities in places such as the red-hot Permian Basin in Texas.
"People have waited long enough," said John Bayko of the Canadian Association of Oilwell Drilling Contractors.
"If there's a chance to go down south and get rigs working, our members are going to take it because of such a lack of sustained activity up here."
Last week, the Petroleum Services Association of Canada (PSAC) lowered its expectations for 2018, forecasting 6,900 oil and gas wells will be drilled in the country this year, down 500 from earlier projections.
Even with stronger oil prices, the sector drilled 200 fewer wells in the first half of this year compared with 2017, said PSAC chief executive Tom Whalen.
"The numbers don't lie," he said. "We are suffering from . . . the hangover that just won't go away. You think you're over it and the headache just comes back."
There is some room for optimism.
Oil prices have rallied this year, cash flow levels are rising, the Canadian dollar remains low and companies are growing more confident that new pipelines will eventually get built.
But it will likely take a sustained recovery before Canadian petroleum producers start spending more, creating additional work for drillers and the oilfield services sector.
Gary Leach, president of the Explorers and Producers Association of Canada, pointed out natural gas producers are still struggling with weak cash flow levels, while oil producers are more likely to return money to investors than expand their capital plans in 2018.
"In Canada, we are still stuck in slow gear in my view, in terms of cash flow being reinvested into drilling," he added.
"There's much less appetite to grow the production base in Canada, whereas in the United States, they are shooting the lights out down there."
Chris Varcoe is a Calgary Herald columnist.
You can read more of the news on source