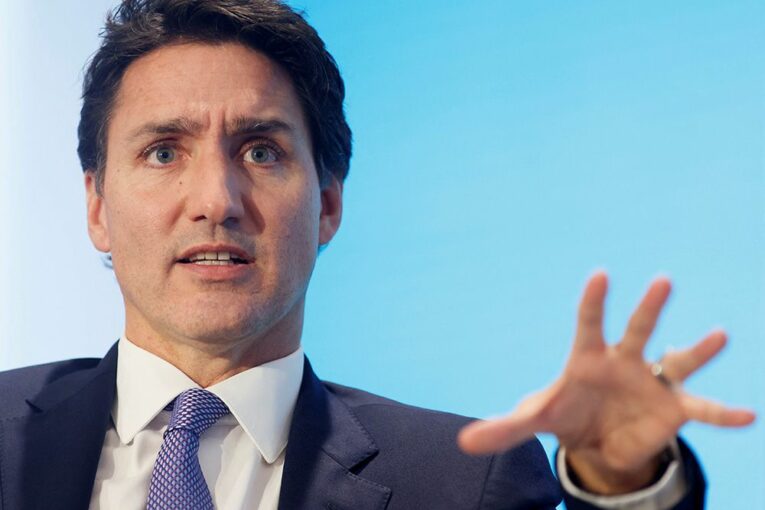 Mr. Prime Minister, Alberta has a new premier and she doesn't like your climate policies, "so what specifically are you doing to work with her government to address the emissions problem?"
We apologize, but this video has failed to load.
Try refreshing your browser, or
tap here to see other videos from our team.
Varcoe: As Trudeau trades jabs with province, clock ticks on carbon capture projects worth billions
Back to video
This was the question from a Bloomberg News journalist to Justin Trudeau at a climate conference in Ottawa this week.
His response was a classic example of partisan deflection.
"It's interesting because you see a position in which Conservative politicians in Canada are actually distancing themselves from the positions of the industries they're supposed to protect. The oil and gas industry in Canada has made very strong declarations about needing to get to net-zero by 2050," Trudeau told a Canadian Climate Institute conference.
"Listen, Alberta politicians will continue to say what they say. What Albertans are actually saying, what industry leaders are actually saying, is how do we manage this together?
"How do we get the pace right so we can decarbonize quickly, while still being there to provide the very real short-term energy needs."
But don't worry about Premier Danielle Smith. She's been getting a few practice swings in on the energy file in her first couple of weeks on the job.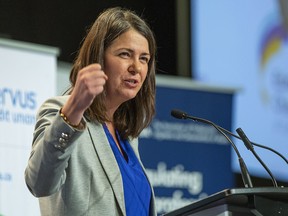 In her victory speech after becoming UCP leader, Smith vowed Alberta "will not have our resources landlocked or our energy phased out of existence by virtue-signalling prime ministers."
At a news conference, Smith blasted Environment Minister Steven Guilbeault, saying "he's done nothing but attack our industry," and said Alberta will send its own delegation to the COP27 climate meeting next month.
"I'm not sure why we haven't attended those in the past, but . . . with such a hostile environment minister in Steven Guilbeault, they would keep getting hit after hit after hit," Smith told an Edmonton Chamber of Commerce event on Thursday.
"We cannot have our message on the world stage with Steven Guilbeault being our emissary on that."
If the two sides want to do something constructive, here's a novel idea: quickly find some common ground.
Both sides should sit down and hash out a new regime that activates billions of dollars in proposed investments in carbon capture, utilization and storage (CCUS) projects in short order.
Part of it should look for ways to speed up the regulatory process; they should also look at the financial side of the equation.
After taking an entire year to put together an investment tax credit for CCUS projects, the Trudeau government this spring finally offered up a 50-per-cent credit for spending on equipment that's required to capture CO2.
It also called on the provinces to step up.
Recommended from Editorial
Varcoe: Canada 'falling behind' in race to attract carbon capture investments

Trudeau says Russian invasion of Ukraine 'accelerated' Canada's move away from oil and gas

U.S. incentives for carbon capture could lure investment south

Mark Carney says Canada should make a 'big bet' on carbon capture
Alberta pointed to royalty offsets available within its existing oilsands royalty structure that provide incentives for major capital costs tied to such projects.
Meanwhile, the U.S. has waltzed past Canada, adopting an even bolder program than what Ottawa announced by passing its new Inflation Reduction Act this summer. It boosts the existing U.S. government tax credit for such projects to $85 for each tonne of stored CO2, a jump from $50.
On Wednesday, the Business Council of Canada sent a letter to Finance Minister Chrystia Freeland, noting she recently indicated the federal government would fast-track energy projects to assist Canada's allies.
"For major projects to go ahead, however, investors need regulatory predictability," states the letter from council CEO Goldy Hyder.
"Such a declaration should spell out in detail the kinds of projects the government is prepared to fast-track and . . . outline any incentives — financial or otherwise — which the government will put in place in response to those contained in the United States' Inflation Reduction Act."
The future of decarbonizing Alberta's energy industry through CCUS is waiting for such clarity.
The Pathways Alliance, compromising large oilsands producers such as Cenovus Energy and Suncor Energy, estimates the cost of its foundational carbon capture and storage hub at $16.5 billion by 2030 as it strives to reach net-zero emissions by 2050.
Suncor Energy's chief climate officer Martha Hall Findlay, who announced this week she will retire at the end of November, said the alliance welcomes the federal credit and this month's decision by Alberta to allocate the group pore space necessary for its planned CCUS hub.
However, it has done analysis on the gap between Canada's incentives and the U.S. plan — and Ottawa knows it must do more to be competitive, said Hall Findlay, a former Liberal MP and past CEO of the Canada West Foundation.
"Even with our carbon pricing in Canada, the difference now between the environment in the United States and in Canada is still very big," she said in an interview.
A number of other proposed decarbonization projects in Alberta are also in the wings, including Enbridge's Wabamun Carbon Hub initiative with Capital Power and Lehigh Cement, and the Alberta Carbon Grid development, led by Pembina Pipeline and TC Energy.
"It is a pretty pivotal point in the dialogue," said Michael Gullo, the business council's vice-president of policy.
"This is go time."
On the provincial front, little progress was made while the leadership race to replace Jason Kenney unfolded.
The ball now rests squarely in the court of Smith and her new cabinet, which will be announced Friday.
Federally, there have been signals Ottawa may respond to the new measures south of the border.
On Wednesday, Freeland also suggested the fall economic update could offer more clarity to closing the gap with the U.S.
For Hall Findlay, collaboration is the way to get things moving, noting the group will need to see investment from both the provincial government and Ottawa.
"The world is going to need what we produce for the next number of decades. So our view is what we are doing is, in fact, incredibly important to the prosperity of Alberta," she added.
"All I can do right now is encourage Alberta and the federal government to come and join us at the table all together and really figure out how we can do this — not only for Alberta, but for Canada."
Chris Varcoe is a Calgary Herald columnist.
You can read more of the news on source