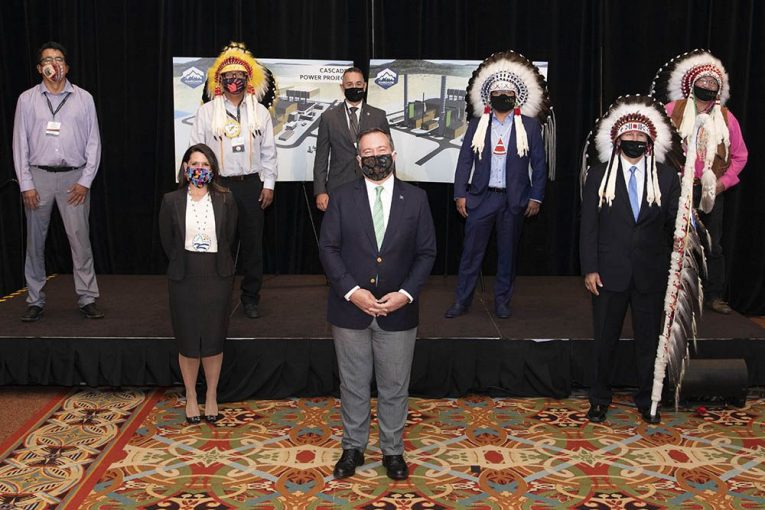 It's backed by a $93-million loan guarantee by the government of Alberta, although the province, industry players and First Nations leaders hope it becomes a gateway to much more.
The
Alberta Indigenous Opportunities Corp.
(AIOC) unveiled its first deal Wednesday, providing a loan guarantee to help six First Nations acquire an equity interest in the $1.5-billion Cascade Power Project. The large combined-cycle gas-fired generation facility is now being built southwest of Edson.
The Crown corporation was established by the UCP government last year with the aim of promoting Indigenous participation in natural resource developments, such as pipelines and power plants.
"Today marks the beginning of a new era of Indigenous partnership and economic development," corporation chief executive Alicia Dubois said at a news conference at the Enoch Cree Nation.
"These are not dollars out the doors. It's a guarantee from the government, but the guarantee is always established with the aim that the project itself is viable."
The 900-megawatt Cascade generating facility is expected to begin operating in 2023. It will employ 600 workers during the peak of construction and create 25 permanent jobs.
Under the new agreement, the Enoch Cree Nation, Alexis Nakota Sioux Nation, Paul First Nation, Whitefish Lake First Nation, Kehewin Cree Nation and O'Chiese First Nation will acquire an undisclosed stake in the Cascade development.
Premier Jason Kenney noted the project will generate up to eight per cent of the province's electricity needs once it's built, and said AIOC will help First Nations create jobs and participate in the economy.
"It is a critical imperative for Alberta that we see First Nations playing a real leadership role with an equity stake in resource projects if there's going to be a vital future for our resource industries," he said.
AIOC is also examining a number of other potential deals. The corporation will allocate $1 billion in loan guarantees and supports — up to $250 million per project — to Indigenous groups interested in acquiring an ownership position in resource projects.
Chief Tony Alexis of the Alexis Nakota Sioux Nation said the investment and partnership will be "transformative," providing long-term income for future generations.
"Ownership is important. Having a seat at the table is important," he said in an interview.
"I know a lot of First Nation communities have been saying that for years. Now, here we are, we have a seat at the table."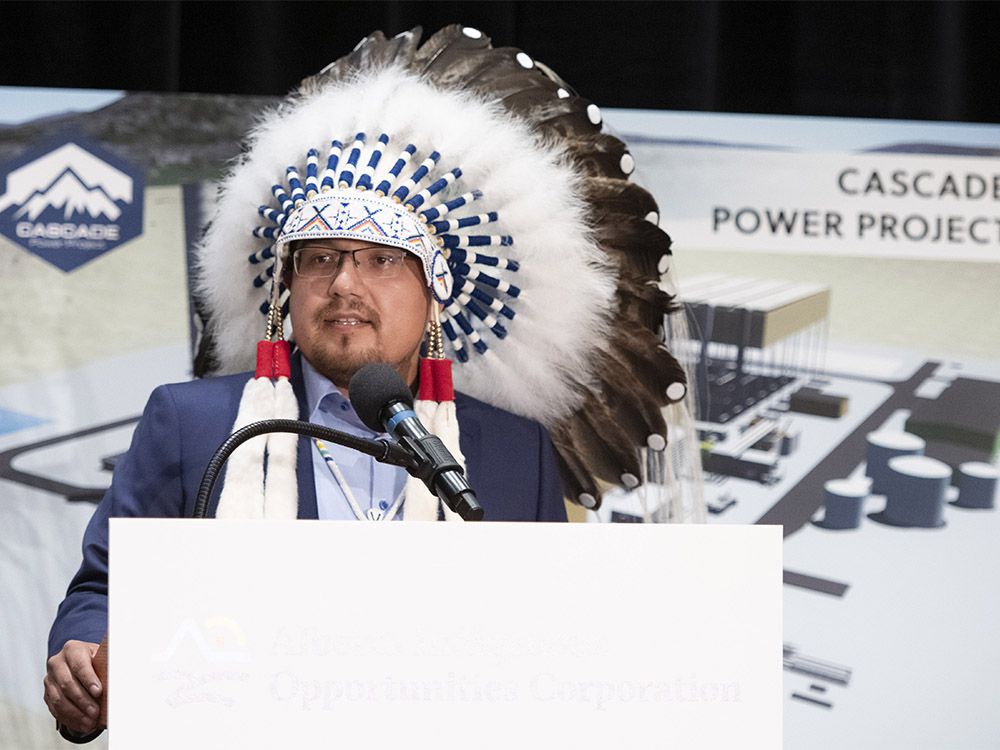 The Cascade project is intriguing from several perspectives, given it's the initial project for the new Crown corporation and the development has an ownership structure that involves a consortium of outside investors and six First Nations.
Calgary-based Kineticor Resource Corp. is developing and will operate the venture, while the project will be co-owned by Ontario-based pension fund OPTrust, as well as Axium Infrastructure and DIF Capital Partners.
Cascade also represents a major $1.5-billion investment going ahead, smack in the middle of a recession.
Kineticor has said the plant will be the most efficient combined-cycle power plant in Alberta, producing 60 per cent less emissions than a coal-fired generating plant.
Kineticor CEO Andrew Plaunt noted the proponents originally planned on building the project in two phases, but with coal-fired generation being phased out in Alberta, they were able to secure commercial contracts to do both phases at once.
"The fundamentals we think are very sound," he said.
It's also a major development for Alberta's power market.
According to a report by Peters & Co., Cascade and Suncor Energy's new cogeneration project, which was deferred earlier this year during the oil-price collapse, will create new competition in the power market, bringing on 1,700 MW of new capacity in Alberta in the next few years.
But the most significant effect is the potential of more agreements going ahead with AIOC involvement, allowing more Indigenous communities to invest in major projects by lowering the cost of capital and providing necessary technical supports for that to happen.
The federal government has previously indicated it will consider Indigenous ownership of the Trans Mountain project once the expanded oil pipeline is sold back to the private sector by Ottawa.
Alexis hopes the Cascade deal "becomes a national blueprint for how major energy projects, like the Trans Mountain pipeline and other infrastructure projects, can be structured and financed and on commercial terms to include Indigenous peoples."
Experts believe the Cascade example can work in other projects, but it will also need to be flexible. Ken Coates, the Macdonald-Laurier Institute's senior fellow in Aboriginal and northern Canadian issues, said the deal demonstrates the AIOC understands that different First Nations have different financial capabilities and that government has a role to play.
"What this shows is the government of Alberta believes in its energy resource future. Many First Nations believe in that energy resource future. They are doing a collaboration," he said.
"This is the kind of thing that breaks down stereotypes and breaks down assumptions."
But can the Cascade deal be replicated?
Simon Moody, a director at OPTrust, believes so. He said the group wanted to do a deal with the six First Nations, and the involvement of the Crown corporation and loan guarantees were critical elements in it moving ahead.
The agreement "opened our eyes" on what can be done, he said.
"It is most certainly a model we will look to replicate. I think others will, too," Moody said in an interview.
"I am not sitting here and saying this is easy, but I think it is definitely a blueprint for what can be done, certainly on other energy infrastructure."
Chris Varcoe is a Calgary Herald columnist.
You can read more of the news on source