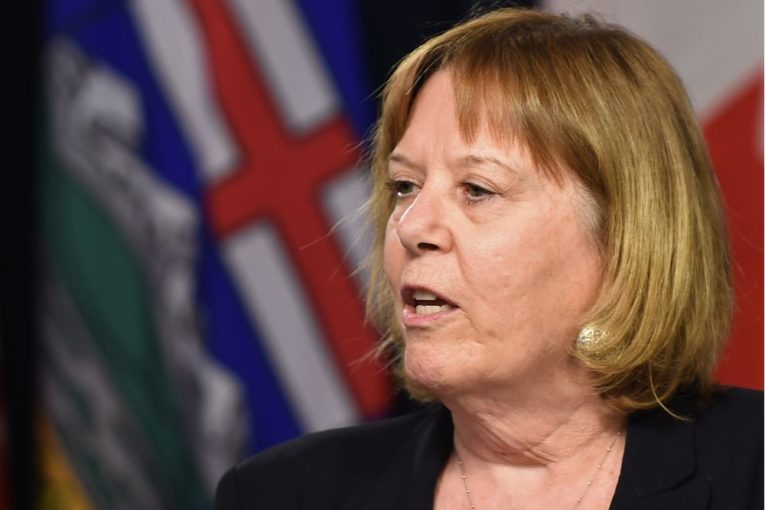 With rising oil prices and more drilling rights sold, Alberta's energy minister expects a stronger year for the oilpatch in 2018.
But Marg McCuaig-Boyd also has a number of complex files on her desk to consider heading into the new year.
This includes pushing for new pipelines and considering whether government barrels of oil should be shipped on the proposed Keystone XL line. There is also a looming report from the energy diversification advisory committee that could set the table for future government investments, and a decision on a potential expansion of the new North West Refinery project.
Herald business columnist Chris Varcoe talked with the MLA for Dunvegan-Central Peace-Notley recently about the key issues for 2018, and the significant developments of the past 12 months.
The following is an edited and condensed transcript of the interview:
Q: Pipeline issues dominated headlines in the past year, from Keystone XL being revived and Energy East's cancellation to constant issues around the Trans Mountain expansion. Are we any closer to getting an oil pipeline built?
A: I think we are. As much as it seems like there's been some setbacks, I think there's been a lot of good progress. I think the premier's (cross-country speaking) tour was very good to highlight why (Trans Mountain) is not just a good project for Alberta, but it's good for Canadians.
Q: Do you think in 2018 we will see significant progress on any of these proposed pipelines?
A: Absolutely, I am very confident we'll be breaking ground in 2018 on Trans Mountain.
Q: What about on Keystone XL?
A: I think it's moving along as well…. So (I'm) fairly optimistic still.
Q: You weren't happy with the National Energy Board decision to review upstream and downstream greenhouse gas emissions tied to Energy East. Do you think it was a factor in the project being cancelled? Why do you think it was inherently unfair for Ottawa to allow that decision to stand?
A: I do think that extra oversight was a factor in Energy East (being cancelled) and I remain a little unhappy the over-reach is hurting Alberta. I encourage the federal government to get the NEB process going and provide certainty that we all need for future projects…. You can't just isolate one sector and then put conditions on them without looking holistically at other industries.
Q: Has the Alberta government made a decision on whether it will commit to moving any barrels on Keystone XL?
A: We haven't closed any doors on that matter.
Q: On commodity prices, Alberta natural gas prices collapsed in the summer and there's been a huge gap between AECO spot prices and U.S. prices. In the last month, we've also seen the differential between Canadian heavy oil versus West Texas Intermediate crude really widen. Is the government concerned about these huge discounts?
A: We have always been concerned about the boom and bust that has existed in Alberta for a long time. That's why we're really focusing and continue to focus on diversification within our province…
As we are awash with gas, for example, let's look at more ways to use that gas within Alberta. Then, we are not at the mercy of the boom and bust of prices.
Q: Is there anything your government can do to help remove the barriers affecting both oil and natural gas (getting to) markets?
A: Certainly getting the pipelines (built) helps; we (would) keep more money back in Alberta… There is a lot of gas in all of North America, so we just have to think differently about it and continue to work with companies, and look at different strategies.
Q: You have a new report coming out in 2018 on adding value to Alberta energy resources, either through refining or upgrading or partial upgrading of heavy oil. What should we generally expect to see in that report? Is there an opportunity here for Alberta?
A: We asked them to look at that very matter. What are the best opportunities that Alberta could be looking at and what role might the government play in it?
Q: Do you think partial upgrading will play a prominent role in that report and for your government going forward?
A: We've certainly heard lots of good ideas, but I think partial upgrading is one, for sure, that they (the advisory committee) are looking at – refining and what role does all of this play? Is it partial upgrading? Is it full upgrading? That will be part of the report.
Q: At the new North West Refinery project, diesel is now being produced. Where does the government stand on funding the second (proposed) phase of it?
A: We are going to see how the first (phase) goes and learn from it. We were pleased to see the first barrels of low-sulphur diesel coming out, and we will continue to learn from the first (phase) before we make any decisions.
Q: Alberta land sales rose sharply in 2017, reaching $504 million for the calendar year. What are the expectations for exploration and drilling in 2018?
A: The fact land sales are up, there is a renewed interest in exploration. We've seen increased drilling, and up in the northwest we're seeing a bit of a boom going on there in the Duvernay. So I think we are going to see a lot more of that in the coming year and that's a good sign of recovery.
Q: You made some progress last year on orphan wells, trying to accelerate their cleanup. But there's been an explosion in the number of orphan wells coming into the system. Are you convinced you've done enough? Will you look at putting a timeframe in place on when (all) wells need to be cleaned up?
A: We've done a couple of things. We got the loan secured for the Orphan Well Association and there will be a lot of work done in the next three years (to clean up more wells). And the industry will have 10 years to pay that (loan) off.
We announced (regulatory changes) recently and that will go a ways to stemming that. And we continue to talk to industry and Alberta groups about liability management… You will see more in 2018 on this matter.
Q: Any final thoughts looking forward into 2018?
A: The world is shifting and we're going to move with it. When we talk about things like a lower carbon economy, we're telling the world there's no cleaner energy future without Alberta oil and gas … I'm very, very optimistic for 2018.
Chris Varcoe is a Calgary Herald columnist.
You can read more of the news on source