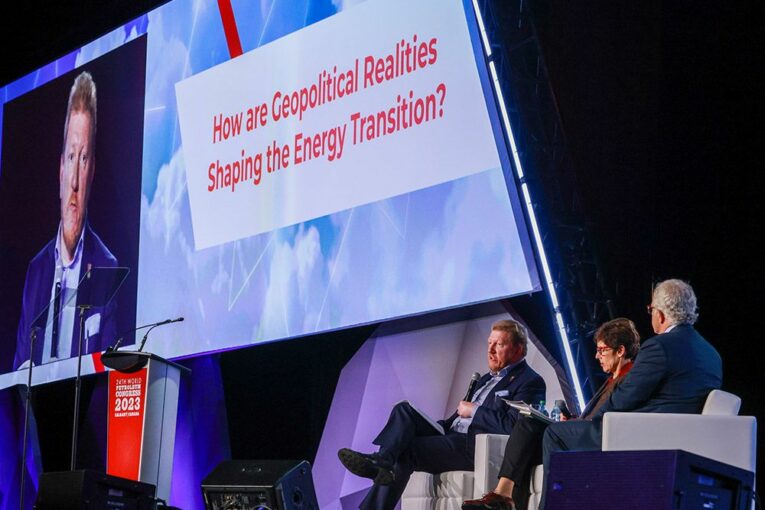 Oil prices hovering around US$90 a barrel should spur the energy transition to pick up speed as consumers face rising bills, although other geopolitical factors could act as a brake.
The complex role of geopolitics and the energy transition were under the microscope Wednesday at the World Petroleum Congress, amid the fallout from Russia's invasion of Ukraine, and soaring oil and natural gas prices over the past 18 months.
During an interview and at a panel discussion during the third day of the summit, the executive director of the Centre on Global Energy Policy at Columbia University said geopolitics will affect the transition.
"I think $90 oil actually makes the transition go faster because it makes consumers and voters think a little more about, 'Wait a minute, maybe I will take that EV or maybe we will get the solar panels on the roof because energy is expensive,'" Robert Johnston said on the sidelines of the conference, which ends Thursday.
"The bottom line is the high oil prices make the transition go faster, (but) broken supply chains and the lack of industrial capacity — and industrial trade policy friction — make it go slower."
Concerns about the security of supply have re-emerged as central issues for the industry following Russia's invasion of Ukraine in February 2022, "creating the first truly global energy crisis," according to the International Energy Agency.
At the time, Russia was the world's largest oil and gas exporter. Western countries, including Canada, have imposed bans on Russian crude.
The shift has been more difficult for European countries, including Germany, which previously relied heavily on Russian natural gas imports.
Oil prices shot up to $120 a barrel last summer before dipping earlier this year below $70.
With recent production cuts by OPEC+ members and rising demand, West Texas Intermediate crude prices have bounced back around $90 a barrel this month.
And that increase means higher energy prices for consumers. For example, Canadian gasoline prices increased 4.6 per cent in August from the previous month. Alberta saw a 13.3 per cent jump in energy costs (including electricity) — the highest in the country — from a year earlier.
Related Stories
Aspiring energy workers looking at evolving labour needs as sector works toward net-zero goals

Growing number of forecasts predict oil will reach US$100 this fall

Varcoe: Global energy industry buys in to energy transition, but who picks up the tab?

Less wealthy nations will struggle to reach global 2050 net-zero target, WPC panel says

Decarbonizing aviation sector without government support will cause steep increases to ticket prices: WestJet CEO

Varcoe: Global oil leaders warn of clash between rising oil demand and 'wishful thinking' on energy transition

'Tone deaf': Smith, provincial politicians blast federal energy minister's remarks at WPC
This volatility has underscored the tightness in global energy markets and the importance of countries having secure supplies, said Richard Masson, chair of the World Petroleum Council of Canada.
Russia's ability to continue exporting oil to some countries also shows how "oil always finds its way to market," he added.
Global oil demand is at an all-time high of almost 102 million barrels per day and is expected to climb through 2024.
"It just reinforces how important oil is to us," said Masson, who is also an executive fellow with the University of Calgary's School of Public Policy.
"It makes the transition more difficult because we are going to be energy scarce and prices are going to be high . . . It's going to make it more difficult for leaders of many countries to get alignment of their people to move toward the transition when their near-term concern is, 'I've got to heat my house.' "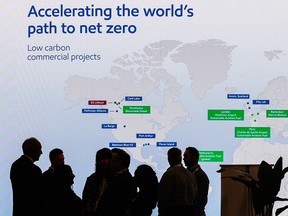 In August, Russia produced about 9.5 million barrels per day and oil exports were estimated at 4.8 million bpd.
As a member of OPEC+, Russia has voluntarily adopted production cuts until the end of this year of 300,000 barrels per day.
After the invasion of Ukraine, there was a concerted and vocal push by the European Union to accelerate the clean-energy transition and development of renewable power.
However, supply chain issues and inflation in areas such as offshore wind development have slowed the shift, Johnston noted.
"The Europeans and maybe our own government viewed the Russian-Ukraine war as a catalyst for a more rapid energy transition and more rapid deployment of renewables and low carbon sources. And I'd argue that hasn't been the case," he said.
"Political signalling can only take you so far . . . I think it's slowing down because supply chains need to scale. That's one thing — and then you have to create products that are priced at a level that consumers are happy with."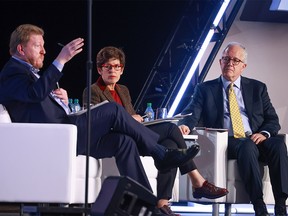 While more than 80 countries have adopted a target of net zero by 2050, a common theme during the conference has been that many nations will move at a different pace in decarbonization.
Jonathan Elkind, senior research scholar at the Centre on Global Energy Policy and former assistant secretary in the U.S. Energy Department, told the congress that the energy transition means rewiring the global energy economy over the coming decades.
It also means continuing with the shift to clean energy progressively over time and through various cycles in the economy, conflicts or even during pandemics.
"People have a tendency when talking about the energy transition to say, almost with religious fervour, that we need speed and we need scale," Elkind said.
"There's an additional dimension that we need in the energy transition. And that's durability, because we're going to be at this transition for the decades that are in front of us."
Chris Varcoe is a Calgary Herald columnist.
---
No Facebook? No problem.
Meta has blocked news articles from appearing in Canada through its social media platforms Facebook and Instagram, so skip the gatekeeper and come straight to the source.
Go to our homepage and bookmark it for easy access to all your news anytime, anywhere.
Subscribe to support trusted local journalism you can't get anywhere else.
Sign up for our newsletters to have headlines and more delivered right to your email inbox.
You can read more of the news on source