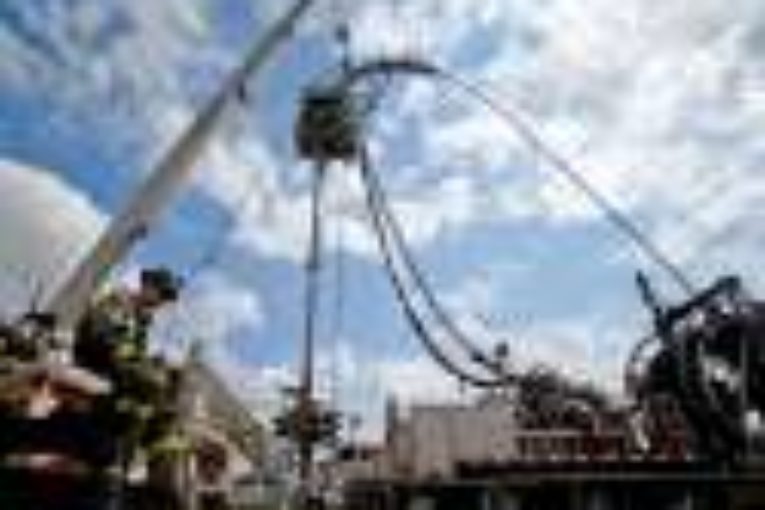 CALGARY – The recent slide in both oil and natural gas prices has hit oilfield services companies particularly hard and has turned the forecast bleak for the sector ahead of quarterly results.
Though the oilfield services outlook was rosier just a few weeks ago, multiple investment banks have lowered their earnings projections and price targets for drillers, equipment renters and other energy service providers to account for crude's slide.
BMO Capital markets analyst Daniel Boyd cut price targets on major U.S. oilfield services companies like Baker Hughes, Halliburton Co. and Schlumberger Ltd. 18 per cent in a Thursday report amid projections that oil prices, depressed since 2014, could be "lower for even longer."
"The bigger picture impact is that there is not much earnings upside" beyond the end of this year, Boyd said of the reason for the more bearish outlook for the sector.
Similarly, Raymond James analyst Andrew Bradford cut price targets on multiple oilfield services companies – including Precision Drilling Corp., Ensign Energy Services Inc. and Western Energy Services Corp. – over concerns about the renewed drip in crude pricing.
Bradford said he's lowering forecasts for the second half of 2017 and the first quarter of 2018 "based on the idea that producers probably aren't generating sufficient cash flow to maintain the pace of spending" from earlier this year.
Oilfield services companies have been under extreme pressure from their clients, oil and gas producers, to lower their prices as a result of the collapse in crude. In recent months, Bradford said those companies have been able to raise their prices slightly as there has been more demand.
Now that oil prices have tumbled again, activity levels in the oilfield could be pared back.
Uncertain future
"People are still hurting," Canadian Association of Oilwell Drilling Contractors spokesperson John Bayko said. He said the CAODC revised its drilling forecast up slightly in June, but the forecasted activity is still well below pre-recession levels and a further drop in oil prices could threaten activity levels.
The West Texas Intermediate benchmark price has fallen from over US$54 per barrel in May to US$46.04 per barrel in midday trading Thursday and the U.S. Energy Information Administration now expects both Brent and WTI oil benchmarks will average roughly US$50 per barrel this year and through 2018.
Both Boyd and Bradford said in their notes that macro issues like the fall in oil prices will likely overshadow second quarter earnings for oilfield services companies. Companies will begin reporting results next week.
"The last five weeks have been pretty challenging," said David Yager, an industry veteran who now advises oilfield services executives on a range of issues. Companies, he said, are "getting clobbered compared to the first quarter."
Yager said there are some mitigating factors that could help oilfield companies avoid a punishing second half of the year. First, he said, many oil producers have hedged their production at higher commodity prices and are therefore less vulnerable to drops in crude pricing.
He also said that oilfield costs "are pretty much at bottom," so it would be difficult for producers to ask service providers to reduce their prices any further.
Chen's strategy is gaining traction: BlackBerry is generating cash, growing its software business and winning customers
"I hope it doesn't come to this, but if B.C. blocks pipelines for Canadian oil, Saskatchewan will consider retaliation, including restricted export permits for our oil," Saskatchewan Premier Scott Moe …
Kevin Carmichael: It's a puzzle how the federal government, Ontario and Quebec could present financial plans that would do little, if anything, to offset what Trump is doing to business …
The framework sets aside 43 per cent of airwaves for regional operators and potential new entrants, which will result in lower prices than if they competed against the Big Three …
You can read more of the news on source