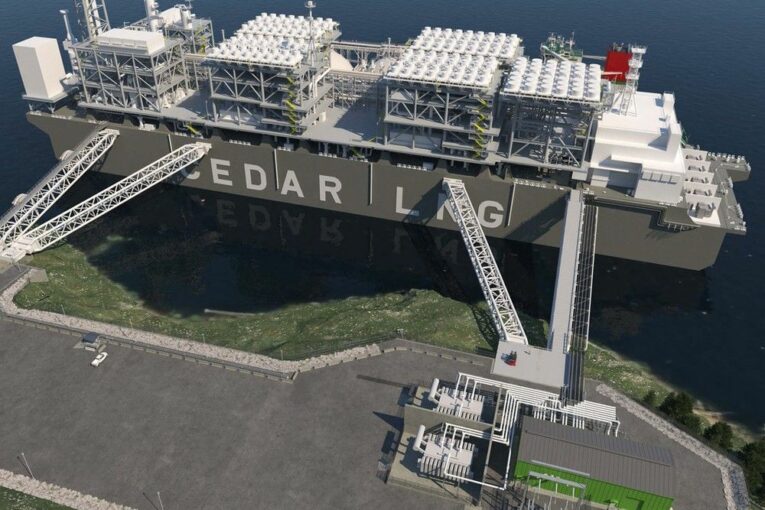 Canada's version of an LNG two-step unfolded this week, with one project taking a big stride forward — and another coming to a complete halt.
We apologize, but this video has failed to load.
Try refreshing your browser, or
tap here to see other videos from our team.
Varcoe: Canadian LNG projects take one major stride forward, one back
Back to video
It's the latest shuffle to occur as natural gas producers, First Nations and governments weigh the prospects of backing new plans to export liquefied natural gas and how to best manage these projects in a decarbonizing world.
Earlier this week, the British Columbia government issued an environmental assessment certificate to the Cedar LNG project off Canada's West Coast, while Spanish energy giant Repsol confirmed Thursday it has pulled the pin on plans to add liquefaction capabilities to its facility in Saint John, N.B.
"This is part of the natural evolutionary process of LNG in Canada," said Ian Archer, an associate director with S&P Global Commodity Insights in Calgary.
"The projects that are able to put together infrastructure or able to come up with economic supply will move to the forefront. And those that are more challenged by geographical location and lack of feed gas will fall by the wayside."
That scenario played out this week.
The largest move came on the $3.3-billion Cedar LNG project, a partnership between the Haisla Nation and Calgary-based Pembina Pipeline Corp. The group plans to build a floating LNG facility near Kitimat, B.C., that's capable of exporting three million tonnes annually to thirsty international customers.
Cedar also secured a memorandum of understanding (MOU) with natural gas producer ARC Resources on a 20-year liquefaction services deal. The Calgary-based gas producers will supply about 200 million cubic feet per day of natural gas to the export facility.
A final investment decision on Cedar LNG is expected in the third quarter of the year. If it proceeds, the project would begin commercial operations in 2027.
"Today's environmental approval for Cedar LNG paves the way for our nation to take control of our future," Crystal Smith, chief councillor for Haisla Nation, said at a news conference.
"We are demonstrating how we can responsibly advance LNG development in our province while protecting the environment."
The development would mark the third LNG facility built in the country after more than a decade of analysis and investigation, and it comes during a period of growing climate concerns and questions about global energy security.
Cedar also received a permit from the provincial energy regulator for an 8.5-kilometre pipeline to connect the development to Coastal GasLink. That pipeline is under construction and will move natural gas from northeast B.C. to the massive LNG Canada project.
The Cedar project will create employment, including 500 construction positions and 100 full-time jobs once it's operating. To reduce emissions, it will rely on electricity for the liquefaction of the gas.
As part of the announcement, the B.C. government also inked an agreement with Haisla Nation to find ways to reduce the project's emissions to near zero by the end of the decade.
A new energy framework in B.C. will also require all future LNG projects have a plan to reach net zero by 2030, and the province will establish a new emissions cap for the oil and gas sector — something Ottawa is already planning to do.
"Some people think we should respond to the climate crisis by always saying no to development . . . others think all developments should just go ahead," said B.C. Premier David Eby.
"The choice between protecting the environment and creating good jobs is a false one. We see a better way."
Recommended from Editorial
Varcoe: Will Canada answer allies' call for LNG? 'It's a TBD'

Varcoe: Alberta wants spot on trade mission to talk LNG
Other LNG developments are also advancing. The LNG Canada project remains under construction and is more than 80 per cent complete. The US$5.1-billion Woodfibre LNG project is also moving forward.
For ARC Resources, the agreement with Cedar would see the company own all of its gas sent to the facility throughout the liquefaction process, right through to marketing and sales.
The company previously secured long-term supply deals with LNG Canada and with Cheniere Energy's export facilities on the U.S. Gulf Coast.
The economics of moving its gas off of B.C.'s coast would be relatively similar to shipping product from the U.S. Gulf Coast. While it will cost about US$5.50 to $6 per million British thermal units to get its product to customers in Asia, it would tap into much higher global LNG prices.
"We need more LNG coming off the West Coast of Canada," ARC Resources CEO Terry Anderson said in an interview.
"Cedar LNG represents the model path forward for energy infrastructure development . . . At the end of the day, everyone needs to benefit from this — from the government, First Nations, industry, so that everyone can be successful."
Meanwhile, Repsol confirmed Thursday to Bloomberg News that it won't proceed with the Saint John liquefaction project.
You can read more of the news on source