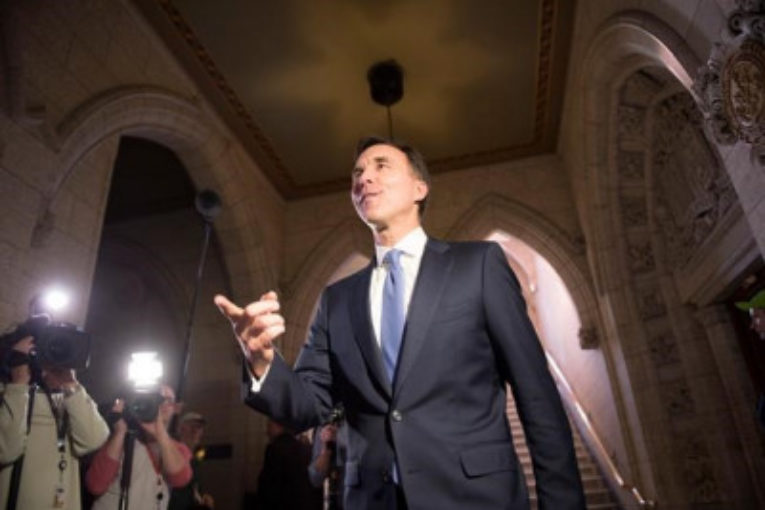 OTTAWA — Parliament Hill's busiest social week of the year started with Liberals basking in byelection victories and culminated in a celebration of the Supreme Court's chief justice, who is retiring after almost three decades at the high court.
Hundreds of lawyers, three prime ministers — current and former — and a Who's Who of Canadian politicos toasted Beverley McLachlin at a glittery tribute on Thursday night, reflecting on the advances of Indigenous rights, access to justice and women in public life.
Notably absent was Stephen Harper, who chafed at the top court's perceived activism under McLachlin and who once publicly rebuked her for inappropriately trying to speak to him about an appointment to the court — an allegation McLachlin vehemently denied.
Even as the MPs left town for Christmas and were replaced by former NHLers and other fans of the Canada 150 skating rink on the Hill, measures towards a tax on pot, a standard for cleaner fuel and an RCMP revisit of sexual assault files made their mark.
Here's how federal politics touched our lives this week:
TAX ON POT
Federal Finance Minister Bill Morneau met with his provincial counterparts on Monday and, after months of back and forth, they reached a broad agreement on how to divvy up the proceeds of a federal excise tax on marijuana when the drug becomes legal next year.
Instead of the 50-50 split the federal government had proposed earlier this year, Morneau agreed to a federal share of just 25 per cent and said he would cap the federal take at $100-million a year.
The arrangement breaks the log jam the provinces had been facing in terms of setting retail prices and calculating expenses for enforcement of the new regime.
The hope is that retail prices will be low enough to put an end to the black market and its associated criminality.
But the 75-25 split is certainly not the only thing left to figure out on the mechanics of legalizing pot. Among other issues, municipalities say they need a cut of the proceeds too, since their responsibilities are heavy as well.
Negotiating with the cities will be left to provincial governments.
CLEANER FUEL
The federal government is ramping up its plan to confront climate change.
At long last, Ottawa quietly released the bare bones of its clean fuel strategy this week, laying out a framework that will eventually affect every type of fuel we use — diesel, jet fuels, gasoline for cars, gas for heating or electricity, and some uses of coal.
It's the single biggest item in Canada's climate change framework. If it works, it will take care of one-sixth of Canada's commitment to cut greenhouse gases by 2030. The goal is to eliminate at least 30 million tonnes of emissions annually by then.
But Canadians don't yet know exactly how the clean fuel standard will work. This week was about releasing the framework. Next year is about draft regulations. Final regulations will come in the middle of 2019.
The standard will cost producers and consumers alike. Clean Energy Canada, a think tank, estimates that the price of a litre of gasoline will rise by about five cents. That's on top of the 11.6 cents per litre the carbon tax is expected to add once fully implemented.
At the same time, the federal government is delivering some clarity around its carbon pricing regime. Ottawa is threatening to impose a carbon tax on provinces that don't figure out their own ways to meet federal standards. On Friday, Environment Minister Catherine McKenna gave them until the end of 2018 to go it alone.
REVISITING UNFOUNDED CASES OF SEXUAL ASSAULT
The RCMP appears to have taken to heart the increased public scrutiny around sexual assault. The force has combed through 2,225 sexual assault files in 2016 that were set aside as unfounded.
After a second look, the Mounties now say 284 of those cases warrant more investigation. In all, the Mounties say they responded to about 10,000 reports of sexual assault in 2016.
The review comes after the Globe and Mail reported deep flaws in the way investigators treat sexual assault allegations. It also comes at a time of heightened awareness of sexual harassment perpetrated by powerful figures.
Heather Scoffield, Ottawa Bureau Chief, The Canadian Press
Share This:
---
You can read more of the news on source