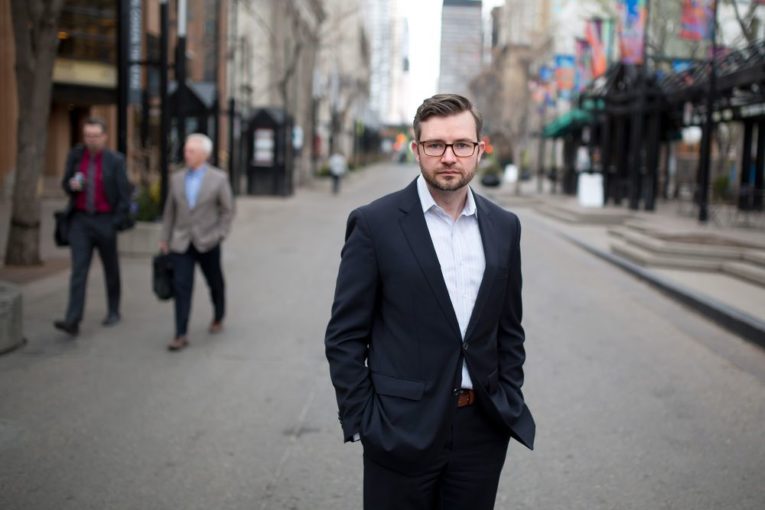 Here's a smattering of good news and some decidedly negative information to wrap up one of the final weeks of the year.
A new report shows Calgary business leaders are feeling modestly more bullish about 2018, while the country's largest bank expects Alberta's economy to keep growing in the new year.
Yet, bad news has also popped up in recent days, from a sharp drop in Canadian heavy oil prices to more layoffs at one of the country's largest petroleum producer.
Call this the season of mixed signals.
"We are still in a very fragile recovery," said Calgary Chamber of Commerce president Adam Legge.
"What people are optimistic about is that, overall, the worst is behind them. But there are still lots of things that could derail a recovery."
A survey released Friday by the chamber and Calgary Economic Development shows business owners are feeling more positive exiting this year than they were entering it.
After the troubles of 2016 — a barrage of layoffs, business closings and oil prices bottoming out below US$27 a barrel — it would be almost impossible to think attitudes could have sunken any lower.
The online poll of almost 1,000 Calgary business owners and senior executives last month highlights the improved mindset as 2017 ends.
More than four in 10 entrepreneurs expect to boost operational spending, while 37 per cent are planning to hire more staff within the next year.
Six in 10 believe the economy will be better in 2018; one year ago, that number stood at only 38 per cent.
When asked about their own companies, 62 per cent of business leaders predict a stronger year is ahead, compared with 44 per cent a year ago.
"You can feel a revitalized energy and a bit more optimism," said Mary Moran, chief executive with Calgary Economic Development.
"People have got through the grieving process and … the ones who want to stay here, really want to figure out how to stay here — and that sometimes requires reinventing themselves or looking for new customers."
The poll examines perceptions about the economy and what entrepreneurs think, making it more a measure of feelings than facts.
But how people feel is important, as it drives human behaviour and their willingness to spend or invest.
This comes as a report by RBC Economics this week predicts Alberta's economy will grow by a country-leading 4.1 per cent this year, before decelerating to 2.3 per cent in 2018.
Critically, the bank says more Albertans should feel the improvements of the economy growing next year, a hopeful sign after a painfully slow job recovery over the past 12 months.
"The recovery that took hold in 2017 is going to broaden," said Robert Hogue, RBC senior economist.
"As we proceed into 2018, I'm not expecting Albertans to feel great about the economic situation, but we are going to hear more positive things … and more opportunities, job-wise."
The bank projects the unemployment rate will drop a full percentage point to average 6.9 per cent in 2018.
However, the economic recovery will continue to be choppy and the past week proved that point for the energy sector.
Cenovus Energy, which has been under pressure from investors since it unveiled a $17.7-billion takeover of assets from ConocoPhillips in March, announced Thursday it would axe between 500 and 700 jobs.
New CEO Alex Pourbaix, who took over the company's top job from Brian Ferguson last month, is on a mission to drive down costs and deleverage the senior producer's balance sheet.
Cenovus will keep its capital budget relatively flat next year at about $1.6 billion.
Energy analyst Kevin Birn with IHS Markit points out the initial rounds of layoffs across the entire oilpatch in 2014 and 2015 were a response to collapsing oil prices and immediate need to slash costs.
Over the past two years, companies have been more strategic, with recent job losses taking place following large acquisitions.
"These cuts (by Cenovus) are more in response to the economic situation. They have to demonstrate to shareholders they can grow," said Birn.
"They need to improve their balance sheet and I think you're seeing that play out."
Finally, another shoe that dropped in the past week was the dramatic widening of differentials between Western Canadian Select (WCS) heavy oil versus benchmark West Texas Intermediate (WTI) crude.
On Thursday, the discount sat above US$25 a barrel; in October, it averaged $11.71.
A combination of growing oilsands production, pipeline outages and more oil in storage saw the differential reach its widest point since 2013.
More crude is also moving by rail as Canadian production continues to climb, which will keep the discount wide, according to RBC Capital Markets.
In a report Friday, RBC said oilsands output will jump by 315,000 barrels per day next year.
However, pipelines in the country are largely full today and the timing of future capacity increases is uncertain. RBC expects the differential will average US$15.50 per barrel next year and expand to $17.50 in 2019.
While this trend will squeeze Western Canadian producers getting lower prices for their oil, it will also have a trickle-down effect.
The country is facing a loss in economic value of more than $20 million a day when differentials are around $25 a barrel, said Birn.
"People just think the oilsands industry is out that money. No, we as Canadians and Albertans are out that money," he added.
"That affects the royalties Alberta collects … this affects the entire system."
It's a harsh reminder that energy markets remain volatile and Alberta's economy, while making progress, is still affected by fickle factors beyond our control.
A new year is time for renewed optimism. Let's hope the bad news is left behind in 2017.
Chris Varcoe is a Calgary Herald columnist.
You can read more of the news on source