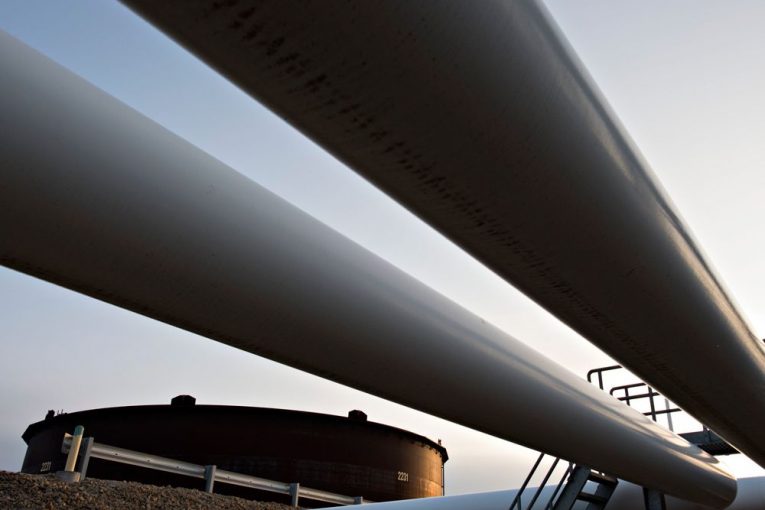 Enbridge Inc. says it will need to be paid a higher "risk premium" to undertake major, capital intensive crude oil pipelines in future.
Enbridge chief executive officer Al Monaco told investors during a conference call Tuesday that it has become more difficult to build major oil pipelines, which are "bigger, longer-lead-time, high-capital-intensity projects," as governments transition towards less carbon-intensive forms of energy.
"We've been doing this for a little while now, we've got to include an additional risk premium to account for those risks," Monaco said, adding that capital to build new oil pipelines would be weighed against other uses such as buying back the company's shares. The company announced a three per cent quarterly dividend increase Tuesday to $0.835 per share.
Monaco's remarks on risk premiums come as Calgary-based Enbridge, North America's largest pipeline company, disclosed that expected costs for the final segment of the Line 3 pipeline replacement would rise from a previous target of US$2.9 billion, to account for expensive winter construction and to comply with COVID-19 regulations. The company recently began work on Line 3 in Minnesota after receiving long-awaited state and federal permits.
The total cost of the 370,000-barrel per day Alberta-to-Wisconsin project had been pegged at $9 billion, or US$6.7 billion, but the Minnesota portion has been delayed, with new costs expected to be unveiled by the first quarter of 2021. Enbridge expects the pipeline to ship first oil by the fourth quarter of 2021.
In addition to Line 3, Enbridge is dealing with challenges on plans to replace its Line 5 pipeline through Michigan, where Governor Gretchen Whitmer has served the company notice that her office is pulling a critical easement for an existing pipeline in the state.
Enbridge is preparing to fight the cancellation of the easement in court and has previously won legal battles to shut down the line, which supplies most of Michigan's propane demand and sends light oil to refineries in Southern Ontario.
While Enbridge consistently encounters challenges building new oil pipelines, the company sees natural gas as a key source of growth.
"Natural gas has a very long runway for electric generation in North America. Coal is being phased out and the growth in intermittent renewables requires a complementary fuel source," said Bill Yardley, Enbridge's executive vice-president and president of gas transmission.
As Enbridge plots more investments in natural gas infrastructure and in renewables such as offshore wind projects, the company also said it expects oil demand to grow worldwide until 2035, "propelled by petrochemical demand and population-driven transportation demand" even as electric vehicles are increasingly adopted.
Competing oil pipelines also face mounting challenges in Canada and the U.S. in the face of government policies designed to curb carbon emissions.

The Parliamentary Budget Officer released an updated financial and economic report on the federally owned $12.6-billion Trans Mountain expansion project on Tuesday and found the profitability of the pipeline project is "highly contingent on the climate policy stance of the federal government."
The federal government bought the existing Trans Mountain pipeline and the 590,000-barrels-per-day expansion project from Houston-based Kinder Morgan Inc. for $4.4 billion after adjustments in 2018. But the cost of the project has risen and the expected in-service date has been pushed out to December 2022 as a result of multiple court challenges.
Now, the PBO is concerned that additional climate-change policies from the federal government could lead to a scenario in which oil production growth from Western Canada is constrained, badly hurting the economic case for the TMX pipeline expansion, currently under construction from Alberta to Burnaby, B.C.
"Consistent with modelling from the Canada Energy Regulator, if policy action on climate change continues to become more stringent, it is possible for the Trans Mountain assets to have a negative net present value," the PBO wrote in its report.
The report noted that the net present value of the TMX project could fall to between -$400 million and -$1.1 billion under scenarios in which the pipeline is under-utilized and collects lower tolls once existing tolls expire beginning in 2040.

• Email:
You can read more of the news on source