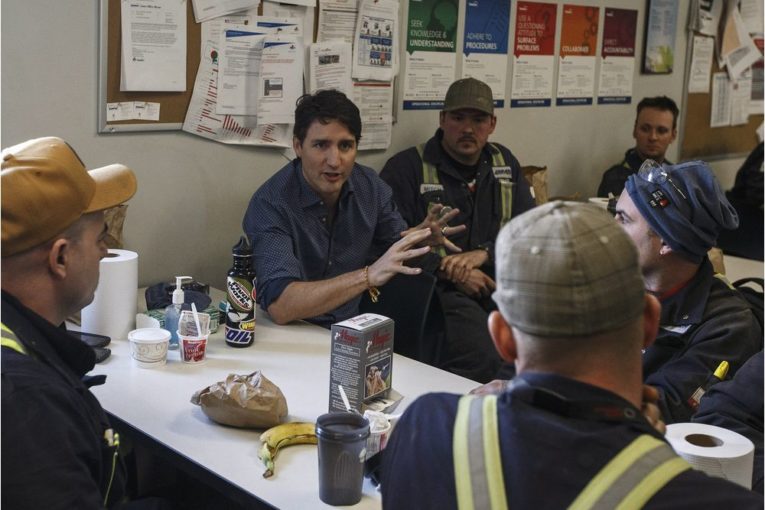 A few hours before Prime Minister Justin Trudeau toured Canada's newest oilsands mine, the head of Athabasca Oil Corp. took centre stage at Calgary's Metropolitan Conference Centre.
At the annual meeting Friday of the intermediate oilsands producer, CEO Rob Broen faced several questions from shareholders, but few about the company's day-to-day operations.
Instead, the audience wanted to know about oil pipelines. They asked about Ottawa's new review process for major energy projects.
And they wanted to know about the general state of the sector's competitiveness.
If political leaders had a chance to listen in, they would have caught a glimpse into the nervous psyche of the industry and its investors today.
"These pipelines needs to be built … we need leadership at a federal level to make sure that happens," the CEO said in response to one question.
"Near as a I can tell, we have a tax — we have a carbon tax — but we don't have a pipeline and the opponents of those pipelines are more entrenched than they've ever been.
"So the tax hasn't helped."
Broen isn't the only oilpatch executive voicing concern about the industry's future in the face of complex challenges, such as rising production in the United States, the differential facing Canadian heavy crude and shifting government policies.
But he quickly became one of the more vocal ones.
Even with federal approval of the Trans Mountain expansion, patience with slow progress on pipelines is wearing thin, although it's not entirely clear what more the prime minister can do to help propel these projects along.
"I would tell him he has to show leadership on the pipeline file and it's not just words," Broen said when asked what message he would give Trudeau.
"He needs to see it through to construction and make sure we can see shovels in the ground and get it built, for the benefit of all Canadians."
Such comments underscore the dilemma facing the federal government today.
Trudeau can repeat over and over until he's blue in the face that the project to the west coast will get built. But other pipelines, like Energy East, have failed.
Until all of the court challenges are cleared, the protesters in Burnaby go home and Trans Mountain is finished — now slated for late 2020 — the industry's collective anxiety won't abate.
In Fort McMurray, Trudeau toured Suncor Energy's Fort Hills oilsands project and later met with leaders of the largest petroleum producers in the country.
Suncor CEO Steve Williams said he was encouraged after speaking with the prime minister about issues such as market access, competitive pressures facing the sector and changes to the regulatory system.
"I think we're going to get some help," Williams told reporters.
Trudeau reiterated his support for Kinder Morgan and spoke about the "terrible price differential that is sucking $15 billion out of the Alberta oil industry because we're not getting global prices" for Canadian crude.
And he linked the federal government's national price on carbon and increased spending on marine safety to his cabinet granting approval to Trans Mountain and Enbridge's Line 3 replacement project.
The pieces all fit together.
If one link in the chain falls apart, however, it threatens to pull down the entire national climate plan.
"There are folks out there who really like the idea that we're approving the pipelines … but aren't too sure about the carbon tax.
"There are other people across the Rockies who really like the idea we're moving forward on climate change and bringing in a national price on carbon, but aren't too sure about moving forward on a pipeline," he told reporters.
"We are standing up for Canadians' interests, as well as getting the social licence to get our resources to market."
Yet, it's not only pipelines causing heartburn in the oil industry. Leaders are also worried about the flight of capital out of the Canadian sector.
Ottawa now appears to be interested in examining the factors reducing investment in the oilpatch.
Earlier this week, Natural Resources Canada posted a tender for a $275,000 contract, looking for experts to evaluate the competitiveness of the upstream oil and gas sector and examine "recent regulatory changes and major market investment drivers."
Conducting the report suggests there is a willingness by Ottawa to take action, although Trudeau himself cautioned Canada "shouldn't be part of a race to the bottom."
After meeting with the oilsands executives Friday, Natural Resources Minister Jim Carr said the issue of industry competitiveness was raised by the CEOs during their hour-long session.
"We have to take very seriously what we are hearing from those who are in daily contact with investors," Carr said in an interview.
"We also have to keep a view of Canada's long-term competitive advantage."
Like the promise to build new pipelines, these are positive indicators, although there's no firm action yet.
The laundry list of concerns strikes to the fundamental issue for Canada's oil and gas sector today: Does the federal government really want to see the industry thrive and grow into the future?
If so, what's it prepared to do to see that happen?
Political tours, new reports and promises of support are welcomed, but there needs to be more.
"We need to see an environment where this industry is supported," Broen concluded.
Chris Varcoe is a Calgary Herald columnist.
You can read more of the news on source