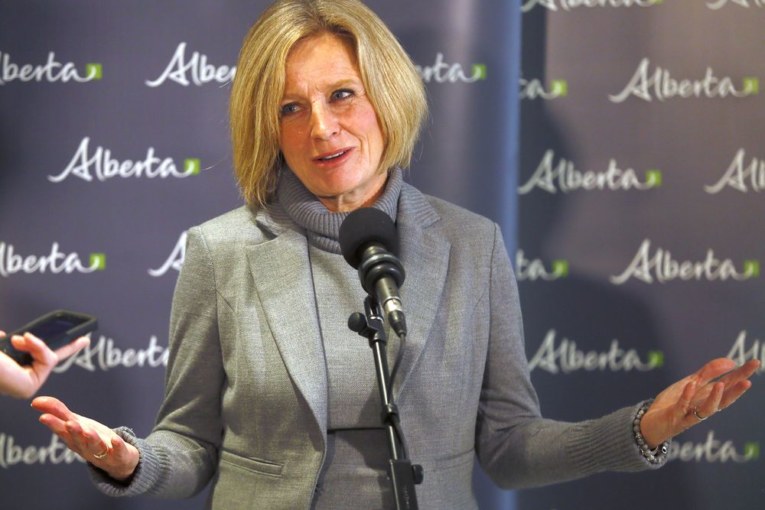 Rock, meet hard place.
Premier Rachel Notley's government finds itself in a no-win position as Canada's oilpatch has splintered over the issue of the province implementing production cuts to deal with a glutted pipeline system and bargain-basement crude prices.
Some large producers like Canadian Natural Resources and Cenovus Energy believe the government should use its powers to mandate temporary oil output reductions.
Refiners who benefit from lower feedstock prices, such as Suncor Energy, Imperial Oil and Husky Energy, insist market forces will solve the problem, not the heavy hand of government.
The province has tried, so far, to keep the debate low key.
It now sees the issue erupting into a full-fledged public donnybrook between two powerful sides.
Speaking Thursday, Notley kept her options open.
The price discount for Western Canadian Select (WCS) heavy crude, sitting around US$40 a barrel, is a "very, very serious problem" for the industry and the province, and "we know we need to work very, very quickly to address it," she told reporters in Calgary.
That would seem to imply the government might be willing to take action, as other solutions — waiting for new pipelines or ramping up oil-by-rail exports — will take months to kick in.
"There is a lack of consensus within the industry about the best way forward," Notley added.
"My job at the end of the day is to be here for the people of Alberta. This resource is a resource that belongs to all Albertans and so we can't have it racing out of the ground at $10 a barrel for a really long period of time."
Again, this would seem to imply curtailment is a possibility.
The provincial treasury is one of the biggest losers from wide oil price differentials — WCS dropped below US$14 a barrel at one point Thursday, a record low — and the recent blowout is slicing into royalties and taxes paid by producers.
But then comes this remark from the premier.
"It's not an easy case. Both sides make very good points," she said.
"It's our job to do our research and look at which approach is best and to also look at the other options … that are at our disposal — that perhaps parties are able to find more consensus on — that will also bring about the kind of outcomes that we are looking for."
Related
'Borderline treasonous': Oil executives sound alarm as foreign investors flee
'I'm afraid for Canada': Energy CEOs losing patience with country's indifference to oilpatch's plight
Varcoe: On pipelines and Bill C-69, 'bland assurances' from Ottawa aren't enough
A $1.7-trillion fund manager says investors questioning merits of investing in Canada's oilpatch
Varcoe: Growing list of producers call on Notley to curb oil output to fix price discount
Well, if you're looking for consensus, the government stepping in like OPEC to mandate production cuts of 200,000 barrels a day (bpd) doesn't seem like a magical elixir for success.
Imagine the conversations between the government and oilpatch CEOs trying to determine who has to shut in their oil, and for how long.
The Lougheed government used a system of allowable production levels several decades ago, but would this mechanism contravene modern free trade agreements?
That's unclear.
It also appears the province would have to change some of its existing legislation that currently allows for pro-rationing because it doesn't include bitumen or heavy oil.
As Notley acknowledged, it's a "complicated conversation."
Alberta estimates the oil price differential caused by a lack of pipelines is costing the Canadian economy about $84 million a day, including $18 million to the province.
Here's a fun fact to put it all into perspective: The implied price of bitumen today is half the price of a bottle of water or pop.
In a chart published Thursday, RBC Capital Markets analyst Greg Pardy stacked up the price of a Snapple, Coke and Evian against a barrel of Western Canadian Select crude.
The price for molasses-like bitumen — adjusted to reflect the cost associated with diluent — is lower.
"We peg the (implied) bitumen prices in Alberta at about $0.83 — or less than one-half the retail price of a Diet Coke, Evian and other beverages," Pardy wrote.
This would be funny, if it weren't so harmful to the people whose jobs rely on the industry, or the province, which needs energy revenues to pay for schools, hospitals and public services.
In a report Thursday, analyst Phil Skolnick of Eight Capital said voluntary output cuts already announced by companies will knock out about 140,000 bpd of oil production, and that should normalize crude inventories in Western Canada in less than three months.
A broader shut-in program would speed up the process.
Skolnick estimates the current price differentials, if they remain, would cost Alberta about $4 billion in royalties annually.
This isn't simply an economic argument. There is also a huge political calculus for the government to consider.
If the NDP government reduces output and it drives away investors — and future capital investment — over fears about the risk of central planning, it could come with a steep political price, just months before the next provincial election.
"This is dangerous from a number of perspectives," said political analyst David Taras at Mount Royal University.
"My guess is she doesn't do this unless some more major players come on board."
But that hasn't stopped both sides from speaking out.
"To protect the interest of all Canadians, the company would be supportive of the Alberta government temporarily imposing mandatory production cuts," said MEG Energy CEO Derek Evans in a statement.
Husky Energy, an integrated producer that recently launched a hostile takeover bid for MEG, feels decidedly differently.
"The market is working," said Husky's Kim Guttormson in an e-mail. "Market intervention comes with an unacceptably high level of economic and trade risk."
In the end, the province could end up adopting several options in tandem.
A solution involving the federal and provincial governments investing in locomotives to ship more oil out of Alberta seems like a simpler, albeit slower, plan.
The province submitted a business proposal to the federal government last week regarding rail, and it's being examined by Ottawa.
On the issue of differentials, the premier said we should expect to see something from the province "within weeks, perhaps sooner."
That is a short amount of time to make a very important decision.
But the province — like the oilpatch — doesn't want to be uncomfortably stuck between a rock and a hard place any longer than is necessary.
Chris Varcoe is a Calgary Herald columnist.
You can read more of the news on source