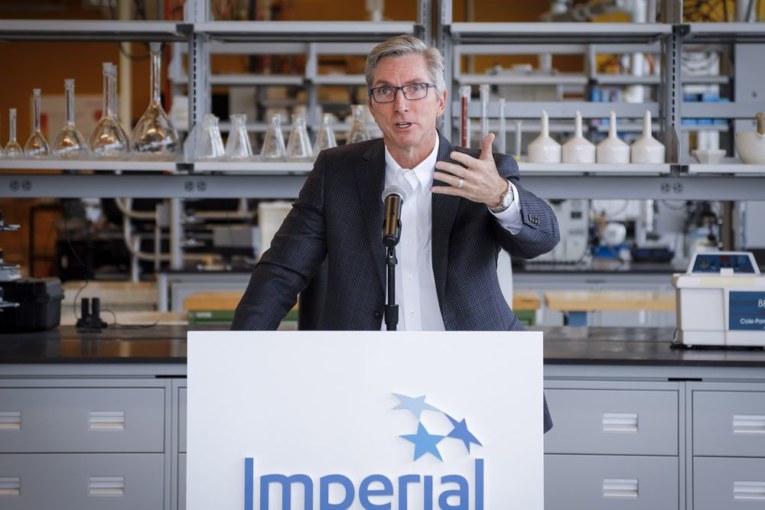 Imperial Oil Ltd. received a treat on Halloween with the long-awaited approval by provincial regulators of its new Aspen oilsands project.
Now, it has to build it.
Almost five years after applying for project approval from the Alberta Energy Regulator, the integrated petroleum producer announced Wednesday it's going to construct the $2.6-billion development in northern Alberta.
For the province and the sector, the announcement is significant.
It's one of the first major greenfield oilsands projects to proceed since crude prices collapsed almost four years ago.
Coming as large-scale mining developments and expansions have largely wrapped up, it will create about 700 jobs when construction peaks, and more than 200 operating positions once built.
Spending will peak in the 2019-21 period at around $700 million a year, a much-needed boost as oilsands capital spending has fallen for four consecutive years.
Construction will begin this quarter and Aspen is slated to add about 75,000 barrels of bitumen per day by 2022.
It sends a positive signal when a major player like Imperial, with its majority shareholder Exxon Mobil Corp., is willing to invest in more bitumen production, even with the doom and gloom surrounding Canada's pipeline challenges.
Moreover, the project shows oilsands producers can whittle down costs and reduce their greenhouse gas emissions per barrel, a prerequisite if Alberta's largest sector expects to sharply expand output in a carbon-constrained world.
"We have a tremendously large resource in the oilsands — Canada does and, of course, our company does. It will not all be competitive in a global sense," CEO Rich Kruger said Wednesday.
"But the projects that have the highest-quality resource, that can develop and apply pace-setting or new technologies . . . we think there is a place for those select projects to compete in the global energy world."
Unlike other commercial thermal oilsands projects, Imperial will inject solvent underground with steam to enhance bitumen production.
Imperial says the technology will cut emissions intensity and water use per barrel by up to 25 per cent over typical steam-assisted gravity drainage (SAGD) projects.
For those who've written off the oilsands as hitting the wall — or rendered uncompetitive by U.S. shale oil plays — this proves future investments can go ahead under the right circumstances.
"This is a sign of hope, that the global economics . . . are in a place that can support future (project) sanctions, even if the local environment can't," said analyst Kevin Birn, IHS Markit's director of Canadian oilsands.
"It's a watershed moment in terms of the sanctioning of a greenfield project, the promise of the technology and the emissions intensity reductions. They can break many stereotypes in this project, which is very good for the industry."
The decision also shows companies haven't been sitting on their hands during the downturn, using the time to re-engineer developments, scouring for places to lower costs and improve efficiency.
Birn noted the cost of adding new production from Aspen is about 30 to 40 per cent lower than industry averages seen during the boom times in 2014.
For Imperial, the company is following a counter-cyclical strategy, which should give it access to skilled labour and lower-cost materials, preventing some of the budget blowouts witnessed in past years.
The news comes at a fortuitous time for the hard-hit sector, given bearish sentiment from investors, the exodus of several multinational players from the oilsands and ongoing problems surrounding pipelines.
Since 2014, oilsands capital spending has fallen from almost $34 billion to an estimated $12.3 billion this year.
Last week, the National Energy Board projected Canadian oil production will increase by 58 per cent to almost seven million barrels per day (bpd) by 2040.
But it assumes exports markets can be found and Canadian oil can be transported to these places, which isn't assured given today's pipeline battles.
Kruger noted Imperial has the ability to increase oil shipments through its own rail-loading facility and the company analyzed Aspen under a number of transportation options.
One of the country's biggest producers and the largest refiner, Imperial is also growing production at its Kearl oilsands mine, from around 200,000 barrels per day this year to 240,000 bpd in 2020, spending $550 million in the process.
Now, one project isn't a sure sign money is about to flood back into the oilsands.
It's not.
Market access remains a major problem, and oil prices in Canada would need to climb higher for significantly more investment to flow into the Fort McMurray region.
ARC Energy Research Institute executive director Peter Tertzakian pointed out smaller, bite-sized projects will likely drive future growth in the oilsands, not big-ticket developments.
Only a few companies have the existing infrastructure and refining assets — and transportation options — that Imperial does to go ahead with such investments.
"We should take it as positive signal that a global multinational recognizes that we can do better and it's a worthy place to invest," Tertzakian said.
"A few players have the right combination of things you need to grow. Not all of them have that."
And deeper questions about rising emissions from the oilsands aren't going to fade away. The Alberta government has already adopted a 100-megatonne cap on emissions from the sector.
"The industry needs to do more to reduce the carbon footprint of the sector as a whole, both on an absolute and intensity basis," Benjamin Israel, a senior analyst with the Pembina Institute, said in a statement.
One investment won't change the dynamic for the entire oilsands sector.
But it will help.
And after a long five-year wait, it's finally a treat — not a trick — for Imperial's Aspen project.
Chris Varcoe is a Calgary Herald columnist.
You can read more of the news on source