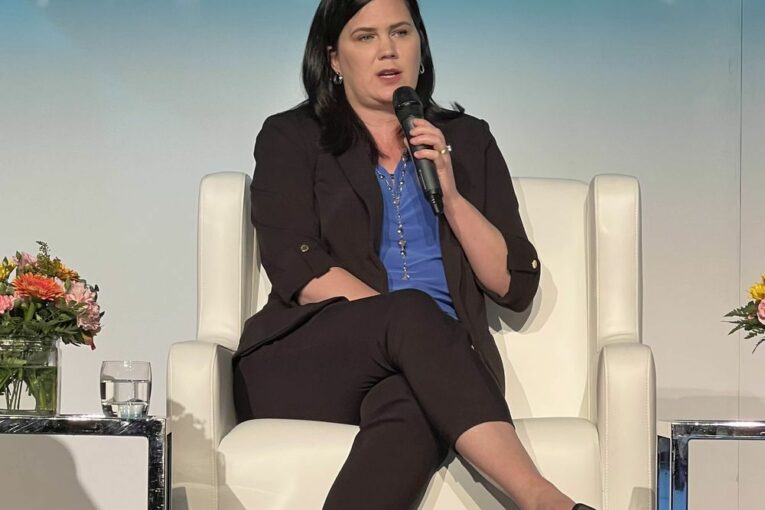 Gasoline prices hit record levels in Canada this week, while home heating and power bills are climbing this year.
Consumers across the country are feeling the sting of spiralling energy expenses.
But in the words of Randy Bachman, you ain't seen nothing yet.
As concerns over global energy security mount, demand is rising. The energy transition is also gathering speed and governments are adopting tougher policies to curb emissions — such as moving to a net-zero electricity grid in Canada by 2035 — prompting industry leaders to warn of higher prices ahead.
"Something that seems to be, more and more, front and centre, is the rising cost of energy for Canadians. And there needs to be some recognition that as we decarbonize, we are going to increase that cost," ATCO Electric president Melanie Bayley told the Global Energy Show on Thursday.
"We need to be very mindful that we don't have an unintended consequence that the most vulnerable Canadians are left footing the bill."
At this week's show, the issue of energy affordability was raised repeatedly by experts, executives and politicians as a growing problem.
The energy crisis in Europe that began last fall with soaring power and natural gas prices has highlighted what happens when supplies remain tight, consumption climbs and investment in new production remains relatively low.
Facing pressure from investors, petroleum producers are opting to return more money to shareholders, not to substantially boost supplies. ESG concerns and government policies have also led to less capital spending, with companies wary about making longer-term investments.
"The old saying is that the cure for high prices is high prices, because more supply comes on," analyst Jeremy McCrea with Raymond James said Friday.
"But we haven't really seen much demand destruction, and we haven't really seen much supply come on."
Once you add soaring inflation, snarled supply chains and a war in Europe to the mix — stoking worries about energy security — it's a recipe for escalating utility bills and rising pump prices.
"We are in a systemic change in the world," Dan Balaban, CEO of Calgary-based renewable energy developer Greengate Power, told the conference.
"The cost of energy is going up — and that's the cost of non-net-zero energy. That's just the cost of our traditional energy. And it's unrealistic to expect we are going to be able to achieve all we're trying to achieve and not have an impact on costs."
Whatever the reason, consumers are feeling the impact on their wallets.
In April, Canadians paid 26 per cent more in their energy bills than a year earlier, according to Statistics Canada.
In Alberta, gasoline costs that month were up 25.5 per cent, even with the province lifting its tax at the pumps.
Natural gas costs in the province climbed 45 per cent in April from the same period last year. Electricity expenses increased 13 per cent.
"It is making a dent on consumers' budgets," said Alberta Central chief economist Charles St-Arnaud.
Canadian gasoline prices set a record this week, averaging $2.08.8 a litre for regular unleaded gas, according to analytics firm Kalibrate. (In Calgary, prices averaged $1.91 per litre on Friday.)
Fuel prices could go even higher this summer — if consumer demand doesn't begin to fall off — potentially climbing to $2.30 a litre in Alberta, said Susan Bell, a refining expert with S&P Global Commodity Insights.
"High prices are here to stay, I would say, at least until September," Bell said.
"We really don't know how high those prices will go, and we don't really know how fast they will come off once we start to see that demand destruction."
Energy affordability is now "the No. 1 issue that we hear about, that I hear about, on a daily basis," Alberta Energy Minister Sonya Savage told the Global Energy Show.
Amrita Sen, research director of London-based consultancy Energy Aspects, said the issue of energy security sparked by Russia's invasion of Ukraine is bringing many of these issues to a head for consumers around the globe.
Investment needed to bring on additional energy supplies is too low, while many governments are pushing for the transition off of fossil fuels to move faster.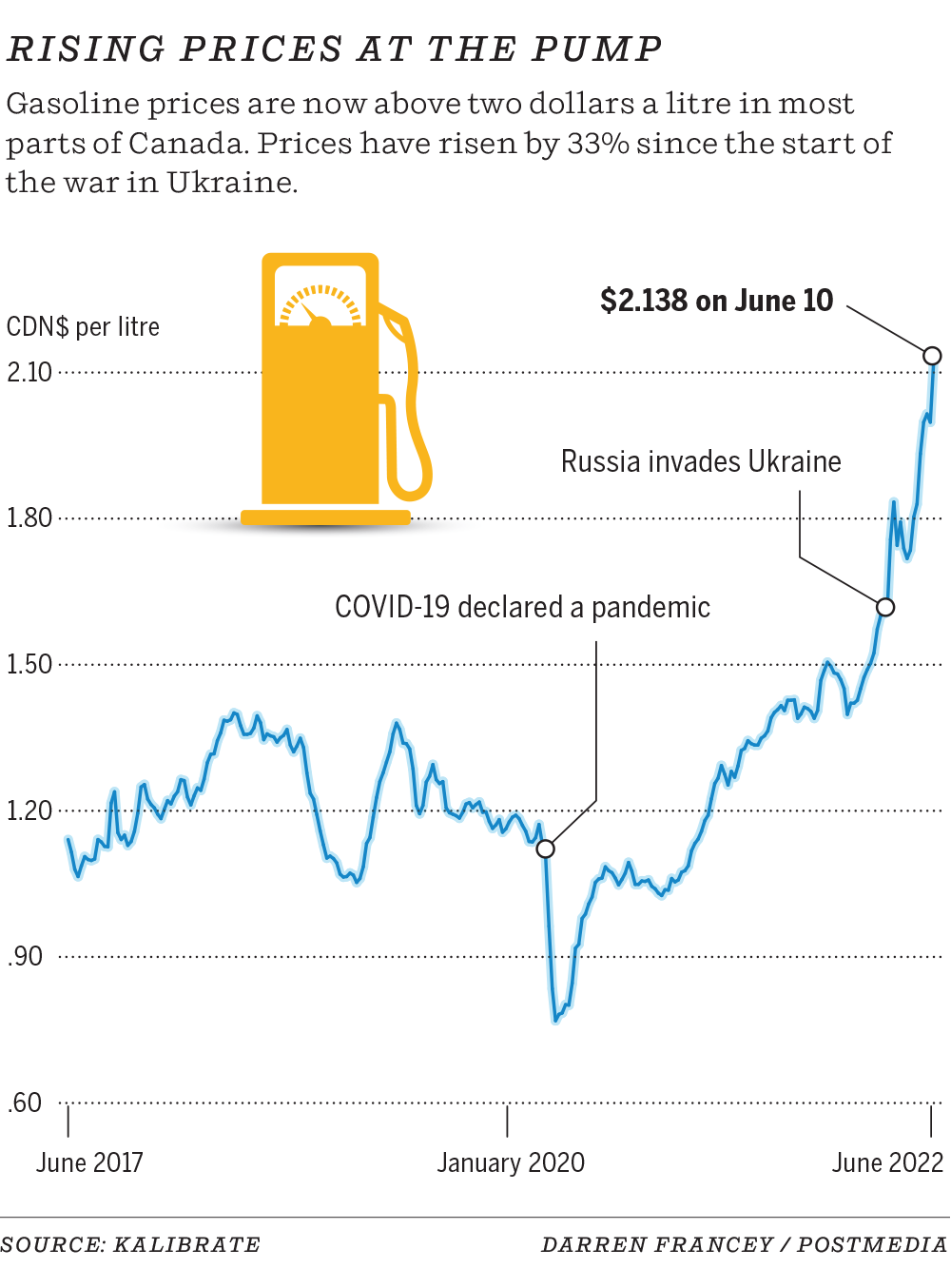 "The single-biggest truth about energy transition is that it's going to be costly," Sen said in an interview after speaking at the conference.
"It is going to be expensive, but governments have never, ever articulated that to anybody."
In the short term, oil and gas costs are expected to stay high.
This week, the U.S. Energy Information Administration forecast Brent crude prices will average US$108 a barrel during the second half of the year, while benchmark U.S. gas prices will average $8.69 per million British thermal units during the third quarter.
For electricity, new renewable capacity across the world is expected to jump to a record level this year, according to the International Energy Agency, although growth is expected to plateau in 2023 without stronger policies.
Longer term, there will be more pressure to invest in power generation and transmission as increased electrification takes hold.
"We talk blithely about an energy transition being some kind of smooth linear process," Saskatchewan Research Council president Mike Crabtree said on the sidelines of the Global Energy Show.
"There's a big education process as to what the energy transition is really going to mean, what it's going to mean to energy costs, which are only going to go one way."
Crabtree and others worry there's a risk that public support for decarbonization efforts will erode if consumer costs keep escalating.
Balaban is more optimistic, noting as electrification increases, there will be offsets, such as lower expenses to power vehicles.
"We're going to find some kind of balance in between," said Balaban in an interview.
"We're going see some increased costs, but also some savings. But I think the conversation needs to happen."
Chris Varcoe is a Calgary Herald columnist.
We apologize, but this video has failed to load.
Try refreshing your browser, or
tap here to see other videos from our team.
Varcoe: Think energy costs are high? They're likely headed in one direction — up
Back to video
You can read more of the news on source