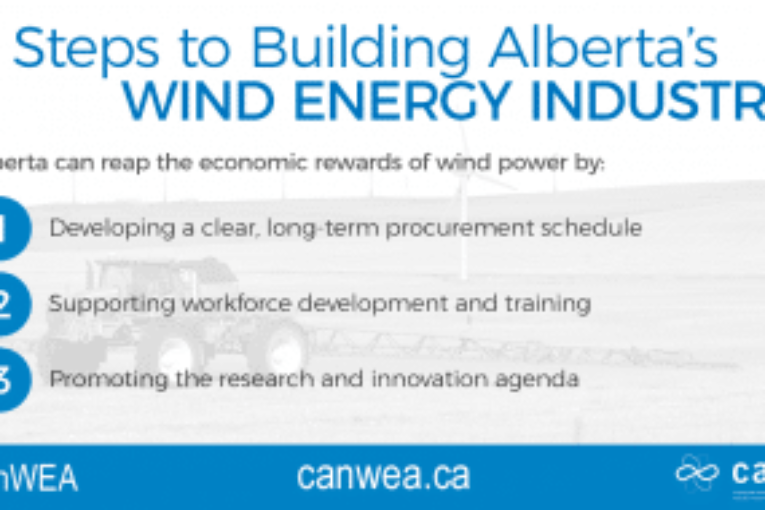 Last month I blogged about a new study that identifies the economic potential of Alberta's wind energy sector. At the time, I explained the findings of the Alberta Wind Energy Supply Chain Study and how growing the wind energy sector will create jobs and a more prosperous Alberta.
In the report, The Delphi Group also made recommendations on how Alberta can build on its strengths to capitalize on the economic benefits associated with the wind energy sector.
Recommendation one: provide supportive policy and procurement conditions
Because wind energy projects and wind energy manufacturing facilities have high up-front capital costs, project developers and wind turbine manufacturers are seeking to invest in those markets that offer opportunities for new development over an extended period. Because there is significant global competition for new investments in wind energy, jurisdictions hoping for increased development require a clear, steady, and long-term renewable energy procurement policy. Sending clear signals to wind project developers and investors is necessary to create the investment environment required to achieve dramatic increases in local spending and job years. For example, a clear commitment to a series of larger procurement phases (e.g., 1,500 MW every three years), rolled out in smaller, manageable pieces could be considered.
Expanding on Alberta's climate policy goals to include greater electrification of the economy would spur further industry growth.
Recommendation two: support workforce development and training
Developing specialized training related to wind energy manufacturing and operations and maintenance would help Albertans gain the skills they need to move into this growing industry. Government can play a key role in facilitating knowledge exchange and relationships between wind energy project developers and post-secondary education and training institutions. Options include convening meetings of industry stakeholders and training institutions and providing additional opportunities for two-way communication, and investing in initiatives that allow industry and academia to work closely together to identify relevant and timely training opportunities.
Recommendation three: promote the research and innovation agenda
Making investments in wind energy-related innovation and research and development – particularly in the areas of transportation and logistics, wind farm construction and turbine erection, smart grid and system integration, and additive manufacturing/3D printing – will help Alberta build its knowledge-based workforce and export potential. The provincial government could also work with Alberta-based innovation and funding agencies, as well as other levels of government, to create a renewable energy innovation roadmap for Alberta.
The upside of sending clear signals that Alberta's wind industry is 'open for business' is incredible. According to the report if an additional 4,500 MW of additional wind capacity is developed in the province, the result would be $8.27 billion in investments by wind energy developers. These investments would provide approximately 15,000 job years of employment and $3.6 billion in local project development and construction spending by 2030. Many of the skills and occupations required to develop wind projects – such as engineering, construction, operations and maintenance, are easily transferable from the oil and gas sector.
The Alberta Electric System Operator is in the middle of a competitive process to procure 400 MW of renewable energy that will come on-line by the end of 2019. The wind energy industry is seeing momentum that we've not seen in Alberta in a long time. The decisions we make in the next few years relating to procurement, workforce development, and research and innovation, have the potential to maximize the promise of wind energy and contribute to future prosperity in Alberta.
Read the Alberta Wind Energy Supply Chain Study.
Prairies Regional Director at the Canadian Wind Energy Association
You can read more of the news on source