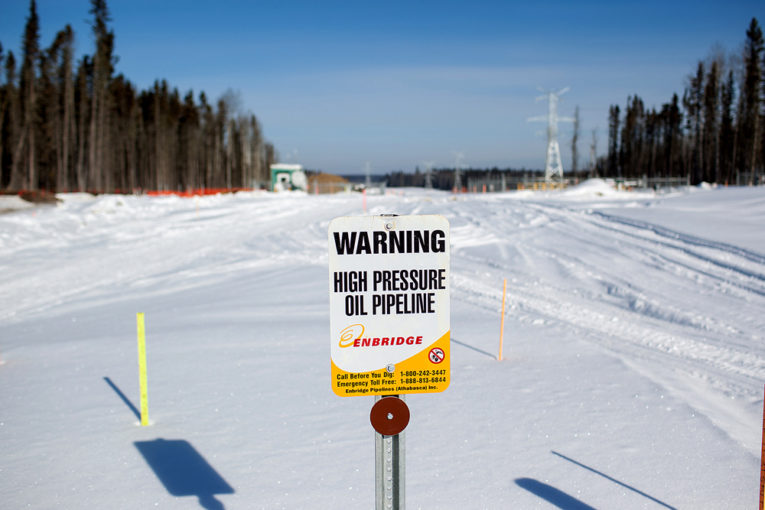 CALGARY — Credit ratings agency DBRS Ltd. is warning that one of Enbridge Inc. subsidiary's revenues could tumble by $100 million this year and its credit ratings hurt by new policies in the U.S., which have led to a sector-wide stock selloff.
DBRS said in a note Tuesday that said a recent decision by the U.S. Federal Regulatory Commission could "significantly weaken" the key credit metrics of Enbridge Energy Partners L.P. (EEP), a subsidiary of Calgary-based Enbridge.
Last week, the FERC announced that master limited partnerships (MLPs) — a tax-friendly corporate structure popular with pipeline firms — would no longer be able to recover an income tax allowance in certain pipeline service contracts.
The FERC announcement led to a sell-off in oil and gas pipeline companies, with both Enbridge and TransCanada Corp. particularly hard hit as financial analysts cut their price targets on both companies' MLP subsidiaries.
Shares in Enbridge, the largest pipeline company in North America, have dropped more than 8 per cent since the announcement, including a 2 per cent drop Tuesday.
The DBRS note predicts EEP's 2018 revenues could be $100 million lower than expected while its distributable cash flow would be $60 million lower as a result of the change.
The ratings agency also expects the combination of the FERC decision and implications of recent U.S. tax reforms "would eliminate a significant portion of the remaining cushion currently embedded in EEP's ratings."
DBRS has a BBB rating on EEP's debt with a stable trend and a BBB (high) rating with a stable trend for its parent company Enbridge.
Enbridge declined to comment Tuesday following the DBRS report, but said last week following the FERC announcement that it "does not expect a material impact to its previously disclosed financial guidance" through 2020.
EEP shares, which trade on the New York Stock Exchange, fell 17 per cent following the FERC announcement and have been steadily declining for the last week, including a 3 per cent drop Tuesday.
Enbridge is the majority owner of both EEP and Spectra Energy Partners (SEP), which are both master limited partnerships that the company has used as a fundraising tool in the past.
In a note on Monday, RBC Capital Markets analyst TJ Schultz called EEP "a broken tool" and lowered his price target to US$12 per share from US$17.
Schultz also dramatically slashed his price target on Calgary-based TransCanada's subsidiary TC Pipelines LP by US$21 per share to US$45 per share because roughly half of the company's agreements will be affected by the FERC's new tax rules.
TC Pipelines shares fell 17.9 per cent immediately following the FERC decision and declined another 2 per cent Tuesday.
TransCanada said in a release Monday that it expected the FERC changes to have no "material financial impact on the company." The company also said it operates a number of U.S. subsidiaries as corporations rather than MLPs, which minimizes the impact of the changes.
Both Enbridge and TransCanada are now likely to "roll-up" their MLP subsidiaries into the parent corporations, Barclays Capital analyst Christine Cho said in a note.
She said that Enbridge has an incentive to roll up both EEP and SEP and that TC Pipelines is also at risk of a distribution cut – meaning it will have less money to give back to its main shareholder, TransCanada.
• Email: [email protected] | Twitter: geoffreymorgan
You can read more of the news on source