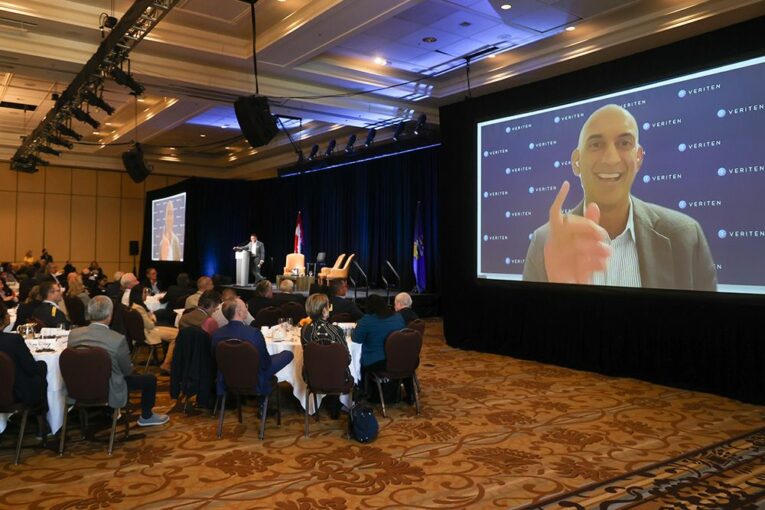 While many energy forecasters expect oil demand will peak within the next decade, Arjun Murti thinks they're off the mark.
In fact, it could be a long way off, because while the world decarbonizes, it must also solve the needs of billions of people who don't have access to energy, says the former Goldman Sachs analyst and now a partner with energy consultancy Veriten.
"This energy transition itself needs to transition from one that is sort of obsessively focused on a singular goal of (getting) to net zero by 2050," Murti said before speaking to the Global Business Forum on Thursday.
"There's no evidence that oil demand is going to peak any time soon and I don't know how anyone is able to model some year — whether it's 2030 or 2040 or even 2050 — that we are definitively going to peak. I think we don't know."
Murti told the crowd in Banff that much of the energy transition conversation "has gone way off the rails."
His remarks come as a debate is unfolding about the pace of the shift to low-carbon forms of energy, and when global demand for fossil fuels will top out.
The world is currently consuming a record amount of oil — 102 million barrels per day (bpd) — and it's increasing, even in the face of concerns surrounding a global economic slowdown.
The International Energy Agency is projecting demand for oil, natural gas and coal will peak sometime this decade. Energy consultancy Wood Mackenzie said last week it expects oil demand to plateau at 108 million barrels per day in 2032 under its base-case scenario.
At the World Petroleum Congress in Calgary on Monday, the CEO of Saudi Aramco — the world's largest energy company — told the crowd he expects global oil demand will expand to 110 million bpd by 2030.
Murti believes many forecasters and industry critics predicting peak oil demand this decade aren't considering the need for more energy outside of the West.
Related Stories
U.S.-China rivalry to grow but this is Asia's century: former UN Security Council chief

Ahead of business forum in Banff, former top UN official warns of widespread starvation due to conflict, climate change

Growing number of forecasts predict oil will reach US$100 this fall

Varcoe: Global energy industry buys in to energy transition, but who picks up the tab?
Consumers in the United States, Canada, western Europe, Australia, Japan and New Zealand currently consume about 13 barrels per person a day, while seven billion people living in other countries currently use only three barrels.
The future outlook for oil demand will be powered by other countries and a growing global population.
"The world is going to be driven by these groups of 1.4 billion people in China, India, the rest of Southeast Asia and Africa," he said.
"It's going to be what they do and how they develop their economies and how they power it — that is what matters."
Murti contends the world needs all forms of energy, and wind and solar will have a role.
Some developing forms of energy, such as hydrogen, show promise, although a lot of investment will be required to commercially scale it up and show it can be profitable.
As energy consumption keeps rising, the world will need Canadian LNG and crude from the oilsands, particularly as shale supply in the United States shows some signs of slowing, he added.
"The math is overwhelming that (global oil demand) is going to grow for the foreseeable future. And I can't even pick a date where it might end," Murti said.
"Oil is not in its sunset phase."
That message, however, comes as policymakers strive to reduce greenhouse gas emissions to tackle climate change.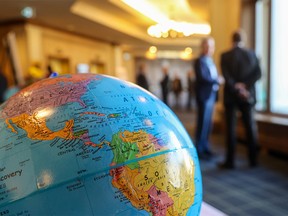 In New York on Wednesday, UN Secretary-General Antonio Guterres declared "humanity has opened the gates of hell," as horrendous heat is increasingly affecting the planet through flooding and wildfires.
Aside from net-zero targets and policy changes, there are also questions about what future demand will look like in the medium and long run, as the use of gasoline and diesel are crimped by the growth of electric vehicles.
"Light duty vehicles are around 25 per cent of all oil demand, and if you see a very aggressive ramp-up of electric vehicles, you can get peak oil demand within this decade," said Jackie Forrest, executive director of ARC Energy Research Institute.
However, it would be a gradual decline and a lot of oil will still be used, Forrest said.
For companies in the traditional oil and gas business, the question of future demand is being watched as they make investment decisions for the short and longer term.
There are many headwinds to decarbonization, such as consumer behaviour and the capital required to rewire the energy system, but there are also opportunities, said Bob Espey, CEO of Calgary-based Parkland Corp., an international fuel distributor and retailer.
The company has been developing the largest ultra-fast charging network in British Columbia at its retail stations, and customer use is higher than expected, he said.
As for the transition, Espey doesn't know when oil demand will peak, but it will eventually occur and the decline in use will be "long and slow."
"Any projection you pick is going to be wrong," he said on the sidelines of the Global Business Forum.
"We believe that the energy transition will happen, but we believe different regions will decarbonize at different rates. And again, that exact rate is very difficult to predict."
Chris Varcoe is a Calgary Herald columnist.
---
No Facebook? No problem.
Meta has blocked news articles from appearing in Canada through its social media platforms Facebook and Instagram, so skip the gatekeeper and come straight to the source.
Go to our homepage and bookmark it for easy access to all your news anytime, anywhere.
Subscribe to support trusted local journalism you can't get anywhere else.
Sign up for our newsletters to have headlines and more delivered right to your email inbox.
You can read more of the news on source