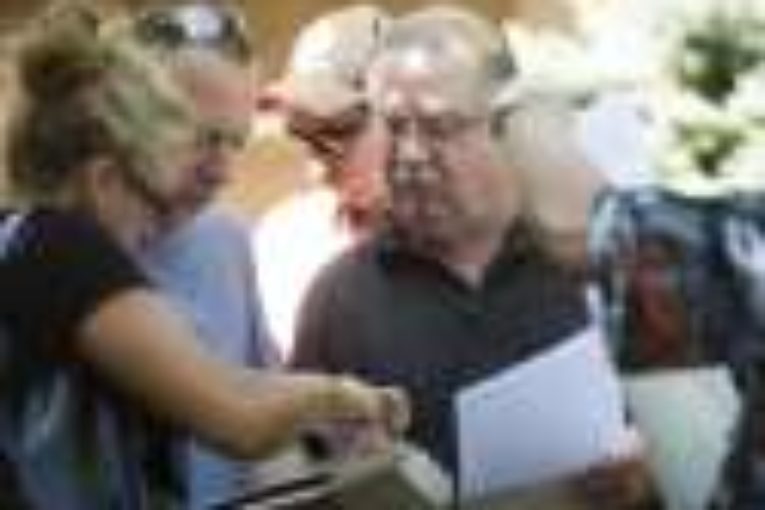 By Jennifer Bieman and Megan Stacey
TILLSONBURG, ONT. — The loss of 340 jobs at a Tillsonburg factory that makes blades for wind turbines could be a harbinger of troubles ahead in Ontario's green energy industry, a leading analyst says.
Siemens Canada said Tuesday it's closing its Tillsonburg plant, one of four Ontario green energy factories set up under a controversial, multi-billion-dollar deal with Korean industrial giant Samsung.
The closing of one of the town's largest employers came after weeks of speculation, the fallout rippling as far as Windsor whose mayor was left wondering about the future of a wind turbine tower plant there.
"There is a real risk there," Mayor Drew Dilkens said of the CS Wind tower plant in Windsor, one of the other factories brought to Ontario under the Samsung deal.
"They have not said anything to me about being on the verge of closing, but we have met with them to see if there is anything more the city can do to help them secure more business and keep jobs in the community," he said.
Energy analyst Tom Adams said Ontario's green energy industry could be in for a rough ride if it doesn't lay its hands on orders from outside Ontario, arguing the provincial market is saturated with wind and solar electricity brought online since the Liberal government plunged headlong into green energy in 2009.
"I think it was always pretty obvious that whatever jobs were going to arise from the Green Energy Act were all temporary or almost all temporary," Adams said, referencing the provincial law that paved the way for big wind farms in Ontario under contracts paying energy giants more than consumers pay for power.
"Samsung had no history in renewable energy before they came to Ontario. They came only for the subsidies, and when the subsidies dry up, they'll disappear as quick as they landed," said Adams, an independent energy and environmental adviser and researcher.
In 2010, four plants to make parts for wind and solar energy farms were set up under the Samsung deal between the company and the province to generate power for Ontario and create green-energy jobs.
Besides the Tillsonburg plant, the others include a wind tower plant in Windsor and factories in London and Toronto that make equipment for the solar-power industry.
Siemens employees were summoned by the company to a Tuesday briefing at a Tillsonburg community centre before the jobs axe fell on the town of 16,000.
It's nothing they didn't see coming, said some workers who gathered outside the centre.
"Welcome to Southwestern Ontario — here today, gone tomorrow," Ervin Underhill said of manufacturing in the region.
"It's as unpredictable as the weather."
With so much power now available, the government has been accused of dumping green energy and has come under fire for skyrocketing electricity prices that have essentially doubled over the last decade in Ontario.
The government's about-face on renewable energy project, halting further large buys, was the beginning of the end, said worker Lee Blair of London.
"We saw the writing on the wall when the Liberals cut the funding to the green energy (projects)," he said.
Though Blair and Underhill said they knew a closing was inevitable, a lockout Sunday — workers arrived to find the plant closed and were directed to Tuesday's meeting instead — still came as a shock.
"There was quite a bit of anger in there because they shut the place down the other night and never really told anybody about it," employee Rick Hunt said. "It was bang, everything was locked down."
Hunt said workers were told Tuesday the company is trying to formulate a plan and keep things running as long as possible.
A very small portion of employees — Underhill estimated about 25 — will stay on to close the plant.
"This was a very difficult decision that was taken only after assessing all the options," said Hickey.
"We have a great team of employees at the plant who have produced quality work for the last six years, and we sincerely appreciate their efforts."
Underhill said employees thought they might have more time. "In January they told us we were good until 2020," he said. "They strung us along more than anything."
The London Free Press with file from the Windsor Star
Watchdog warns the banks' sales-focused culture elevates the risk that employees may flout consumer protection rules
A recent FERC decision led to a sell-off in oil and gas pipeline companies, with both Enbridge and TransCanada particularly hard hit
Digital taxation was discussed at the Group of 20 meeting in Buenos Aires this week as the European Union considers imposing a levy on online companies
Suppliers also to bear more costs so that retail giant can keep prices low
You can read more of the news on source