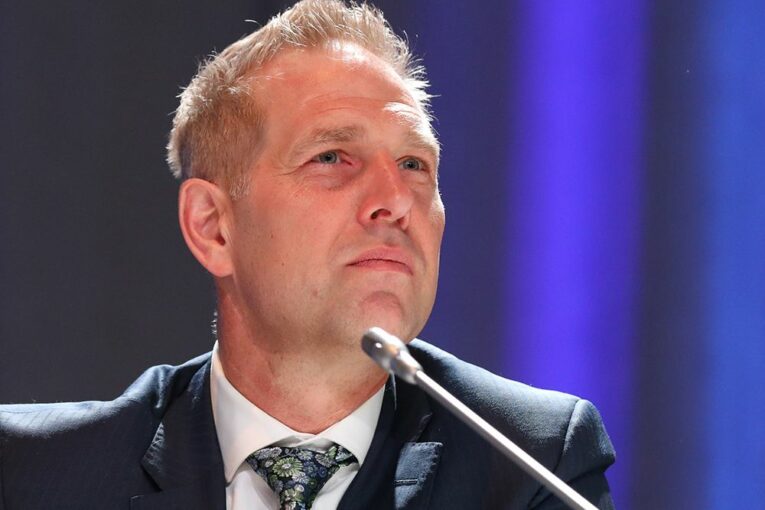 Alberta is the hottest renewable energy market in the country, but has it become too hot?
We apologize, but this video has failed to load.
Try refreshing your browser, or
tap here to see other videos from our team.
Varcoe: Alberta minister says 'Wild, Wild West' wave of development triggered pause on renewables
Back to video
Affordability and Utilities Minister Nathan Neudorf seems to think so, putting a six-month pause on approvals by the Alberta Utilities Commission (AUC) for new renewable generation projects.
It is, to be certain, a significant and controversial policy decision in a market that is drawing in billions of dollars in investment in wind and solar, creating jobs and generating local taxes, while growing and greening the province's power grid.
The freeze, which kicks in Thursday and will extend until Feb. 29 of next year, is intended to give the commission time to review and establish policies surrounding granting approval to new renewable developments larger than one megawatt.
In an interview, Neudorf said the government and AUC made the decision because of concerns voiced by the Rural Municipalities of Alberta (RMA), landowners and other players on a number of issues, including the rapid pace of development and use of prime farmland for such facilities.
Other matters will be examined, such as the impact of renewables "on Alberta's pristine viewscapes," the potential for mandatory reclamation security requirements for new renewable generation — such as bonds — and the effect of more wind and solar on the province's generation supply mix and grid reliability.
"We wanted to start immediately on some significant issues that have been raised by industry, municipalities, individual landowners and even the AUC," Neudorf said.
"Some of the conversations we've had from some stakeholders say that right now, Alberta has a bit of a Wild, Wild West feel to it in this, because we've got so many coming and we want to make sure that we haven't overlooked things."
Projects that have already been approved can continue moving forward.
The policy is immediately contentious.
"It is very disappointing and it's very important that we minimize the pause. I am worried about investor confidence," Canadian Renewable Energy Association CEO Vittoria Bellissimo said Thursday, calling the move a mistake.
"Alberta is going to see a lot of pressure to get this right — and get it right very quickly. And if it doesn't, we're going to see investment and jobs flow to other jurisdictions very quickly."
Alberta has become a magnet for such projects in recent years, thanks to excellent wind and solar resources and a market structure that generally welcomes new private-sector electricity generation.
The province's deregulated power market allows companies to build new renewable projects and sell the electricity, along with associated renewable energy credits, to corporate customers through power purchase agreements.
Such projects have attracted companies as diverse as Labatt Breweries of Canada, Amazon, RBC, Shell, TC Energy and Microsoft to ink such deals.
Earlier this year, the Business Renewables Centre Canada reported corporate procurement of renewable projects had topped $4.7 billion in investment over the past decade.
The Canadian Renewable Energy Association points out Alberta saw 1,391 megawatts of installed renewable capacity added last year, representing more than 75 per cent of all such additions across the entire country.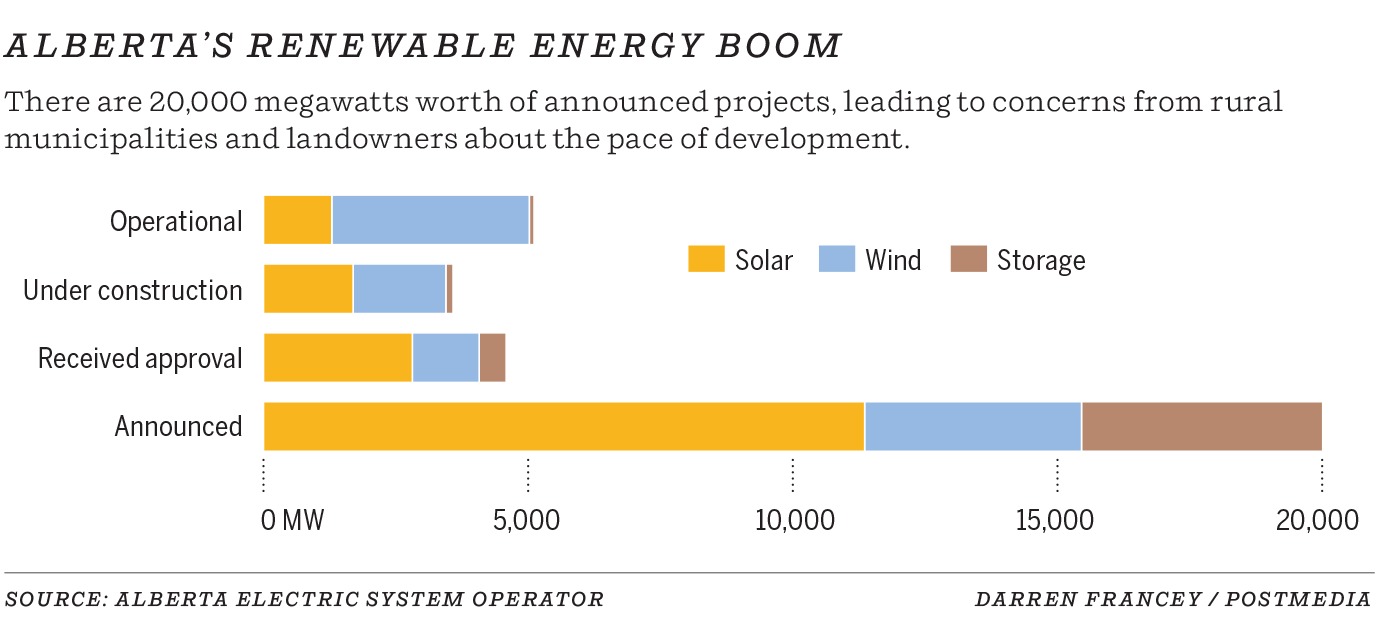 According to a new Alberta Electric System Operator (AESO) study, the province has 1,291 megawatts of solar and 3,731 MW of installed wind generation capacity that is operational.
The province also has more than 3,400 megawatts of wind and solar projects under construction.
Another 4,585 MW of wind, solar and storage projects have received AUC approval, while an additional 20,000 MW of such developments have been announced.
But the surge in development has led to some criticism.
RMA president Paul McLauchlin said municipalities welcome the development and taxes that come with renewable projects, but he's heard concerns from residents about prime agricultural land being used for wind and solar farms.
There are also worries about reclamation requirements once a renewable power-generating facility reaches the end of its life, given the long-standing problems from aging oil and gas wells, he said.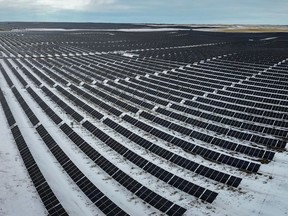 "I'm a huge fan of renewables. That being said, what we're really seeing here is a situation where the accountability tests on the public interest, we are not feeling (they're) being addressed," said McLauchlin.
"We're seeing these projects show up everywhere . . . I think we let it go too far."
However, Greengate Power CEO Dan Balaban, whose company developed the country's largest solar project in Vulcan County, noted all forms of energy have various issues associated with their development.
Yet, a moratorium is only being imposed on renewables.
"It's like taking a jackhammer to deal with a nail," said Balaban, adding he was surprised by the decision.
"I'm dumbfounded by the approach . . . How could you possibly think placing a moratorium on the development of an industry is a positive signal?"
As the province, Canada and the world move to build the power system of the future to reduce emissions and electrify more of the economy, regulators and policymakers will need to be nimble and move quickly, added Bellissimo.
She noted landowners who reach deals to see projects on their property are in the driver's seat and can dictate what they want on their land. Any lengthy delay means developers will look to allocate resources and equipment to other jurisdictions.
Neudorf said in talking with the AUC, it became clear that guidelines put in place years ago need updating. He doesn't think it will drive investment away, noting the pause will be short and well-defined.
And the minister discounts criticism the government is opposed to more renewable energy as the province moves to meet its net-zero ambitions by 2050.
"We want to see more construction going ahead," he said.
"We do want to provide clear guardrails for how and where that happens."
Chris Varcoe is a Calgary Herald columnist.
You can read more of the news on source