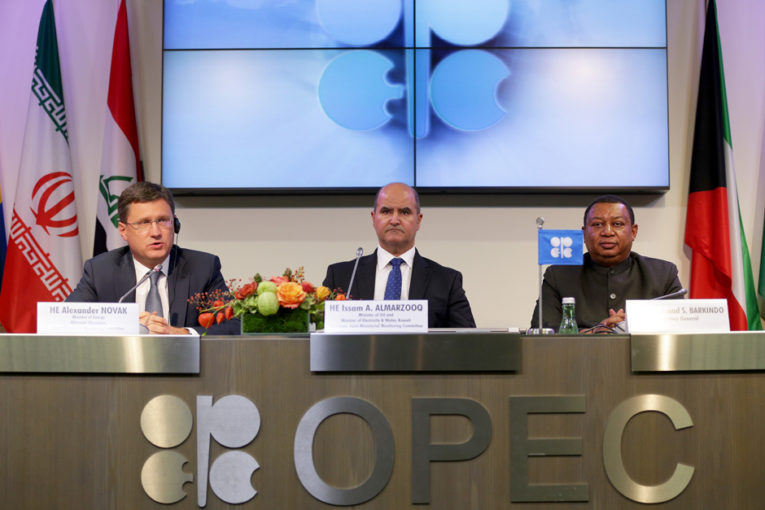 The latest discussions between OPEC and its oil-producer allies concluded that the supply glut is dissipating at a faster pace than previously anticipated, say people familiar with the matter.
After about four years of surplus, the global market will finally rebalance in the second or third quarter, earlier than previously estimated, said people familiar with the group's deliberations. This conclusion follows multiple signals of tighter supply, including Brent crude briefly surging above $70 a barrel and oil stockpiles in developed nations falling by the most in six years.
"We have seen a remarkable year in 2017 — the market of crude has been restored and went to healthy numbers," United Arab Emirates Energy Minister Suhail Al Mazrouei said at the International Petroleum Week conference in London on Tuesday. "Ahead of us this year is the balance of supply and demand."
The Organization of Petroleum Exporting Countries and allies including Russia are going even further than their pledged 1.8 million barrels a day of production cuts, giving "massive momentum" to the market, according to the cartel's secretary general Mohammad Barkindo. By some estimates, bloated oil stockpiles have already shrunk back to average levels, but the group shows no signing of easing off as Saudi Arabia seeks higher prices to buttress the historic initial public offering of its state energy producer.
The Deepest Cut
The Joint Technical Committee, which includes officials from both OPEC nations and allies from outside the group, based its rebalancing scenario on the assumption that Libya and Nigeria keep output at January levels and other participants in the deal maintain compliance with cuts, the people said, asking not to be identified because the discussions were private.
The group of 24 nations implemented 133 per cent of their pledged cuts in January, according to Barkindo.
Oil inventories in developed economies are about 74 million barrels above the five-year average, the JTC concluded. Stockpiles are already back in line with that average using a method that considers how quickly they're likely to be consumed, known as forward demand cover, the people said.
While OPEC has maintained its five-year-average inventory target since the cuts began in January 2016, it's now considering other measures that could change its view on whether the market is balanced. The group is also drafting a charter that would allow continued co-operation with other producers beyond the expiry of the cuts at the end of 2018, Mazrouei said.
You can read more of the news on source