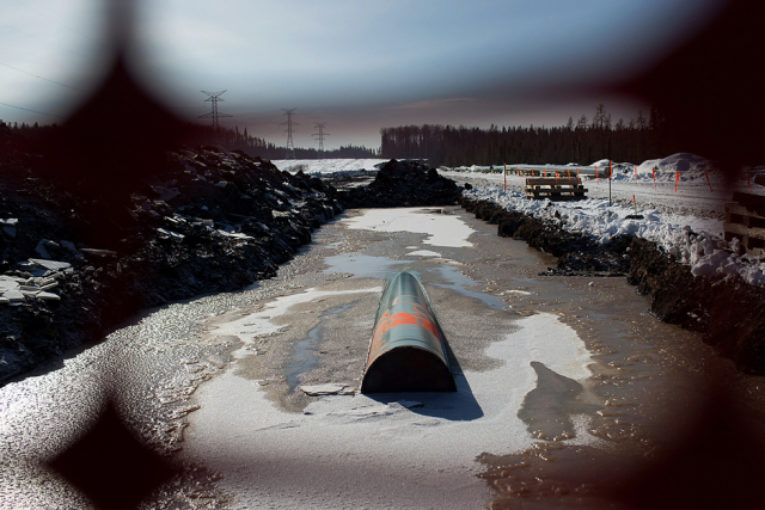 CALGARY – Lack of pipelines and massive discounts for Canadian heavy oil could cost the economy $15.6 billion this year, or three-fourths of a point from the country's GDP, according to economists at Scotiabank.
"Reliance on the existing pipeline network and rail shipments to bring Canadian oil to market has a demonstrable impact on Canada's well-being, with consequences that extend well beyond Alberta," Scotiabank senior vice-president and chief economist Jean-Francois Perrault and commodity economist Rory Johnston wrote in a report released Tuesday.
The economists said the current roughly US$24 per barrel discount between Western Canada Select and West Texas Intermediate oil prices would erase $15.6 billion from the economy this year, or around 0.75 per cent of the country's GDP.
They note, however, that as more and more oil moves out of Canada on railway cars to make up for the lack of pipeline capacity, the discount between WCS and WTI should shrink to an average of US$21.60 per barrel. This would reduce the cost to Canadian economy to roughly $10.8 billion this year, or 0.5 per cent of GDP, and $7 billion next year, or an estimated 0.3 per cent of GDP.
Scotiabank called the delay of new export pipelines and the large discounts that it has triggered, "a self-inflicted wound."
"The sooner governments move to allow additional pipeline capacity to be built, the better off Canada will be," Scotiabank economists Perrault and Johnston wrote.
Kinder Morgan Canada's $7.4-billion Trans Mountain expansion, TransCanada Corp.'s US$8-billion Keystone XL and Enbridge Inc.'s $8.2-billion Line 3 replacement project are the three major export pipelines that could shrink the discount considerably, the bank said.
While all three have been approved by the Canadian government, they remain mired in court challenges from environmental groups or local communities, and have delayed their anticipated in-service dates. Line 3 is also awaiting approval from regulators in Minnesota.
Enbridge president and CEO Al Monaco said last week that surging oil production and limited pipeline capacity means the Line 3 project will be completely full when it is finished construction in 2019, if the regulators approve the project by the second quarter.
Separate from the approved pipelines, the Canadian federal government has also recently unveiled a new review process for pipelines, which could complicate future assessments of new projects, according to analysts.
The new process will include a review of items such as whether a pipeline will have an impact on climate change goals, which was not previously considered under the previous regulatory regime, as well as a gender-based analysis of impacts of major energy and mining projects.
"The broader scope of the assessment list of factors to consider will complicate the federal assessment, which will add cost and effort on project developers," partners from law firm Bennett Jones LLP wrote in a note Tuesday.
Analysts expect wider discounts to persist until either the Trans Mountain or Keystone XL projects are built in late 2020 or 2021.
The discount Canadian oil producers face for their product has grown substantially since Calgary-based pipeline TransCanada detected a spill on its existing 590,000-bpd Keystone pipeline in South Dakota in November. A lack of space on other pipelines has led to 600,000 bpd build up in oil storage within Alberta.
The Keystone system is still operating under a corrective action order and shipping a restricted number of barrels out of Canada, TransCanada spokesperson Terry Cunha said in an email Tuesday.
The Scotiabank report noted the restriction means shipments through the pipeline have been reduced by 20 per cent, but Cunha did not provide updated volumes, or a timeline for when the line would be ramped back up to full capacity.
"We continue to look at the root cause of the leak we had and ultimately, it will be the regulators call when the pressure (restriction) is lifted," TransCanada president, liquids pipelines Paul Miller said on an earnings call last week.
Financial Post
• Email: [email protected] | Twitter:
You can read more of the news on source